SALT LAKE CITY — As Kyle Whittingham walked off the field Saturday night, a handful of fans praised him for his team's 38-13 win over Washington State.
It was a familiar scene to anyone who's watched in person as players and coaches enter the south end zone tunnel at Rice-Eccles Stadium into the team's locker room after a game. In these situations, win or lose, Whittingham is mostly stoic in his post-game emotions, never letting the highs get too high or the lows too low. But on Saturday, Whittingham was all smiles as he carried his young grandson in his arms to the locker room.
Whittingham has long made the Utah football program about family — individual families and the team as a collective group. He has preached about the importance of the bond his teams need to share. But on Saturday, his world as a grandpa and one as a top football coach in the country collided as an outward embodiment of what the long-tenured coach has brought to the university over his 25 years on staff.
Grandpa Whittingham was loose, happy and very much pleased with his team's effort, and his smiles toward his grandson might as well have been about his team's effort, too. The Utes claimed an important win over a Washington State program that's been a thorn in Utah's side for the last few seasons (four straight losses to Mike Leach's program) and his team got some redemption after a frustrating loss to USC.
His emotions were in stark contrast from the week prior where he shared a palpable frustration over a vital South Division loss in a makeshift tent under the iconic L.A. Coliseum. But against the Cougars, his team did "exactly" what he hoped Utah could do since joining the Pac-12 in 2011. All facets of the game worked in conjunction to dominate a formidable opponent for the full 60 minutes of game play.
And much of that credit goes to his two coordinators, Andy Ludwig and Morgan Scalley.
Whittingham has long tried to strike a balance between his defense and offense, though the defense has always been the standout group. It's arguably why he's had a high turnover rate at the offensive coordinator position; he wanted someone who could maximize player potential, limit turnovers and put the ball into his playmakers' hands.
How hard could that be?
Through five games of the 2019 season, Whittingham has found his ideal match in the former offensive coordinator that led Utah to an undefeated season and Sugar Bowl win over Alabama in 2009. That was all on display Saturday as Ludwig surgically cut up Washington State's defense with a diverse playbook that kept the Cougars guessing at every turn. In the end, Washington State was gassed and beaten down.
"When we brought Andy back, this is exactly what we envisioned: an offense that begins with the run game, which opens up everything else — the action pass off of the run game," Whittingham proudly said Saturday. "Tyler (Huntley), moving him around, bootlegs, changing his launch point, and running the QB occasionally, not a ton, but occasionally.
"It's exactly what we had hoped to have happened and it's happening, so we hope to keep it going."
The offensive numbers aren't gaudy or out of this world under Ludwig, but they're enough to blowout four of Utah's five opponents this season. The offense, in fact, is actually more efficient this season than its defense, according to ESPN's efficiency ratings — both rank in the top 20, though the offense is just one spot out of the top 10 in the nation.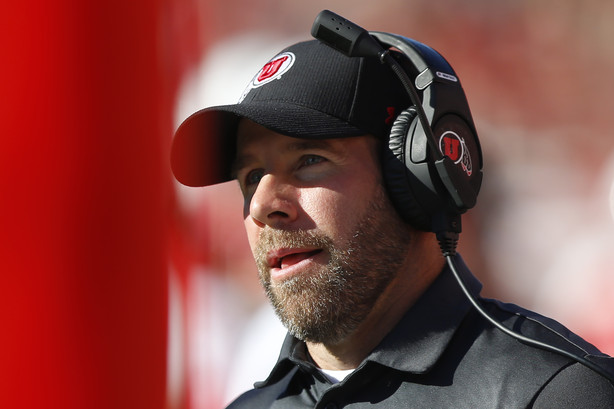 And most importantly, Ludwig has a quarterback in Tyler Huntley that is playing the best football of his career at Utah under his tutelage. The former Florida Gatorade Player of the Year has the eighth-best QBR (82.9) in the nation and has a completion percentage of 74.6 for seven touchdowns and 1,146 yards — and no interceptions.
Behind Huntley is a proven commodity at quarterback in Jason Shelley; the running back position is loaded with talent and has been able to step in when Zack Moss has been unable to play. Even the receiving corps is arguably the deepest Utah has fielded in recent memory.
In total, Whittingham has put together a roster that's capable of competing in the Pac-12, while enhancing the role of the guy calling the plays each week — plays that Whittingham has dreamed of for many years.
On the other end of the field, Whittingham's protege Scalley has only gotten better over the four years since taking over as defensive coordinator at the school where he made a name for himself as a player.
"He just gets better and better," Whittingham said Monday, reflecting on how much Scalley has improved over the years. "Every year he's more experienced. He's already a really good coach, and I don't want to paint the picture that he's not a good football coach, but experience is a great teacher."
Scalley was long crafted to be the next star on the defensive side of the ball since he joined the program as a coach in 2006. Whittingham paired him with longtime defensive mind John Pease to mentor Scalley for the role as defensive coordinator before officially handing it off to him in 2016. The results proved fruitful as Utah continued to get better on defense and its national status raised.
Scalley has consistently showcased a top defense in the country that limits teams in nearly every facet of their offensive game. But on Saturday, Scalley took another step forward as a coordinator with his malleable defensive game plan to combat the pass-heavy offense of the Cougars — a similar offensive identity that worked exceptionally well against Utah the week prior.
The defense answered back, fought hard and held the Cougars to 13 points — that's 39.8 points fewer than Washington State's season average. The defense held Washington State to 3-of-12 on third downs and had a game-changing stop on fourth down on their 2-yard line in the second half to keep the Cougars scoreless for the final two quarters of play.
It's a defense that Whittingham has turned completely over to Scalley to run. There's no micromanaging the plays; it's 100% trust in his defensive coordinator and staff to get the job done.
"It's his show," Whittingham said. 'He's doing a great job. And not just Morgan, his entire staff is doing a great job: Sharrieff (Shah) and Colton (Swan), and then the D-line coaches, Sione (Pouha) and Lewis (Powell). It's a collaborative effort, but Morgan is the leader of that group."
The blueprint of the season has been laid by his trusted coordinators. A Pac-12 championship and Rose Bowl appearance still await the end of the season as the program's top goals, but with Ludwig and Scalley leading the show, Whittingham is finally in good hands.
×