SALT LAKE CITY — The unfortunate part about being in the spotlight is that when things go wrong, like it did for Utah Friday against USC, there's nowhere to hide; the mistakes, frailties and overall issues are only magnified in the spotlight.
The hype machine swallowed Utah up and it suffered in a big way after a 30-23 defeat in the L.A. Coliseum. For all the national praise Utah received before the season started, it was like the door was slammed shut, bolted up and the former dark-horse favorite at a College Football Playoff appearance was shunned.
But that's the fine line Utah walked as it approached a Friday night tilt with the nation watching. Win the game and the nation is ready to follow you to the end; lose and the program is back to mediocre, another pretender program that is always good enough but never great.
Fair or not, Utah is now left repairing its image as a college football pretender.
Utah still has the same pieces in place, minus an injured Zack Moss whose timetable for return is still unknown, but the same possibilities, outside the playoffs, are still on the table. But where Utah goes will ultimately be determined in how they respond Saturday against Washington State.
"It's a tough group. They're proud. They're hard working. They're mature. We've got great leadership," Utah head coach Kyle Whittingham told media in a makeshift tent under the Coliseum after his team lost. "I told them in the locker room: nobody — I would bet any amount you want to bet — no one goes through the South undefeated, I just don't see it happening, which means we've got a shot."
A shot at redemption, a shot at another winning opportunity, a shot at a South Division title and a shot at the Rose Bowl.
It may not be the playoffs, which was arguably an unrealistic possibility anyway, but it's a shot at a premier bowl destination and to once again gain ground on the national spotlight. Maybe the next time, the results will be different.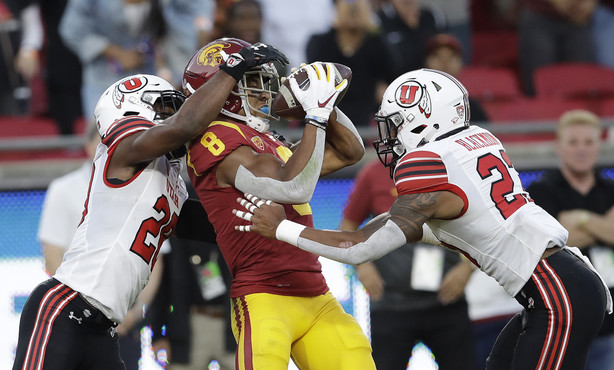 "There's a lot of football left," Whittingham reasoned.
"Yeah, I mean, at the end of the day, we still got a lot of football left, this is only our fourth game, man," senior safety Julian Blackmon said after the loss. "We know that we still have a lot of football left, and we know what happened last year. We've just got to be ready for the next game. We play Wazzu and we want to — we're over this game already, we need to be."
The next biggest test for Utah won't get any easier either as Washington State enters Rice-Eccles Stadium Saturday with a similar offensive approach to that of USC — pass, pass and more pass. It's against a Cougars team whose quarterback, Anthony Gordon, threw for nine passing touchdowns and 570 yards in a wild loss to UCLA Saturday.
The Cougars may not have the receivers that USC has, but they're extremely efficient and effective in running the Air Raid offense that has made head coach Mike Leach an incredibly difficult coach to beat. And considering that Utah's weakness against USC was its secondary, there's no guarantee Utah will have an immediate answer, even if Whittingham called it an "uncharacteristic night" for the secondary.
Blackmon said the secondary unit will likely approach the Washington State game with "the same game plan," but with a look to "redeem ourselves."
"We let them get us this time, the secondary — we're talking about their receivers to our secondary," Blackmon said. "We let them get us this time. But next week we expect the same thing coming and we're going to try to do better next week."
Whittingham said the coaches will look to make some changes, but it's unknown whether that's personnel or defensive schemes. It's unknown whether any of that will actually matter against the Air Raid offense, but that's what will differentiate whether Utah is merely a pretender or a team that allowed mistakes to get the best of them against a talent-laden USC team playing their best game.
Utah will look to avoid another 0-2 start to conference play, but it's a position the team is familiar with. After a loss to Washington and Washington State in 2018, Utah finished the remainder of its conference play with a 6-1 record to claim the South Division title. But there's no guarantee a similar start to conference play will result in another division title.
"We were in this position last year, so it's nothing new to us, nothing we can't handle," Whittingham said.
Utah returns to action Saturday at Rice-Eccles Stadium against the Cougars in an 8 p.m. MDT kickoff. The game will be broadcast on FS1 and ESPN 700.
×