MAKING PLAYS — Between Week 2 of the NFL season, Week 4 of college football, and a handful of other sports around the country, there was no shortage of highlights this weekend.
For those new to Great Clips of the Week, we'll remind you that this isn't an attempt to pack every highlight into one setting. That would be impossible.
Instead, we pick some of our favorites. Yes, we play favorites — and in this case, we hope everyone is better for it.
If you have a great play, highlight, or emotional sports video that deserves to be featured each week, you can always tweet it to us, @KSLcomSports.
Until then, let's start with one of the best local prep football products in the past decade doing work at the next level.
As always, click the video above for more Great Clips of the Week.
More Puka, please
Puka Nacua only had one catch in No. 22 Washington's 52-20 win over Hawaii this weekend.
But that's all he needed.
Nacua scored his first career touchdown in a Huskie uniform, a 28-yard slant from Jacob Eason that put the Huskies up 21-0 in the first quarter.
And while it's just one catch, Nacua should be getting more passes thrown his way.
"He's got super-good ball skills. You can see that every day in practice," UW coach Chris Petersen told The Athletic after the game. "He is a smart player. We've thrown a lot at him. We usually have a lot of offense for a new guy that hasn't heard this before. He's going to keep getting more and more time. We're trying to do that. He knows that. The fast he can learn this stuff, the more we'll put him on the field."
Nacua heads home next Saturday when the Huskies face BYU in LaVell Edwards Stadium. Kickoff is scheduled for 1:30 p.m. MDT.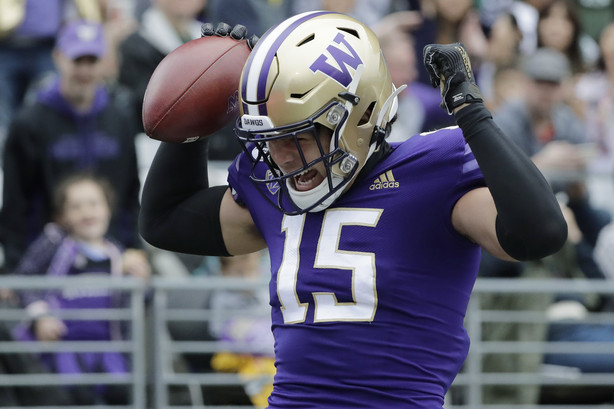 Touching tribute
Tennessee retired legendary Titans quarterback Steve McNair's No. 9 jersey in a special ceremony Sunday before the team's meeting with the Indianapolis Colts.
And the tribute didn't just seem to be from the organization — but the entire state, right down to natural environment.
If you look close, you can even see a cloud shaped like the No. 9 as the Titans began the ceremony.
McNair, won the NFL's co-MVP award in 2003 and finished his career with more than 31,000 passing yards, was tragically killed in a murder-suicide in 2009.
The classiest tribute
Blake Anderson's return to coach Arkansas State's football team netted a 55-0 loss to No. 3 Georgia.
But Saturday's game was about so much more than a football game.
Anderson's wife Wendy recently passed away after a two-year battle with breast cancer. The veteran college football coach took a leave of absence from the Red Wolves' program to be with her, and returned to the team just before last week's 43-17 win over UNLV.
With a full week of preparation, the Red Wolves hoped to get back to a bit of normalcy in the program.
But also with a full week of preparation, Georgia students planned an impromptu "pink out," dedicating Saturday's game to Wendy Anderson using the hashtag #WearPinkForWendy on social media.
Coach Anderson was touched.
"I did everything I could leading up to kickoff to try not to just lose it. I somehow held it together," Anderson said after the game, calling the tribute "one of the classiest moves I've ever seen."
"Maybe the thought that we're about to go play the No. 3 team in the country. But it's been extremely emotional and overwhelming."
×
Related Stories