HERRIMAN — High school sports are in full swing this fall, which means student-athletes could be at an increased risk for a concussion. A Herriman mother is urging other parents, athletes and coaches to know the signs of a concussion before the athletes hit the field.
Tenth grader Peyton Bisquera is back in her school routine. "It's my first year at Herriman, so it's been really fun," she said.
Even though ACT prep now dominates most evenings, instead of her favorite sport — girls' football.
As an 8th grader, Peyton played in a girls' tackle football league. "In the moment you have to come up with all these strategies and work together to make it work, so it's exciting," she said.
"Tackling people is fun!" she also admitted.
Today, Peyton is in good health, but a little over a year ago she had a bad injury on the football field. She is one of the 15% of students to suffer a concussion each year, according to a 2017 survey by the Centers for Disease Control and Prevention.
"I just kind of went down. I sat there for a second," she described.
The following week she didn't feel very well. "I just thought I was sick because I'd been sick before," she explained. "I slept all the time. I couldn't function, super dizzy, like my head hurt really bad."
But she brushed herself off and played in her game again the next week.
To her dismay, she was hit again when she was running the ball, but this time she fell backward and blacked out. "I just remember going to get up and someone else landing on me and my head slamming into the ground," she recalled.
Her parents rushed her to the emergency room where she was diagnosed with a concussive brain injury.
"I felt so bad, like mom guilt, because I didn't know," Peyton's mother, Lori Bisquera, said. She wished she had recognized the symptoms the first time she was injured.
"I just thought you rested for a couple of weeks, and you're good to go. I didn't realize the seriousness of it," Lori said. She quickly learned that a concussion is a mild form of a traumatic brain injury.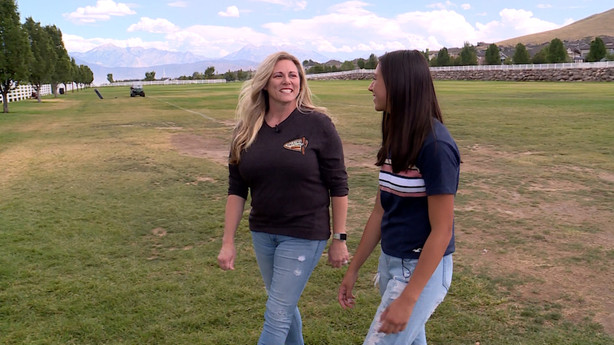 After resting for a couple of weeks and modifying her school schedule, Peyton's symptoms persisted. "I was just so nauseous. My eyes were so dilated. It was so bad. The biggest headache ever," she described.
She said she was also dizzy, had poor balance, and couldn't focus on her schoolwork. "So frustrating," Peyton said.
Intermountain Healthcare's Dr. Anne Russo, a neuropsychologist at Intermountain Healthcare's TOSH Sports Concussion Clinic, said concussions can induce light and noise sensitivity, extreme fatigue and increased irritability.
"Mood functioning can change that increased irritability. Very frequently in the concussion clinic, we'll say, 'Now has your mood changed? Are you more irritable?' and the patient will say, "Oh, I don't know," and I've got parents heads frantically waving, "Yes!"' Russo said.
Russo said it's important to catch a concussion the first time it happens. "If you have a history of previous concussions, then it's definitely going to take longer for that recovery to occur," she said.
"Fall is the start of many concussion-prone sports such as cheerleading, soccer and football," Russo said. "Many physical activities have a risk of concussion, not just sports."
Peyton ended up spending 16 months in physical, occupational, cognitive and speech therapy before she was cleared just this month.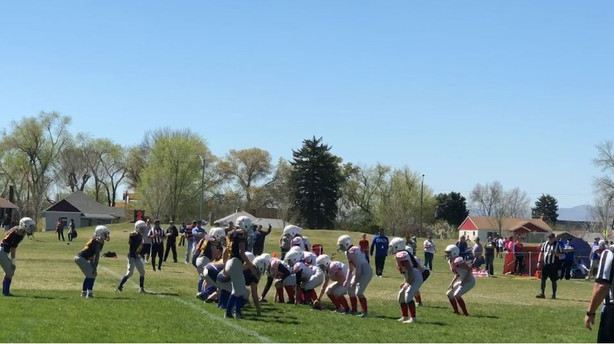 She and her mother never anticipated the recovery would take as long as it did or be as challenging as it was. Peyton's condition got so bad she even passed out at school once since she said her brain was overloaded. She took two weeks off to sit in the dark at home.
Russo said avoiding screen time is also critical to recovery. "Because it's a lot of work for the brain to process all of that visual information — the lighting, this over-stimulation from the flashing things," she explained.
Russo also recommends baseline testing for all competitive athletes at the beginning of the season. She said in the event of an injury, baseline measurements could help doctors assess the severity of the injury.
She said football has the highest rates of concussion, but girls' soccer and even cheerleading are also high-risk sports. The 2017 CDC study found that 40% of coaches whose athletes suffered a concussion were not familiar with the symptoms.
The study also showed 6% of high school students reporting two or more concussions over the span of one year. The study found participating in multiple sports also heightened the risk for concussion.
Russo warns people to watch for severe symptoms including double vision, vomiting, loss of consciousness, slurred speech or strange behavior. She said if someone experiences these, they should seek emergency medical care.
After months of pain and therapy, the Bisqueras urge athletes, parents and coaches to know the signs before walking on the field to play.
×
Photos