SALT LAKE CITY — Here are 10 stories you may have missed over the weekend. As always, click on the headline to read the full story.
1. 2 in custody after shots fired during possible liquor store burglary in Heber
Officials have detained two persons of interest after shots were fired during what police say was possibly a burglary at the liquor store in Heber Sunday night, according to Wasatch County Sheriff's officials.
2. More than 3,000 acres burned in Goat Canyon, Meadow Creek fires in Millard, Juab counties
Two fires have together burned more than 3,000 acres as of Sunday evening, fire officials confirmed.
3. He was bullied for his homemade University of Tennessee T-shirt. The school just made it an official design
A Florida student obsessed with the University of Tennessee wanted to represent the Volunteers during his elementary school's "College Colors Day," but didn't own any of their apparel -- so he took the matter into his own hands.
4. Utahns fight for reasonable cost on life-saving insulin
A Type 1 diabetic can't go more than 72 hours without insulin, yet many of them are forced to ration their life-sustaining drug because of the skyrocketing costs associated with the disease.
5. Utahns don't want gas tax increase, toll roads, poll finds
Utahns don't want to see the state's 30-cents-a-gallon gas tax increased or major state highways become toll roads, according to a new poll, even though the tax revenues collected at the pump continue to fall far short of what's needed to pay for roads.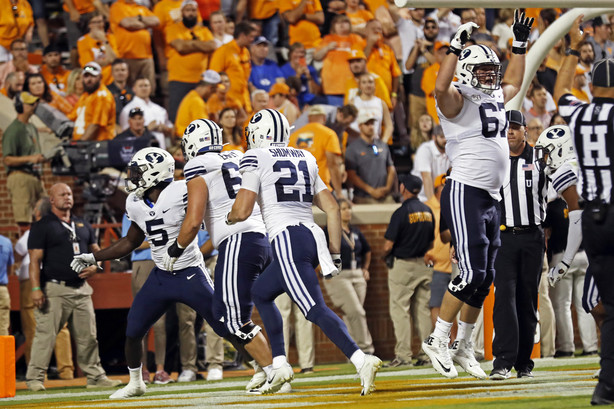 Sports
1. BYU rallies from 13-3 deficit to stun Tennessee, 29-26 in 2OT
Ty'Son Williams scored his second touchdown of the game from 5 yards out, and BYU rallied from a 13-3 halftime deficit to stun the Vols 29-26 Saturday night at Neyland Stadium in Knoxville, Tennessee.
2. Utes move up to No. 11 in AP Top 25, No. 12 in Coaches Poll
The Utes moved up to No. 11 in the Associated Press Top 25 Poll, up two spots from its previous spot of No. 13. Utah, which hadn't moved in their preseason ranking in the USA Today Coaches Poll, jumped up to No. 12, up three spots from their previous spot at No. 15.
3. Utah State's Gary Andersen welcomed home with a big Aggie victory
After six seasons away from the school, the Aggies pulled out a whopping 62-7 victory over the visiting Stony Brook Seawolves to welcome him back.
4. 3 and Out: In 3rd season as head coach, Hurricane's Skyler Miller finally gets to celebrate a win
Hurricane beat Crimson Cliffs, 24-14, on Friday, earning the Tigers' first victory since Sept. 15, 2017, and giving their coach his first victory ever.
5. Alleged slurs aimed at Portland goalkeeper Adrianna Franch mar match with Utah Royals FC
Portland goalkeeper Adrianna Franch alluded to racist and homophobic language hurled against her during the match, a 1-0 loss at Rio Tinto Stadium, in a tweet that was later deleted from her Twitter account late Friday.
×