SALT LAKE CITY — Absent a few key starters on both sides of the ball, No. 13 Utah overcame some early miscues to claim a 35-17 win Saturday over the visiting Northern Illinois Huskies.
The game wasn't always pretty for the Utes, but they escaped the weekend without a loss to a Mid-American Conference foe that could challenge for a conference title.
Here are a few takeaways from Utah's morning game:
Defensive Jekyll and Hyde
Coming into the game, the Huskies' offense wasn't considered to be a strong threat to a stout Utah defense that holds opponents to few scores. But the opening half of play for Utah's defense did little to give confidence in the season play.
There was a lack of pursuit, missed assignments and an overall lackadaisical attitude all around in that opening half of play; and Northern Illinois made Utah pay with two touchdown drives that made the Huskies look like it had a top-tier offense.
The biggest play for the Huskies came on a 74-yard bomb by quarterback Ross Bowers to Spencer Tears for a touchdown to equalize on Utah's two early touchdowns. It was only one play, but it was a microcosm of Utah's overall effort during the first half of play.
But then came the second half and a reawakened Bradlee Anae. The senior defensive end finished the game with three sacks as Utah put pressure on Bowers and the overall Huskies offense. The Huskies' offense was held scoreless in the second half as defenders locked in and kept their opponent from making big plays.
That second-half pursuit looked more like a Utah defense, but it's a little concerning that Utah couldn't get their act together in the first half. Against a more potent offense, Utah could have found itself with a deficit going into the half.
Also, it's worth noting that Leki Fotu was out for much of the game with a minor injury and safety Julian Blackmon was held out for a bit in the first half with an in-game injury.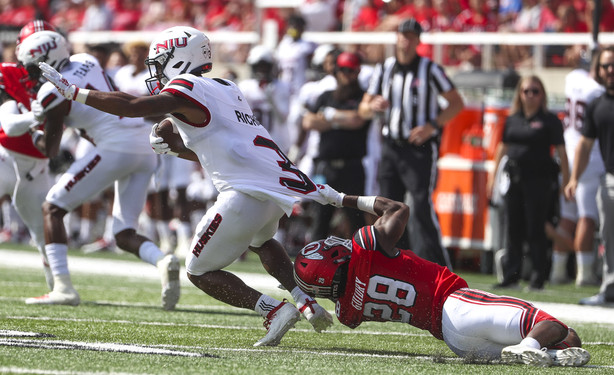 Huntley maturing in the offense
After the BYU game, there were questions about a Utah passing scheme. On Saturday, we got a better sense of what Utah can do with Tyler Huntley slinging the rock. The senior quarterback finished with 214 passing yards and one touchdown on 14-of-19 passing, while adding an additional touchdown and 38 rushing yards.
Huntley looked comfortable under Andy Ludwig's offensive schemes and showed a lot of potential as the leader of the offense. Huntley was patient in the pocket, delivered passes to open receivers and had some fantastic reads for big yards, including his 16-yard rushing touchdown in the second quarter.
Huntley is far from perfect as a quarterback, but he's showing a maturity in his game that should give Utah fans excitement. Even with two starting offensive linemen out of the game, Huntley managed the pressure well without bailing on the pocket to set his team up for success.
Most importantly, Huntley hasn't been sacked two games into the season, and against a defense like Northern Illinois, that is a strong accomplishment, particularly given that he was sacked seven times against the Huskies last season.
Moss taking prisoners
Zack Moss may have only finished with 80 yards, but the senior back is easily the best player on the offensive side of the ball. Moss showed time and again Saturday that he's not about to be stopped by defenders, and should have a special year if he can stay healthy.
When Zack Moss sees the end zone... look out! 😤#goutes#NIUvsUTAHpic.twitter.com/WxoUse4Aji

— Utah Athletics (@utahathletics) September 7, 2019
Zack Moss with the truck stick! 😤

(Via @Pac12Network)pic.twitter.com/GtFv0ylsYd

— PFF College (@PFF_College) September 7, 2019
The Florida native finished the game with two rushing touchdowns and eclipsed an important mark in the Utah record books. With his second touchdown of the day, a 5-yard bulldozing play into the end zone, Moss scored his 26th rushing touchdown of his career. That ties Eddie Johnson at No. 2 on the all-time rushing touchdown list at Utah.
Moss is just six rushing touchdowns away from breaking Del Rodgers' record of 31 set in 1981.
×
Related Stories