PROVO — Dax Milne took a chance on BYU a year ago.
The 6-foot, 187-pound wide receiver from Bingham High received limited recruiting attention during his otherwise standout four-year career with the Miners. But despite his intangibles — not to mention playing on what most considered to be the best overall team in the state across all four seasons — his only interest came from Weber State and some late interest from BYU and Boise State.
The only problem with the Cougars, where Dax's father Darren was an all-conference baseball player before being drafted by the Detroit Tigers? They didn't have a scholarship to offer him right away.
But head coach Kalani Sitake kept Milne and his parents in close proximity: walk on at BYU, and as soon as he could, he would find a way to open a scholarship. It was a chance, but one the family was willing to take.
So he enrolled in school, went through fall camp, received a little help from his parents to pay tuition — and then played in 10 games as a true freshman, including three starts.
Every time Sitake saw him, the coach promised Milne a scholarship. The one day, about three weeks into his freshman campaign, Sitake and wide receivers coach Fesi Sitake pulled the talented wideout aside, taking Milne off the walk-on roster and into full-ride scholarship territory.
Congratulations, kid; you've earned it.
"I bet all my money on coming here, and put it all in," Milne said before the Cougars' trip Saturday to play at Tennessee (5 p.m. MDT, ESPN). "But they paid me back with the scholarship — and just giving me a real chance, an opportunity to play if I was ready. I was, and I respect the coaches to sticking to their word."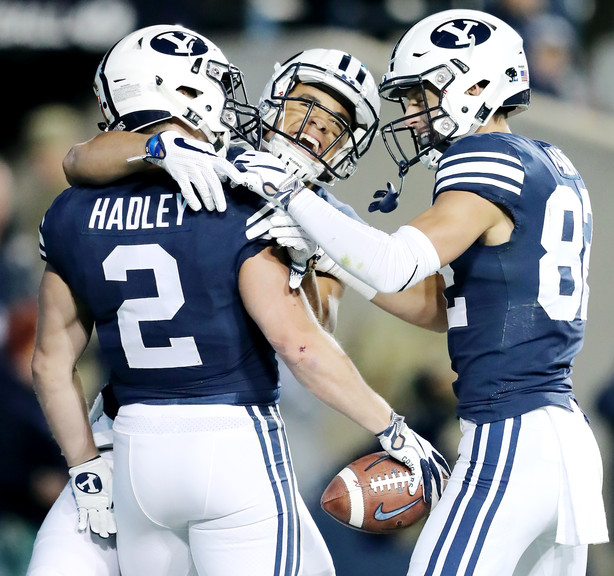 Milne, though, is exactly what Sitake is looking for in his program — someone who wants to be at BYU, enough to accept a preferred walk-on spot over scholarship offers, and then prove that he belongs on the same field as other Division I athletes.
He's proven though. Now the challenge is to keep proving it.
"He can be a great example, and give experience to others who are in the same situation and looking to crack the depth chart," Sitake said. "He's a great example of what we need, and I'm glad I have him for three more years.
"He's a great young man, and I'm glad that the coaches have put him in a position where he can really see his potential and flourish as a leader."
Milne caught 10 passes for 69 yards, and worked his way into the rotation enough to start when the Cougars traveled to Wisconsin, a high-profile game that finished 24-21 in BYU's favor.
Now he's gone through an entire spring camp on scholarship, and proved himself.
"Kalani treats everyone the same. But both A-Rod and Fesi have told me to keep working like I'm still that walk-on kid every day, looking for a scholarship."
After Zach Wilson ascended to the starting quarterback spot by Game 7 against Hawaii, Milne — who grew up a short drive away from Wilson in the Salt Lake Valley — saw his playing time increase even more.
Game Info

How to watch, stream, listen and follow BYU at Tennessee
Coaches: Kalani Sitake (BYU, 4th year); Jeremy Pruitt (West Alabama, 2nd year)
Kickoff: 5 p.m. MDT
TV: ESPN
Broadcasters: Dave Pasch (pxp), Greg McElroy (analyst), Tom Luginbill (sideline)
Live stream: WatchESPN
Radio: KSL Newsradio 1160 AM /BYU Radio 89.1 FM, Sirius XM 143
Broadcasters: Greg Wrubell (pxp), Riley Nelson (analyst), Mitchell Juergens (sideline)
Series: First-ever meeting between the two programs.
The two were heady competitors as teenagers, going back to a city track meet at 8 years old when Milne bested his future BYU teammate in a sprint race. The competition continued on the football field, where Wilson played at Jordan his freshman year before the family moved to Corner Canyon in Draper; in basketball, where the duo constantly guarded each other throughout high school; and again on the track.
"We both ran track, and we'd always wind up in the same heat. I'd always beat him, and then that would always piss him off," Milne joked. "Him and his dad were great — but it killed them that I beat him."
So you could say that Wilson appreciates having No. 82 on his team rather than playing against him.
"The dude's a stud. He's bought in," Wilson said of Milne. "He's got a chip on his shoulder; came in as a walk-on — turned down other opportunities to take a scholarship somewhere else, and he came in like he has nothing to lose.
"He's got some crazy athletic abilities."
This year, Milne has added increased duties to his wide-receiver role: he'll be the starting kick returner when BYU travels to Knoxville, Tennessee.
While the specialist jobs may rotate throughout the season, according to special teams coordinator Ed Lamb, Milne is eager to prove — once again — that he can stay on the two-deep after averaging 16.0 yards per return last week against Utah.
"It's nothing new, but this is definitely a bigger stage," said Milne, who also returned kicks at Bingham. "I'm happy that they chose me to do it. I don't know if they'll continue; I think it's week-to-week. But I'm excited to make plays."
×
Related Stories