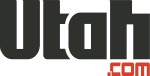 This story is sponsored by Utah.com.
You may have to know so-and-so's sister-in-law to get a reservation at such-and-such restaurant during Sundance, but premier views of Mother Nature are remarkably inclusive — all you need to see the best parts of Park City is a willingness to hoof it.
So lace up your hiking boots, slip on your flip-flops or put the knobby tires on your wheelchair. And when you're filthy and exhausted, track your muddy boots into a five-star restaurant and leave a sweaty back print in their fancy leather chair. Tell them we sent you.
Armstrong/Spiro Loop
Perfect for arborists, ornithologists, slow-and-steady-wins the race-ers
Difficulty: Moderate
Distance: 6.1 miles
Elevation gain: 1,095 feet
Pet-friendly: Yes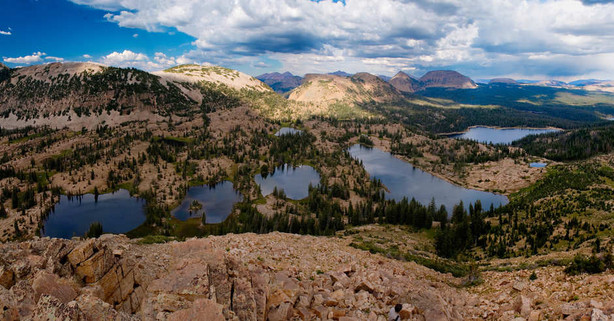 This loop trail has a steady, fairly gentle incline with switchbacks, which makes it great for trail runners and people with delicate knees or a baby on their back. It's shaded by aspens and lots of other trees so unlock your inner arborist and watch the fireworks pop in late September.
Birders like this trail too — don't forget your binoculars! — and watch for the historic mine site along the way. It's open to bikers so go ahead and invite that one friend who can't tolerate moving slowly enough to actually appreciate the fall foliage. Tell them to meet you at Silver Star Cafe. And let them pay. You earned it.
Lofty Lake Loop
Perfect for secret skinny-dippers
Difficulty: Easy/Moderate
Distance: 4.4 miles
Elevation gain: 961 feet
Pet-friendly: Yes
You don't have to swim naked in ice-cold mountain lakes to enjoy this hike. You could also use one of the pools to cool off your Diet Coke along the way. Either way, Lofty Lakes is a great option for anyone looking for a wildflower-drenched summer day trip that everyone in the family can manage (even if one kid has to be carried and grandma needs a hand up in a couple of spots).
This hike will remind you why the Uinta Mountains are so popular: They're beautiful (but that's old news by now), the fishing is great (try for trout in Kamas and Scout Lakes), and, if you like to brag about summiting peaks, this route takes you over a shallow saddle between Lofty and Scout Peaks letting you easily make it up both.
Bald Mountain
Perfect for people with early-stage Everest aspirations
Difficulty: Moderate/Strenuous
Distance: 5 miles
Elevation gain: 1,145 feet
Pet-friendly: Yes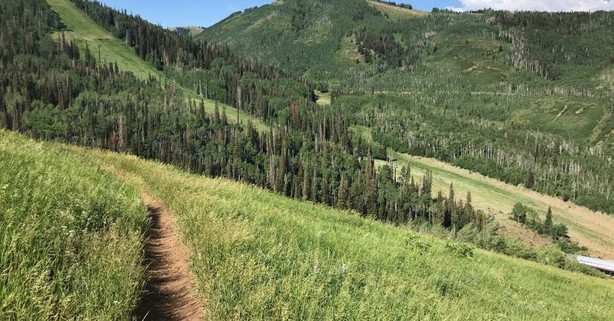 Some days you come home and say, "Honey, I summited a peak today. What did you do?"
(Some days you're looking to pick a fight.)
Bald Mountain is perfect for this plot because it's one of the easiest mountains in Utah to climb. The trailhead is located on Bald Mountain Pass. Views are impressive from there and become even more spectacular as you approach the peak — look for Mirror Lake and other towering peaks of the Uintas.
You'll climb this mountain in just over two miles and return the way you came. There are steep, rocky sections, but families with young children manage it, so you can, too. This trail is located above the treeline, which means there's no shade, which means — as with every other outdoor adventure in the Beehive State — you should pack more water than you think you could possibly drink.
Fantasy Ridge
Perfect for hiking purists
Difficulty: Strenuous
Distance: 6.5 miles round trip
Elevation gain: +1,900 feet
Pet-friendly: Nope (no pets allowed on gondola)
This impressive hike falls in the "I never said it would be easy; I only said it would be worth it" category. Hiking Fantasy Ridge in summer will allow you to escape the heat of the valley and revel in the wildflowers, but if you visit in autumn you might hear elk bugling. This can sound either hauntingly beautiful or like a small child with a whistle [*eye begins to twitch*] depending on your perspective.
Many of the trails at Park City Mountain are open to mountain bikers in the summer but Fantasy Ridge is for hikers only. If you don't like sharing, Deer Valley Village also has a few hikers-only designated trails.
Mid Mountain Trail
Perfect for triathletes
Difficulty: Strenuous
Distance: 11.2 miles round trip
Elevation gain: 2,713 feet
Pet-friendly: Yes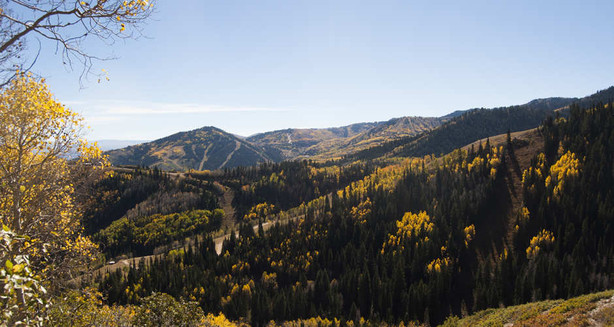 If you wake up one morning and feel like a good long run/walk/bike ride through a forest (that isn't too far from the city), consider the Mid Mountain trail, nicknamed the "Eight Thousand Foot Trail." This singletrack route from Park City Mountain Resort to Canyons Village follows the mountain contour at about 8,000 feet. Sections are rocky and the trail can extend up to 22 miles depending on which trailheads you use. This trail is popular with runners as well as bikers and is home to the Mid Mountain Marathon every September.
×