SANDY — Teams get better. Clubs improved. One player isn't the same at the start of a season as at the end of it.
That's the message of any sporting club, especially amongst professionals.
But Real Salt Lake took one particular lesson from a stinging 2-0 loss to LAFC and, just one week later, flipped the script in a 2-0 victory over Rocky Mountain rival Colorado to climb to second place in Major League Soccer's crowded Western Conference.
And it started with a red card.
Not that one delivered to Colorado's Kei Kamara near the end of regulation, a foul delegated by head referee Ted Unkel as a "serious foul."
The red card that may have changed Real Salt Lake's season happened a week earlier when Walker Zimmerman was sent off just 3 minutes into the second half of RSL's match with LAFC for "unsporting behavior."
RSL wanted to take advantage of that card, and they sent numbers forward. A frantic attacking energy ensued, but LAFC — long considered the best team in the league, and perhaps in Major League Soccer history — withstood the surge, then capitalized themselves by drawing Aaron Herrera into denying an obvious goal-scoring situation, sending RSL down to 10 men themselves and giving a penalty kick to Carlos Vela to break the dam for LAFC.
A week later, faced with the same situation and the same desire, urgency and energy to seal off a win over Rocky Mountain Cup rivals Colorado — a win that would send RSL to second in the west, at least for a day — the home side didn't panic.
"We sat back and had to make sure we were disciplined; we learned from LAFC," RSL midfielder Kyle Beckerman said. "That was my initial thought.
"But it gave us a bit of pep, and we knew we had to keep attacking. Things were opening up more. But sometimes you need a bit of luck in this game, and we got it tonight."
Faced with the similar opposition, a shorthanded opponent for the second time in eight days, Real Salt Lake didn't panic. They didn't immediately push for a goal.
They knew what they had to do — and they were patient.
Patient enough, even, that interim head coach Freddy Juarez and his lead assistant Tyrone Marshall didn't even feel like they needed to make a sub (beyond the 68th-minute transaction that brought Joao Plata into the game for Sam Johnson).
Mostly, RSL just needed to keep doing the same thing. Eventually, the dam would break — as it did for LAFC a week earlier — and they would find the pressure in attacking third too much, even for a goalkeeper as acclaimed as Colorado's Tim Howard.
"I think we got a little more energy. We finally realized there was an opportunity here," Marshall said of Kamara's red card. "We felt that way against LAFC, but we had more time — and made one mistake, and paid for it. But we learned from our mistake and saw that we had as much time; we knew what we had to do.
"But we had to be safe in the back. I thought we did it all tonight. The goal that was called back, and then Joao running at defenders. We put guys in situations to be successful, and Joao came out on top tonight."
Even when a seemingly match-winning goal by Damir Kreilach was called back — video review ruled that Jefferson Savarino was caught offside on the play — RSL still didn't panic.
There was still time. They still had momentum.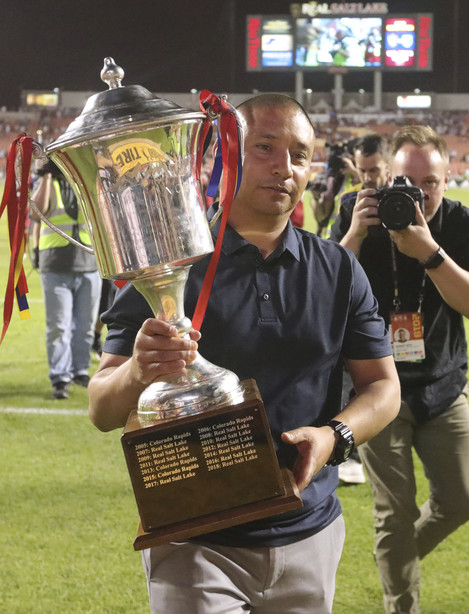 Less than a minute later, the dam broke in the form of Plata drawing a penalty kick by sliding a shot that caromed off the arm of one of his defenders. The Ecuadorian converted, and Savarino added the cherry on top to clinch the 2-0 victory and a much-needed three points at home.
"We kept grinding and grinding, and eventually they broke," Beckerman said. "We needed Plata to finish that; Tim is really good at penalty kicks. He got a hand on it, but it was enough. And to get that insurance goal at the end felt great."
Now faced with a road-heavy stint that includes three of the next four matches away from Rio Tinto Stadium, RSL is taking 13 out of the last 18 points into visits to Portland, Minnesota and New England (with a home date with San Jose in the middle of it).
And they're also taking a trophy with them, courtesy of the Rapids' decision.
"We could've gone home with the tie and retained the (Rocky Mountain) Cup," Marshall said. "But we knew three points were important. We have something that we're playing for: We're trying to get home-field advantage. The boys dug deep, and we showed a lot of resilience — much like over the last six or seven games."
×
Related Stories