Estimated read time: 4-5 minutes
This archived news story is available only for your personal, non-commercial use. Information in the story may be outdated or superseded by additional information. Reading or replaying the story in its archived form does not constitute a republication of the story.
When most people think of golfers, they think older men and sometimes older women in polos and shiny shoes. While 1980s movies did nothing to shake up this stereotype, they aren't wrong about the ratio of men to women on the course.
The National Golf Foundation says only 24% of the people on the green are women. However, that number is a huge increase from just five years prior when women only made up 11% of the golf population.
Just like the Professional Golfer's Association (PGA) is making strides to include more women in the sport, it's important to break down some common myths about women and golf. Here are some common ideas that simply aren't true.
It's a men-only sport
Golf has long been a male-dominated sport, often associated with the elite of the social class. But, in recent years, especially following the success of Title IX, more women have entered the sport.
Golf is now the sixth most-offered college sport for women at the Division I level, with scholarships fostering competition among talented female athletes, ESPN reports. However, that doesn't mean the field is wide open for scholarships. ESPN also notes that because more women have more opportunities to play the sport at a younger age, the competition at the college-level is fierce.
For women looking to improve their game, meet other professionals or just take their mind off of life, they say regularly playing golf makes all the difference. The PGA says, "...nearly 60% of women golfers felt that paying golf has contributed to their professional success and made them feel more included."
It's too expensive compared to other sports
Like many sports, golf requires an initial equipment expense, but what many don't realize is that there are various options for purchasing golf clubs and no real need to purchase a full set, the Ladies Professional Golf Association professionals say.
Ask if your golf course has clubs for rent. Renting clubs allows you to try out a range of clubs to discover what you need or want without the expense of purchasing clubs.
People also assume that purchasing tee time has to cost an arm and a leg, but that's not the case. The Salt Lake City golf courses have discounts for nine holes and discounts for different ages so everyone can play.
You have to dress a certain way
A common fear among women new to golfing is what to wear on the course. Though nearly every movie depicts a woman wearing her finest pearls and shined loafers to the course, that's not actually the recommended dress code.
Golf Week suggests wearing shorts, skorts, long pants or capri-length pants that end just below the knee.
"When in doubt, wear what you wore to the office out to the course and just change your shoes. If it is business appropriate, it should be golf appropriate," the PGA recommends.
Women who aren't ready to buy golf shoes can opt for their running shoes. While running shoes don't offer the same stability as a golf shoe, many clubs will allow them until you are ready to purchase golf-specific shoes.
Dress standards for a day on the green depends largely on the exclusivity of the course. A quick call beforehand can ease wardrobe anxiety.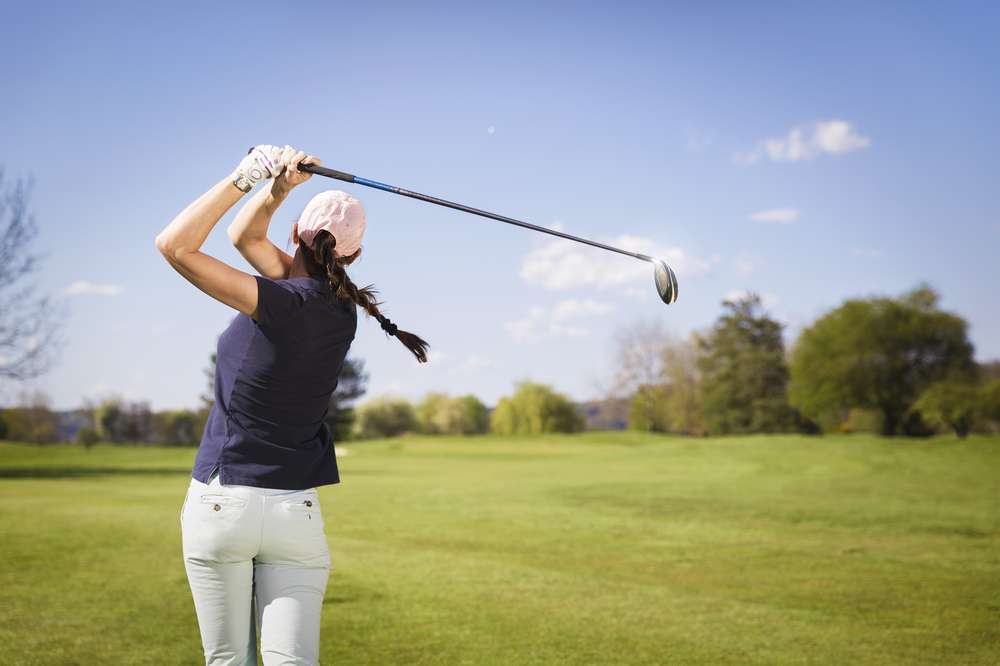 I'll be judged for my lack of skills
Let's face it, we all want to be good at a sport we are pursuing, but all of us have to start somewhere to get anywhere. The same is true for golf.
Every golf course is going to have its fair share of experienced, recreational, or beginner golfers. The key is to accept where you are at and allow yourself room to grow without worrying about where you fall in the mix of those sharing the green with you that day.
"This notion that everyone on the golf course is good at golf is just plain wrong! Of course, there are a number of experienced golfers that play well, but the majority of recreational golfers are doing just that…playing recreationally," the LPGA says.
Beginner golfers that are still lacking the confidence to get out there can consider booking a private or group instructional clinic beforehand. Salt Lake City Golf offers a one-day clinic that targets basic fundamentals for the full swing, short game, putting, rules knowledge, and course etiquette.
Golf takes too long to play
While it is true that a four-hour round of golf can seem daunting for a busy woman's schedule, it doesn't have to be a full 18 holes. Salt Lake City golf courses offer discounted rates for nine holes of golf instead of the normal, longer games.
If you're looking for a simple way to get outside, enjoy nature and socialize, consider picking up some clubs and heading to the course. Find the course closest to you on the Salt Lake City golf website.
×