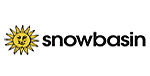 This story is sponsored by Snowbasin.
The "best snow on earth" catchphrase is more than just a marketing slogan for Utah's ski slopes. People come from all over the world to zip down the Utah mountains and sift through fresh powder. A 2018 study found that visitors coming to Utah to ski spent $1.3 billion in the Beehive State between 2017 and 2018.
For Utahns or out-of-state visitors who love the slopes, access to a world-class ski resort near the airport is one of the most compelling reasons to visit the state. Just 45-minutes north of Salt Lake City and Park City, Snowbasin Resort is removed from the hectic hubbub, nestled north in Huntsville.
Besides the 3,000 skiable acres and 3,000 vertical feet with 104 runs, 11 lifts and three terrain parks, there are many reasons to choose Snowbasin as your winter recreation headquarters.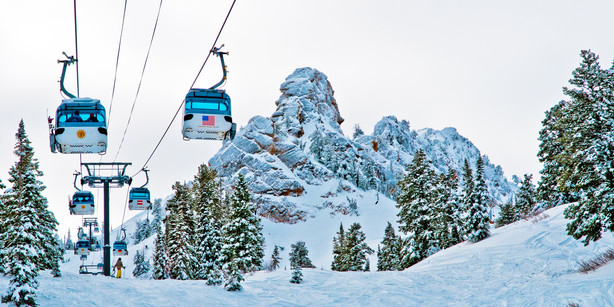 Ski area and options for beginners and pros
If family is a priority for you, and you want your kids to learn how to navigate the runs, Snowbasin is a good option. They are consistently recognized as a top family destination because of the wide-open bowls and top-ranked groomers. In fact, they are the No. 3 in the west on Ski Magazine's Best Ski Resorts 2019 list.
Beginners can enjoy seven easier runs, intermediate skiers will have fun on 30 middle-difficult runs, and advanced skiers can choose from 35 most difficult and 32 expert-only, including the Grizzly and Wildflower Downhill Course from the 2002 Winter Olympics.
Award-winning access
As the winner of Ski Magazine's Access Award, one of the most-cited reasons that skiers and snowboarders love Snowbasin is the peaceful atmosphere and lack of competition for fresh snow. Because the resort has so many runs and skiable miles, and is just far enough off the beaten track, the influx of tourists that often clog the Big and Little Cottonwood Canyons won't trample the runs at Snowbasin.
Additionally, the location is prime for people who prefer more skiing and fewer traffic problems. It's only a 45-minute drive north of Salt Lake City — and traffic usually goes the opposite way.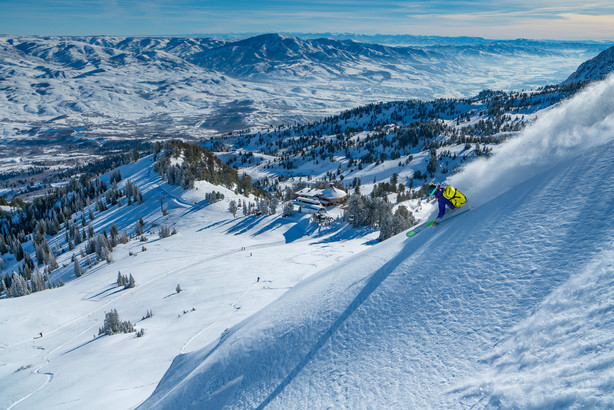 Fast, comfortable options for getting around
Snowbasin is a modern resort with amenities and technology that will keep your ski trips running smoothly. To get around the mountain, you can hop onto two high-speed gondolas or the John Paul Express lift to access the top of the mountain for longer, uninterrupted runs. It also features a tram, a high-speed six-person lift and other historic chairs to access unique terrain.
For experts, heading up Strawberry Gondola or Allen-Peak Tram means getting access to some of the highest-quality black and double-black diamond runs in the state. Wildcat Express and Needles Gondola provide beginners with convenient drop-off points for green and blue-diamond routes.
Top lodges and amenities
The mountain boasts three luxurious lodges that offer cafeteria-style restaurants, a sit-down restaurant and a café. In the Needles or John Paul Lodge, you can enjoy lunch or breakfast on a mountain terrace overlooking the beautiful Mount Ogden landscape. The Strawberry Cafe provides a quick espresso closer to the bottom, with easy access to the Strawberry Gondola that drops between Demoisy and Strawberry Peak.
The excellent service and comfortable atmosphere of the luxurious lodge facilities are among the reasons guests say they prefer Snowbasin to other resorts in Utah.
A range of competitive season pass options
Based on the 2019 season, getting a ski pass could be well-worth your money. Between November 2018 and April 2019, Utah saw 111 days of measurable snowfall, according to Ski Utah. Even if you get a pass with blackout dates, the snowfall and mountain conditions are always improving during a Utah winter, making every day a good day to glide down the slopes.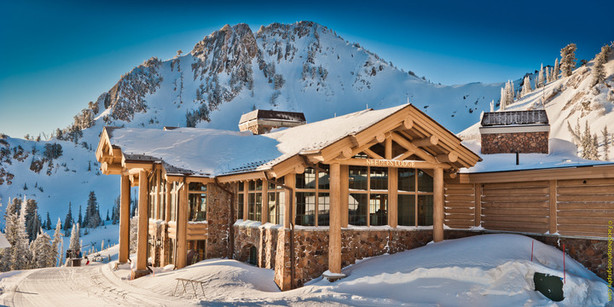 A premier season pass at Snowbasin provides you with perks even into the summer months, no blackout dates, five day passes at Sun Valley Resort in Idaho, 50% off Epic Pass destinations, four buddy pass vouchers and more.
Get your season pass
It's hard to believe, but ski season is just around the corner. With world-class snow, a variety of pass options and an opportunity to have powdery fun all winter long, don't pass up the benefits of a Snowbasin season pass.
Whether you plan on spending most of the winter on the mountain, or coming when you can, there is a season pass option for you and your family. Explore all of the season passes on the Snowbasin website before prices increase after November 3, 2019.
×