PROVO — Kalani Sitake's final game as a fullback with the BYU football team came in 2000, when then-Cougar Stadium was reintroduced as LaVell Edwards Stadium — the house the legendary college football coach built.
It was the final game of coach Edwards' career, and it capped a remarkable era in BYU football history.
But much of Sitake's current roster wasn't even born at that point — or at least, like quarterback Zach Wilson, they were nothing more than infants and toddlers. Many of them have never met the legendary coach who died three years ago at the age of 86.
So, Sitake used the final scrimmage of fall camp before the 2019 season — one that kicks off next Thursday against in-state rival Utah and includes two top-15 opponents in the first four weeks of the season — to remind his players why Edwards' name still sits atop the tower and press box on the west side of the stadium.
Patti Edwards, LaVell's widow and a longtime supporter of BYU athletics, addressed the team before the scrimmage. Specific details of the conversation aren't known, but it involved stories, laughter and insights into the man who was her husband.
"I'm feeling old because a lot of the guys weren't even born when I was playing," Sitake said. "But it makes me think that I don't know if they really knew LaVell Edwards, as a coach or a person.
"Throughout camp, we've tried to teach them more about LaVell and the impact he had — not only on college football, but the father, husband, mentor and coach that he was. Having Patti speak to the team this morning was a special treat for the players."
Now they understand. At least, that's what quarterback Zach Wilson said.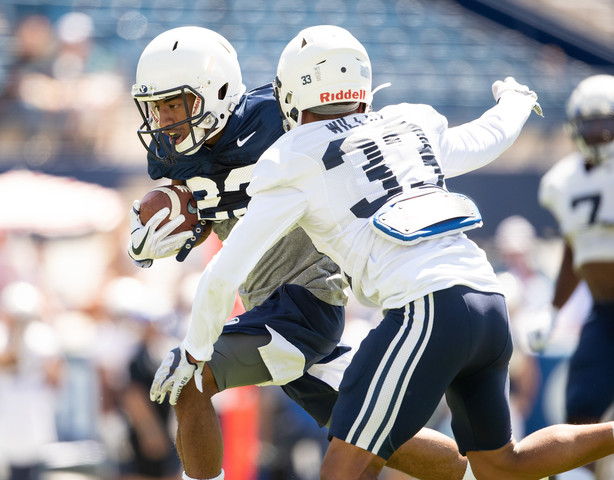 If the players didn't know before, now they know why the House that LaVell Built carries such a powerful connotation in Provo.
Even the guys who grew up in Utah know a little more about why Edwards' name remains on his stadium, his house in his university, thanks to his wife.
"It was awesome. I was locked in and glued in on what she was saying," said Wilson, a product of Corner Canyon High School in nearby Draper. "It was so cool to hear some of her past stories with coach Edwards. All the guys around me were grinning and dialed in.
"It was cool to see her belief in, confidence in the team and her love for BYU football."
Sitake loved Edwards, admired the legendary coach, father and member of The Church of Jesus Christ of Latter-day Saints. Hopefully, he added, his players do, too.
"I played for the man, and I love him," Sitake said. "I think the more we talk about him and let them know what kind of person he was, the better it will be.
"Mark Twain said that, 'history doesn't repeat itself; it just rhymes.' Hopefully, we can have it rhyme with what LaVell did here."
100-times-100
Wilson confirmed that he's watched last season's rivalry game with Utah — when the Utes rallied from a 27-7 deficit to win 35-27 — at least 100 times.
There's a lot to learn from that game and other games in the recent series, Wilson said. Among those learning moments?
"We need to finish," he said. "I think the momentum's shifted, but that's something that we need to keep on our side. We didn't start the second half great (last year), and that's something that I can do. That's the goal."
Wilson also added that he hasn't spoken with his second cousin, star Utah cornerback Julian Blackmon, since that game.
"We haven't talked since last year," Wilson said of the Layton High product. "Nothing crazy."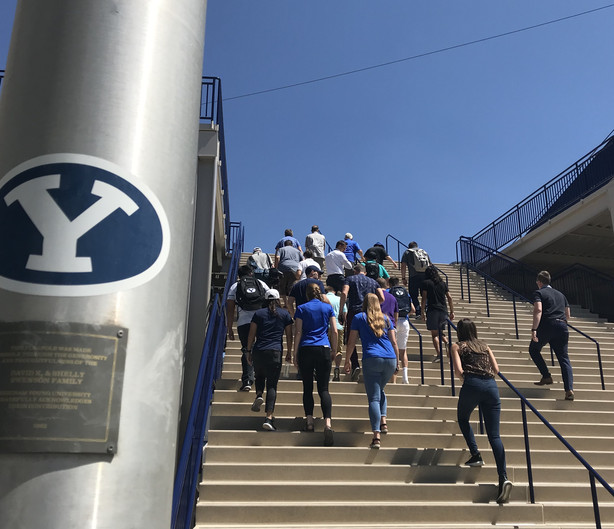 New stadium, who dis?
The Cougars have finished the renovations to LaVell Edwards Stadium that began last spring, including adding new walkways that connect the second-level concourse underneath each grandstand.
A new "grand staircase" now sits in the southwest corner of the stadium, directly across from the forthcoming "Cougar Canyon" pregame tailgating party.
In addition to structural reinforcements and a new studio set for BYUtv's pre-game, post-game and halftime broadcasts, the renovations include several new bathrooms — including 140 stalls in women's restrooms at each corner of the facility, according to associate athletic director Duff Tittle.
×
Related Stories