SALT LAKE CITY — Two police officers who fatally shot a man after he attempted to run them over were cleared Wednesday by the Salt Lake County District Attorney's Office.
Unified police detective Jerry Valdez and Saratoga Springs police detective Nick Stidham both fired their weapons at Andrey Tkachenko, 23, of Salt Lake City, when Tkachenko "started revving his engine and rapidly accelerated" his Nissan Altima toward them.
"Detective Valdez said that he started firing at the driver when he believed that Mr. Tkachenko was going to 'run him over' and kill the officers behind him," according to the final shooting review report released by District Attorney Sim Gill on Wednesday.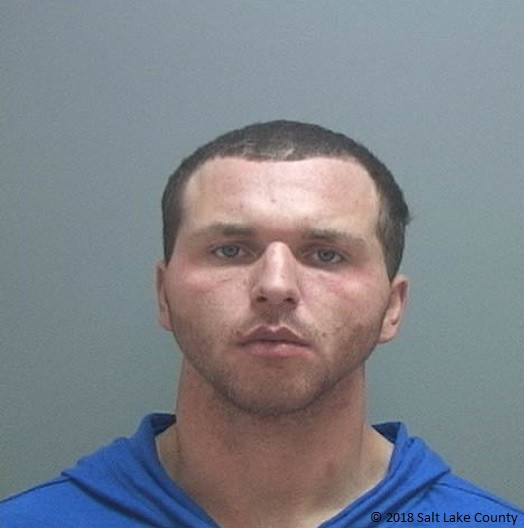 The officers feared being pinned between Tkachenko's car and an officer's F-150 truck that had parked within a few feet of the suspect, the report states.
Surveillance video from a nearby apartment complex caught the incident from a distance, but shows Tkachenko's car narrowly missing the officers and smashing into the pickup truck.
The incident happened on Oct. 18, 2018, when members of the Metro Gang Unit and the U.S. Marshal's Violent Fugitive Apprehension Team were looking for Tkachenko in connection with several recent felony crimes. They knew that Tkachenko had a history of fleeing from police, the report states,
The officers spotted the vehicle they believed Tkachenko was driving, as well as a second vehicle following it. Police watched the two vehicles pull into a narrow parking lot about the size of an alleyway, near 455 E. 300 South.
It was later determined that two women were following Tkachenko believing they were all going to a hotel room, according to the report. A second man also showed up and got into the passenger seat of Tkachenko's car while he was in the alley, allegedly to purchase drugs, according to the report.
When Valdez pulled up in his unmarked pickup truck, the passenger got out of Tkachenko's vehicle, went up to the driver's side of the truck and asked Valdez, "Can I help you?" To which Valdez replied, "No," the report states.
Investigators believe at that point, the passenger saw that Valdez was wearing a vest that had "police" on it, and went back to tell Tkachenko. That's when Valdez exited his truck and yelled, "Police, get on the ground!" according to the report.
Related:
At the same time, Stidham and another officer climbed a fence separating the parking lot and the Peter Pan Apartments and entered the scene. Tkachenko's passenger took off running and the third officer went after him, the report states. That left Valdez and Stidham to confront Tkachenko.
Both of the women who were in the car following Tkachenko said they heard officers yell, "Don't do it!" multiple times, the report states.
Tkachenko never made an effort to exit his vehicle or speak with officers, according to the report. A resident who lives nearby said he heard five to 10 shots, according to a police warrant.
Both officers were grazed by the oncoming vehicle. Stidham was transported to a local hospital as a precaution due to a knee injury. As officers approached the vehicle after it crashed and stopped, they initially saw Tkachenko with both of his hands up, but then one dropped towards his waistband, according to the report.
Tkachenko was pulled out of the car and given medical attention. Investigators later discovered he had a gun in his waistband, according to the district attorney's report.
Court records show Tkachenko had a lengthy criminal history, including convictions for theft, burglary, drug possession, and in at least one case firing shots at a woman. He also had a history of fleeing from police.
West Valley police conducted the independent investigation into the officer-involved shooting.
During a press conference on Wednesday to announce his decision, Gill was asked why it took 10 months for his office to reach its conclusion when the investigation was considered straightforward. He said it was simply a matter of his office being overwhelmed with more than 20 cases of officers using deadly force that have to be reviewed.
Saratoga Springs Police Chief Andy Burton and Unified Police Chief Jason Mazuran, who both attended Gill's press conference, said they understand Gill's office has been overwhelmed with shooting reviews and were not bothered with the time it took before a decision was made. Both men said they had been in touch with Gill throughout the process, and based on information they were receiving, the two officers were allowed to return to duty months ago rather than wait for the final report,
×
Related Stories