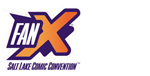 This story is sponsored by FanX Salt Lake Comic Convention.
2019 has been one for the superheroes. Endgame, Captain Marvel and Spiderman are just a few of the releases this year alone. Whether you're a diehard Marvel fan or you enjoy any flick about a villain and hero, you've probably given some thought to what superpower you'd like.
Take the quiz below to find out your definitive superpower! Even if you disagree with the outcome, there's a place for you and your love of heroics. FanX Salt Lake City is coming to town Sept. 5-7. Grab your cape, super suit and disguise and come downtown to mingle with the other heroes of the universe.
By taking the quiz, you're entering to win a pair of tickets to the FanX Comic Convention! Several people will win, so invite your friends to take the quiz, too.
×