SALT LAKE CITY — Forget about the flurry of American pool players that opted out of participating in the World Cup. Donovan Mitchell has.
"Some guys are older. Some guys rest their bodies, I understand that — that's the nature of the game," Mitchell said following the USA's exhibition win over Spain. "For me, I've never been a part of USA basketball. I'm honored to be here. I'm honored to have this privilege."
There are plenty of reasonable reasons why some of the top USA stars are foregoing a chance to compete in China: NBA training camps will begin shortly after the championship concludes, the World Cup is seen as less prestigious in America than the Olympics and it's a tournament that has mostly been reserved for the new generation of stars.
In 2010, it was Kevin Durant, Derrick Rose, Russell Westbrook and Steph Curry leading the team before they would go on to be MVPs.
In 2014, the likes of Klay Thompson and Anthony Davis joined the squad right as they were rising from young players to perennial All-Stars.
Now, it's Mitchell's, Kemba Walker's and Khris Middleton's turn. Yes, the 2019 World Cup roster is one of the weaker ones — at least on paper — that USA Basketball has assembled in some time. But that fact might end up helping the Jazz in the long run.
Instead of being a player who is fighting for a roster spot, Mitchell will be one of the stars of the show.
Mitchell has earned rave reviews from USA coach Greg Popovich and his teammates. He's playing both backcourt positions, continuing his development with some high-level talent around him all while under the watchful eye of one of the best coaches ever. And he's taken on a leadership role — even with plenty of more experienced players around him.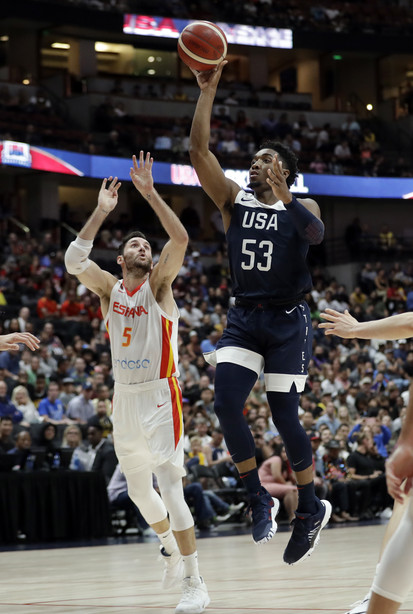 He's developing as a player and developing as a leader — sounds like the perfect way to spend the offseason.
With the Jazz expecting to challenge for the NBA title this upcoming season, they'll need Mitchell to be the star they see him becoming. The World Cup experience will only help him with that.
He's playing well — his 13 points against Spain led a balanced attack and he's growing as a playmaker (despite the zero assists in the exhibition) — but what might be more impressive is the effect he's having on his teammates.
He's only 22 and has never been an All-Star. Some members of the team have more years in the league, some have more accolades and some have more experience with the national team. Yet, he's the one being vocal at practices and at meetings and emerging as one of the faces of the squad.
And more than that, his teammates are listening to what he has to say.
"I think, right off the bat, he's a stud," USA assistant Lloyd Pierce told the New York Times. "He's taken on a leadership role right from the start. He's very vocal in our meetings. We're playing him some at point guard and he's defending some on the ball. He's just a confident, vocal, natural leader."
The charismatic and talented young guard won over his Jazz teammates during his rookie season, he's now doing the same the Senior National Team. That speaks volume to who he is as a player and a teammate.
"I think having guys who are willing to listen to each other makes it easier," Mitchell said of his teammates. "I've always been that way. I've been a guy that leads by voice and by example. When you have guys that are willing to listen, cuz it's not always easy for young guys to come in and do that, but when you have teammates from other teams — who are stars on their own teams — come in a listen, it makes it really easy for me to come in here and be a leader."
The World Cup has always provided a platform for young, emerging stars. Mitchell is ready to shine.
"I think for me I just want to represent my country and go out there and play," he said. "I think it was a no brainer for me. There was no hesitation whether I was going to stay. I wanted to play. It's such an honor to be here and I'm going to continue to play my heart out for my country."
×