PLEASANT GROVE — As the wife of a law enforcement officer, Lydia Hebdon, 26, knows firsthand the concerns facing families of the men and women in blue. When police and sheriff's deputies hit the streets everyday, there is the chance they could be involved in a violent altercation that could result in them being shot at.
For years, she thought like many people do that the bulletproof vest officers wear would provide protection. However, she was surprised to find out that wasn't really the case, especially against some of the high-powered weaponry available today.
She was made keenly aware of that possibility in 2016 following a particularly deadly incident involving a group of Dallas police officers who were ambushed by a lone gunman that left five officers dead and nine others injured.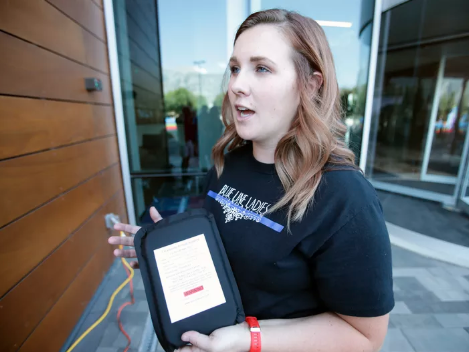 "As the wife of a police officer, I feel a very strong connection to any other police officers — the fear of sending my husband to work every single day knowing that there is a chance he may not come home," she explained. "During that shooting, the (killer) had a rifle and a couple of the officers were shot through their vests."
It was then her husband told her that the vests don't protect against rifle rounds. The reality is that the vests will generally only stop most hand gun rounds, but they will not stop rifle and shotgun rounds, said her husband, Weber County Sheriff Cpl. Ty Hebdon.
Shocked, Lydia Hebdon hatched an idea and helped establish the Blue Line Ladies Foundation, a Utah-based nonprofit organization that raises funds to purchase protective equipment for local law enforcement agencies across the state. Thus far, their efforts have specifically gone toward purchasing bulletproof trauma plates.
A trauma plate is a 5-inch by 8-inch insert made of high-density TiCarbonite armor that is an add-on reinforcement to ballistic vests. Most commonly worn in a pocket in front of the ballistic panel of a vest placed in the center of the chest, trauma plates enhance the protective value of the standard vest, Ty Hebdon said.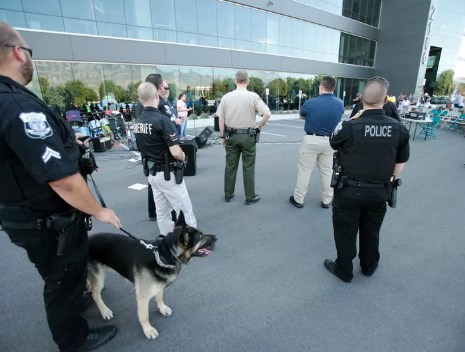 "These go in with our soft body armor," he said. "It just gives us an extra layer of protection. It just gives you a little extra peace of mind because you never know on the calls that we respond to (what could happen)."
He said the trauma plates weigh less than a pound and are less than an inch thick, making them lightweight and very easy to wear on a daily basis.
"It's small but it covers the essentials — the heart, the lungs and other vital organs is what it's meant to protect," he added.
Hebdon said he is grateful to his wife for her efforts in trying to provide extra protection for fellow officers and peace of mind to their families.
"We appreciate (people's support). It is a dangerous job and most of that comes from the unknown, and this little piece (of equipment) can help give you a little bit more peace of mind going into the unknown," he said.
"Every little bit that we can have to make our job safer so we can do the job we're supposed to do without worrying about other things helps us get along and do what we're asked to do," Utah County Sheriff's Sgt. Spencer Cannon said.
He said the trauma plates can be a valuable tool for personal safety that allows officers to perform their duties at their highest level.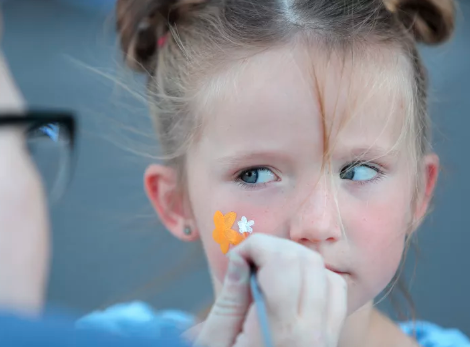 Blue Line Ladies partnered with local businesses to host a fundraising event Saturday in Pleasant Grove with the goal of raising $10,000 to supply trauma plates to officers and deputies in Utah County.
All the proceeds from the event went to the Blue Line Ladies Foundation to support their work in getting protective equipment to Utah law enforcement officers.
Cannon noted that the event also gives the public a chance to interact with their local law enforcement in a more personal fashion, which gives both sides the opportunity to see one another as just regular people.
"It's impactful. It really is meaningful to know that there are people who care enough about the law enforcement community to try to do something extra," he said. "(Blue Line Ladies) is doing something that provides a very real benefit to the officers on the street (and the community)."
×
Photos
Related Links