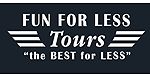 This story is sponsored by Fun For Less Tours.
If there is a single, defining event in the history of The Church of Jesus Christ of Latter-day Saints, the moment would undoubtedly be what members of the faith call "The First Vision."
The moment came in April 1820, and in April 2020, some followers of the faith will get to celebrate the 200th anniversary of that significant event where it occurred in Palmyra, New York, as part of a special tour group.
Led by Glenn Jay Rawson, who has produced numerous television programs and documentaries about the history of The Church of Jesus Christ, participants will see many sites crucial to the establishment of the faith.
Most importantly, tour participants will also be able to take key elements from church history and apply them in improving their own lives and strengthening their faith.
"The sincere student of church history comes away with a testimony that is unshakable, and his increased knowledge helps him to stand up to hostile challenges," explained Leonard J. Arrington, historian for The Church of Jesus Christ from 1972-1982 in an article for the Ensign.
Here are three examples of lessons that can be learned from reviewing religious history and its significant sites.
Faith and obedience are active choices
Faith plays a big role in normal people's lives. Going off of word alone, many people believed — or didn't — that Joseph Smith saw God and Jesus Christ in that first vision. There was no evidence of that event happening 200 years ago, but many people believe it did happen.
Even after receiving a literal witness of his faith, the prophet Joseph Smith still had instances where his faith was all he had to lean on when hard things were asked of him.
When he was asked to view and eventually receive the golden plates from which he translated the "Book of Mormon," Smith was sincerely torn on following the Lord's instructions or using the plates to assist his poor family. In the first chapter of "Joseph Smith — History," he writes, "Satan would try to tempt me (in consequence of the indigent circumstances of my father's family), to get the plates for the purpose of getting rich."
Although a difficult choice, it was a conscious act of faith and obedience to do as he was told and deliver the plates home for the purpose of translating them.
Imperfect people can be godly
Another important lesson to remember from church history is the most devout followers aren't perfect.
"Except in the case of His only perfect Begotten Son, imperfect people are all God has ever had to work with. That must be terribly frustrating to Him, but He deals with it. So should we." says Elder Jeffrey R. Holland of the Quorum of the Twelve Apostles.
Smith talks about the mistakes he made as a young man and the grief and sorrow he felt as a result. His mother recounts a conversation they had in the Lucy Mack Smith History, "as I passed by the hill Cumorah, where the plates are, the angel met me and said that I had not been engaged enough in the work of the Lord."
While members and leaders make mistakes and always have, change is possible and forgiveness is required.
You aren't defined by what has come before
Many of the early Latter-day Saints were poor farmers, with no education or credentials. Jesus Christ himself, as described in Matthew, was poor, had no standing in society, and came from an inauspicious family line. This family heritage made him no less a king, and the saints' humble beginnings made them no less destined for their promised land whether it was Ohio, Missouri, Illinois or Utah.
Despite the challenges that lay ahead, every soul is destined for something better. There is relief from the sorrow, light in the darkness, and personal promised lands yet undiscovered.
While these are just a few of the many lessons saints have learned about their history, there are many more to be discovered by learning about Church history and by visiting sacred Church history sites.
The special tour celebrating the 200th anniversary of the First Vision is offered by Fun For Less Tours. Special guest educator, Glenn Rawson, will lead the tour with his extensive knowledge of early Church history and the sites.
×