SALT LAKE CITY — A smirk appeared on Jeff Green's face as he looked to his left and listened to Ed Davis.
"When I was younger, early in my career, I didn't understand why the vets always wanted to play with other vets, guys with experience," Davis said. "But now I understand it, so I'm definitely looking forward to that."
Green's smile was telling. He knows what it's like to play with inexperienced teams and ones that aren't close to competing for a title. And after going to the finals with an experienced Cleveland Cavaliers team, he knows which one he prefers.
A young Orlando Magic squad, a young Brooklyn Nets team, a young Washington Wizards unit or a team with championship aspirations? The choice isn't that hard for veteran players like Davis and Green.
While youth doesn't always mean a lack of success — Davis' Brooklyn squad made the playoffs just last year — there's comfort in having experienced players surrounding you. And it's usually indicative of something else: a team is ready to win.
"At this stage in my career, I wanted to play on a veteran team," Davis said. "A team that had a chance to contend for a title at the end of the year."
A team that traded young assets for old friend Mike Conley in an attempt to reach the top? That was the team for Davis and Green.
"With the personnel that they were building on this team, the opportunity to win was most important," Green said.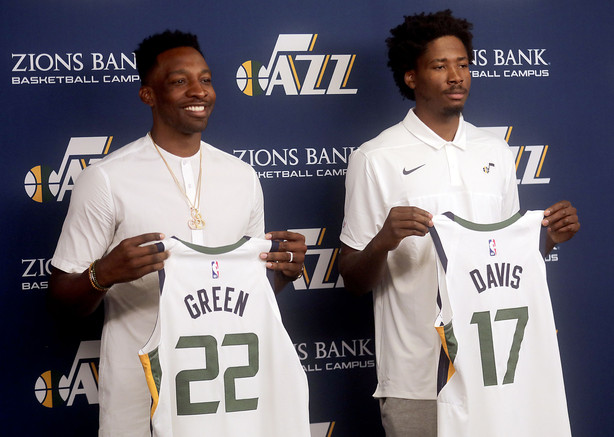 Green and Davis join two-time Defensive Player of the Year Rudy Gobert, emerging superstar Donovan Mitchell, and veterans Joe Ingles, Bojan Bogdanovic and Conley. There's defense, there's playmaking, there's shooting, there's leadership — the potential is there for the Jazz to take the next step.
"There's a lot of guys that open space, it's gonna create a lot of shots for everybody," Green said. "There's gonna be a lot of opportunities for people to have great games. And I feel like, with an unselfish group, we have a lot of guys who can be proud of that. That's what you look forward to: a team that's very unselfish and gonna play for each other."
Before agreeing to a deal, Davis said he reached out to Conley, whom he played with in Memphis, to see how he felt about the Jazz. Conley had said the right things in public since being traded to Utah, but Davis wanted confirmation from his old point guard that the Jazz were really on the verge of competing for the title.
Conley assured him they were.
"He definitely gave me confidence that this team was ready," Davis said. "That helped out a lot for me. He was one of the reasons I made my decision so quick."
Both Green and Davis are looking forward to reuniting with Conley, with both giving glowing reviews of both Conley the player and Conley the person.
"He's a guy who fights for his team, loves his team, supports his teammates," Green said. "A guy with no ego, who's gonna play hard every night and try to win."
Green's relationship with Conley shows the perks of being with veterans off the court, too. Their wives are friends and their kids are the same age. It's an adult friendship.
"He's a good guy," Green said. "He's someone that is going to be there for you and lend a helping hand; a good friend and a good teammate."
Even with all the optimism, Green and Davis still will have to acclimate to their new team. That process, though, has already started. While roles and playing time haven't been discussed, Davis said that he thinks his role is fairly obvious — a good rebounder and shot-blocking presence that will likely backup Gobert — and Green stated that he's already had "looong talks" with Jazz coach Quin Snyder about his fit on the team.
He can also help the Jazz players know just what it takes to reach the Finals.
Because, while it's mostly a veteran team, that's an experience only he has. Come next June, though, they are hoping that is no longer the case.
×