Editor's note: KSL.com periodically features local bands and musicians. If you have a band or musician in mind, feel free to email your submission to jklopfenstein@ksl.com. Please include a contact email for the artist, if available. - - - - - -
SALT LAKE CITY — Writing from the heart can be vulnerable and intimidating, but singer-songwriter Kristen Beckwith has found a way to turn her own struggles into beautiful songs.
With a longtime interest in becoming a musician, a few false starts and a determination to try again, Beckwith's original songwriting has touched audiences thanks to the authenticity of its message and the deep love with which the songs are crafted.
The Salt Lake City resident's first foray into songwriting, "My Heart Passes Time," told the story of her struggles with anxiety. As her mental health fluctuated, she lost her ability to focus on her creativity, and her music career stalled.
"I didn't have enough light and hope in me to even consider sharing my music," Beckwith said of her journey. "My soul and heart were deeply hurt and scarred from my battles with mental illness. I had done tons of counseling, been on medications, and was always learning and trying to understand how to cope. I am a huge advocate for therapy."
She has been working hard on an EP, with two songs in the can and another, "Everything," about to hit Spotify, Apple Music and Amazon Music on Aug, 2. This single, in particular, is dear to her heart.
"After some devastating heartbreaks and everything I went through with mental illness, meeting (my husband) and finding real, true love was literally amazing," Beckwith said. "So after we had been married almost a year I went deep inside my heart to write a completely real and honest love story, and it became my song, 'Everything.' It is about our journey meeting and falling in love, and how incredible true love really is."
Beckwith said that because of a miraculous turn of events, she was able to heal and find herself in a place where her creativity could bloom again. With the encouragement of her husband, fans, family and friends, she has decided to continue to connect people through music that tells a story of a real woman with real challenges and real triumphs.
In her performances of both covers and originals, Beckwith captivates audiences with her vocals and simple guitar. Her ability to connect and entertain comes by truly feeling the meaning behind the lyrics, and portraying it in loving ways.
"If at least one person is brought to tears during my performance then I have done my job," she said. "I want to touch hearts and move people the way music moves me."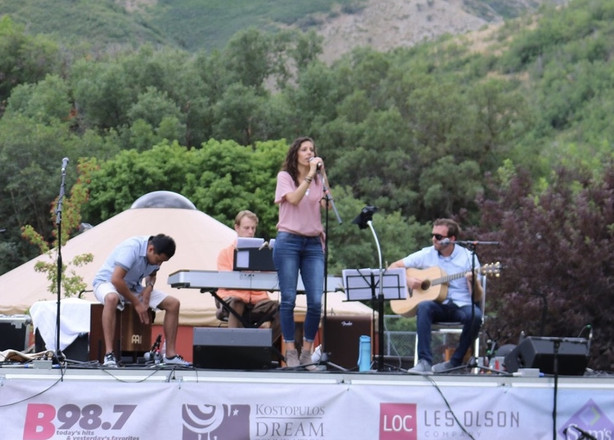 Her fans are dedicated, moved by the realness and inspiration contained in Beckwith's earnest performances.
"Kristen has a liquid gold voice that melts your heart with the passion and talent she gushes with each performance," Kraig L. Packer said in a Facebook message. "The girl is incredible."
For more information, visit kristenbeckwithmusic.com. Beckwith's upcoming performances are listed on her website at kristenbeckwithmusic.com/upcoming-shows.
---
×
Photos