SALT LAKE CITY — Emmanuel Mudiay has played against Quin Snyder-coached teams ever since he entered the NBA in 2015. He saw how well they were prepared, how they played as a team and how they seemed to get better.
He saw from afar that Snyder had to be pretty smart. He just didn't know how smart.
As Mudiay began his free agency journey he spoke with Larry Brown, the coach that recruited him to SMU, and Brown filled him in on who Snyder was.
"(Brown) told me the degrees he had; I was not expecting that," Mudiay said on Tuesday in his first media availability as a member of the Utah Jazz. "The degrees that he has that just proves that he's well put together."
Snyder has a J.D. from Duke Law School and an M.B.A. from the Duke Fuqua School of Business.
And with that kind of intelligence on the Jazz bench, it suddenly made sense not only the Jazz were always a pretty good team, but why they also have proven to be one of the best programs for player development.
That was why Mudiay chose to come to Utah. He wanted to win, and he wanted to get better.
The Jazz checked those boxes.
"I'm so happy that I am going to be on a team that is a winning team, a playoff team," Mudiay said. "I've never been on a playoff team. The thing is just trying to learn as much as possible. I'm surrounded by great people — people that know the game, people that have had success in the league. … I'm just out here being a sponge, trying to soak everything in."
Mudiay is coming off his best season as a pro. He averaged 14.8 points, shot nearly 33% from 3-point range, and averaged almost four assists for the Knicks. But he knows the narrative about his season: empty stats, bad defense, bad team.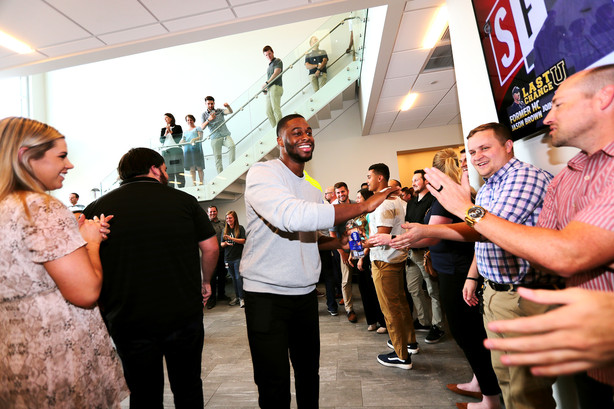 Now, it's all different. Mudiay gets the chance to contribute to a playoff-caliber team. He wants to take full advantage of that. He spoke openly about needing his defense to become a strength — admitting that it hasn't been, and how he wants to be a better shooter to help fit in with the Jazz's offense.
After the Knicks didn't offer a qualifying offer for the young guard, who was once one of the best prep prospects in the nation, Mudiay went out searching for a new team. Instead of chasing playing time or even money (Mudiay signed a minimum deal with the Jazz) he went looking for a team that could help him reach his potential.
So where does he fit with the Jazz? Backup point guard? A wing? Small-ball big? All of the above? He doesn't even know yet.
"That's the fun part about it," Mudiay said. "I've been talking to Coach Snyder a little bit. He just wants ballplayers. The game now, the way it's going, positions don't mean anything. For my size, being a big guard, I'm capable of guarding bigger guys, small 4s. … I might have to play the 3. I don't know. That's the fun part about it."
And the early talks with Snyder have revealed that everything he was told about the Jazz coach is true.
"When I talked to him you could tell how much this really means to him," Mudiay said. "That's big when you have a coach that can talk to you not only about basketball, but off the court stuff. You start have trust in that person as well. If I have trust in you I'll run through a wall for you."
×