SALT LAKE CITY — Depth. Experience. Talent.
That's the ideal makeup of a successful college football team, and one that embodies the look of Utah's offense as it enters the 2019 season. It's a position Kyle Whittingham has been working toward ever since his program joined the Pac-12 just short of a decade ago. It's also still a work in progress.
Here's a preseason look at the positions on offense.
Quarterback
Utah returns likely the best quarterback duo in the Pac-12 with senior Tyler Huntley and redshirt sophomore Jason Shelley. Both have the experience necessary to lead the team and navigate the difficult nine-game conference schedule of the Pac-12.
Huntley enters the season rehabbed and improved as the team's starter. In spring, Huntley looked like a veteran and now has the opportunity to cap off his career at Utah with a big season. Staying healthy will always be the first concern for a quarterback that's had injuries in back-to-back seasons. But Huntley is primed for a great season and should turn some heads under Andy Ludwig's offense.
Behind him in the lineup is Shelley, who is not your average backup quarterback. As a redshirt freshman, Shelley commanded the offense in a tough situation when Huntley went down last season with a season-ending injury, and led the team to its first Pac-12 Championship appearance. Although production lacked a bit at the end of the season, Shelley is an experienced backup should Huntley needs some reps off.
Behind those two, though, the quarterback depth takes a drop. Utah didn't get the waiver it was hoping for from the NCAA for Texas transfer Cameron Rising, so the depth remains with Drew Lisk, a serviceable quarterback that hasn't had a lot of playing experience, to fill in should both Huntley and Shelley not be able to play. Teammates talk Lisk up as a great QB, but dropping this far in the depth chart would be near catastrophic for Utah's goals this season.
Walk-on freshman Jayden Clemons, a talented athlete from Skyridge High in Lehi, is the team's last resort, in terms of players who are listed at QB; however, there are other players on the team that could potentially shift over should the need arise.
What position group are you most excited about this year for the @Utah_Football offense?

— Josh Furlong (@JFurKSL) July 22, 2019
Running back
It's an embarrassment of riches at running back. Utah has done a great job of positioning itself with great rushers for the foreseeable future. That group is obviously led by Zack Moss, who is nearly 600 yards short of becoming the school's all-time leading rusher. His patience and ability to hit the gaps was missed at the end of the season last year.
As long as he remains healthy, Moss is a future NFL player with a bright future. And with an offensive coordinator that has worked well with running backs, Moss's opportunities are limitless. And fortunately for the senior back, Utah has a plethora of talented guys behind him to give him a breather and limit his wear and tear in the game.
Behind Moss, in no particular order, is Devonta'e Henry-Cole, Devin Brumfield, TJ Green, Jordan Wilmore, Micah Bernard and Mason Woodward. Henry-Cole had a strong showing in spring and appears to be a front-runner to lead the backups, but Brumfield and Green offer different looks to the lineup.
Incoming four-star freshman Wilmore could turn some heads in fall camp, though, and could make a push for a better spot in the lineup. Whether he's game-ready yet is still to be determined, but he's a capable back that could have an immediate impact — even if just for four games this season and then redshirt.
The other incoming freshman, Bernard, is a talented back, but most likely to redshirt this season. With so many other players ahead of him, there isn't an immediate need to push his progression in the program. And walk-on Mason Woodward, who has seen limited play, will likely continue to contribute to special teams for his senior season.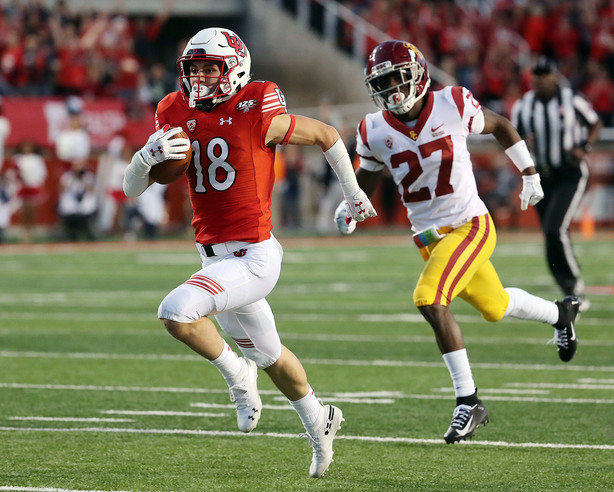 Wide receiver
This position group improved significantly from season's past, but there's still a lot of room for growth with the receiving corps. Junior Britain Covey remains the most exciting name to watch from this group, but what his impact will be to start the season is unknown given that he's rehabbing from a season-ending ACL injury from the 2018 season. Covey could be ready for the start of the season, but rushing his return isn't necessary.
Players likely in the starting rotation: Demari Simpkins, Samson Nacua, Solomon Enis, Jaylen Dixon, Bryan Thompson.
Simpkins wants to be one of the best receivers in the country, but needs to take a step forward his senior season. The Florida native is more than capable of having a breakout season. Enis, too, has the potential to be a leading receiver depending on his progression in Ludwig's offense. Thompson will likely turn some heads this season if given an opportunity to succeed.
Players on the cusp: Derrick Vickers, Tyrone Young-Smith, Terrell Perriman, Donte Banton.
Of this bunch, Perriman and Vickers are the most likely to see time in the starting rotation. Perriman is a redshirt freshman with a lot of potential. Head coach Kyle Whittingham liked Perriman last season and said he was close. With a year under his belt, Perriman could be a surprise star in this group.
Vickers got one more season back from the NCAA and will likely get some playing time this season as a receiver. His biggest impact, though, will be on special teams as Utah looks for a speedy return guy. Banton may see some playing time, but the freshman is likely to redshirt this season. But fall camp progression could prove otherwise.
Tight end
The tight end group is an exciting bunch of athletes with tremendous talent. Led by sophomore Cole Fotheringham, Utah is in great shape here. Fotheringham won the starting job in spring, but is followed closely by Brant Kuithe. Both tight ends have experience and will be a boon for the offensive line and the receiving game. Ludwig likes to throw to his tight ends, so expect some plays to these two throughout the season.
Behind Fotheringham and Kuithe is Bapa Falemaka and Thomas Yassmin. Falemaka is a good fill-in option, but is a bit of a step down from the two ahead of him. That's not to mean he can't have an impact, but Fotheringham and Kuithe are just that good. Yassmin, a redshirt freshman, is still acclimating to his transition of football, but he's made strides and could see some minutes this season.
Offensive line
The offensive line is the least experienced group on the offense, but that doesn't mean Utah is in a world of trouble; however, if the offensive line can't generate the protection needed for the offense to succeed, all the above players are wasted and the season will fail to live up to the expectations placed upon it.
There are a lot of experienced players ready to lead out in this group, but fall camp will tell the full story. The expected starting lineup is likely to be Darrin Paulo ad left tackle, Paul Toala at left guard, Orlando Umana at center, Braeden Daniels at right guard and Nick Ford at right tackle. This group has the most experience together and is at least a baseline to start fall camp.
Utah gets a handful of incoming players that could be inserted in the lineup, such as Bamidele Olaseni, Noah Osur-Myers and Alex Locklear. Olaseni may be delayed in his arrival to Utah, so that could limit his immediate impact on the line, though. The other two have Division I experience, so it will just depend on how they acclimate to the Utah system.
Beyond the guys previously mentioned is a crop of freshmen that could have an impact, but will likely be the future starts of the offensive line. That group includes Keaton Bills, Luke Felix-Fualalo, Falcon Kaumatule, Sataoa Laumea, Johnny Maea, Marist Talavou. Add to that redshirt freshmen Paul Maile and Simi Moala and Utah has options.
×