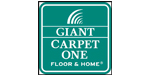 This story is sponsored by Giant Carpet One.
From cavemen to the present day, human beings have found ways to express themselves in their dwelling spaces. But instead of petroglyphs, now you can communicate your personality through such things as wall colors, flooring choices and pieces of furniture.
In an age where home renovation shows are booming in popularity, people are more aware than ever of the different architecture, styles and designs available to customize their living spaces to their individual preferences. You might be the artsy bohemian, the natural rustic or the simple minimalist.
The options are virtually limitless, but here are four popular home styles and the personalities reflected in them.
Contemporary
The contemporary style is often unconventional, with mixes of horizontal lines and low, flat roofs. The contemporary homeowner is an organized planner who's driven and professional.
Victorian
HGTV describes the victorian look as "a dollhouse with elaborate trim and bright colors." Beautiful and classic, the victorian look is popular with those who like charm and grace.
Mid-century modern
As the name suggests, mid-century design gains most of its inspiration from the mid-1900s. Think molded plastic, leather couches and unique design aesthetics. This style reflects an artistic and creative personality with an appreciation for simplicity.
Craftsman
The craftsman style derives from the arts and crafts movement of the early 20th century, according to the Metropolitan Museum of Art. Designers came to value uniquely crafted arts during a time when things were being mass-produced. The craftsman look is distinguished by stone and wood features. If this is your style, you're personal, approachable and you know how to make everyone feel at home.
What style matches you?
No matter what your style is, Giant Carpet One has the right flooring to match your unique taste. From hardwood, laminate, tile, carpet and more, there's something for every personality.
Curious to know what home style matches your personality? Take the quiz to find out!
×