SALT LAKE CITY — If he listens closely, Ricky Rubio might still be able to hear the chants.
The raucous sold-out Vivint Arena emblazoned in red, orange and yellow, rhythmically screaming his name.
"Rubio. Rubio. Rubio."
His Game 3 masterpiece during the 2018 first round was Rubio's crowning on-court achievement as a member of the Utah Jazz — a tenure that officially came to an end this week as he signed a deal with the Phoenix Suns.
"This is a business and you understand that things don't work the way that we want in the beginning, I guess," Rubio said at his introductory press conference on Tuesday. "There's things that change."
From the very beginning, Rubio's two-year stint with the Jazz didn't work out the way anyone expected. And that's why it was so memorable to so many.
Utah traded for him to team up with Gordon Hayward. That partnership, if you want to call it that, lasted less than a week and featured nothing but a failed meeting with Hayward at his San Diego home. Hayward leaving looked like it would leave a hole in the Jazz and a lasting wound in the fan base.
It didn't.
The Jazz can thank Rubio, Donovan Mitchell, Derrick Favors, Rudy Gobert, Joe Ingles and many others for that.
Mitchell's growth into a budding superstar was unexpected; so was the team's end-of-season run in 2018 that pushed them into the second round. Rubio's triple-double in Game 3 against the Thunder in 2018 was a surprise and, in some ways, the quick exit from the 2019 playoffs was too.
Last season might not have been as successful as many had hoped, both inside and outside of the Jazz locker room, but that won't change this team's legacy.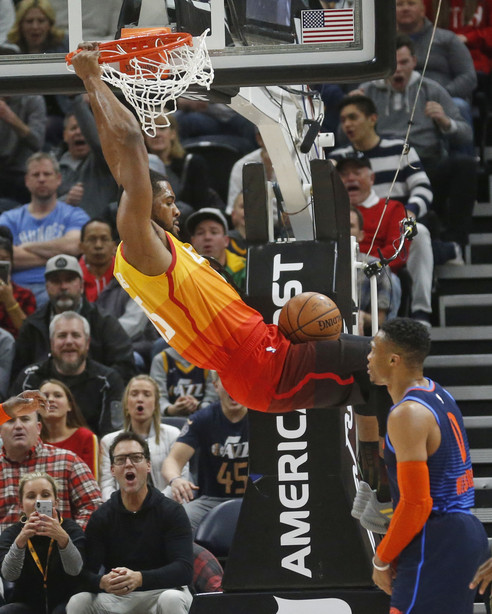 This week, during his world tour to promote his new D.O.N. Issue #1 shoe, Mitchell had some free time. So he had a spontaneous fan Q&A session on Twitter — and he had some jokes.
Would he allow Gobert to take him on a boat ride around Lake Powell? "Nope." What about getting coffee with Ingles? "He's too old to hang out with." Any advice on the best man's speech at a wedding? "You object." Favorite local school, BYU or Utah? "Shoutout West High!" He even agreed to be a Twitter wingman for a fan — but unfortunately didn't have an in with Taylor Swift.
It was a moment that seemed to capture why the last two years have been special. Yes, the team was good — and at times, very good — but it was more than that. The players reached out to the community and they embraced the fan base. They joked with each other and played with such an obvious camaraderie that they were easy to root for.
Utah loved them for it.
Those players turned what could have potentially been disastrous years into sellouts — including selling out an entire season for the first time since 1992-93.
"Our group came together in a special way, and they captured the imagination of our fans throughout Salt Lake City and Utah with the special way that they competed, their unselfishness" executive vice president of basketball operations Dennis Lindsey said. "They played out Quin's (head Quin Snyder) vision toward obvious unselfishness and they achieved really good things."
Just not great things — at least not on the court.
That's now what the Jazz will try to accomplish with some key offseason moves. But as they look to make the next step, they also had to look back.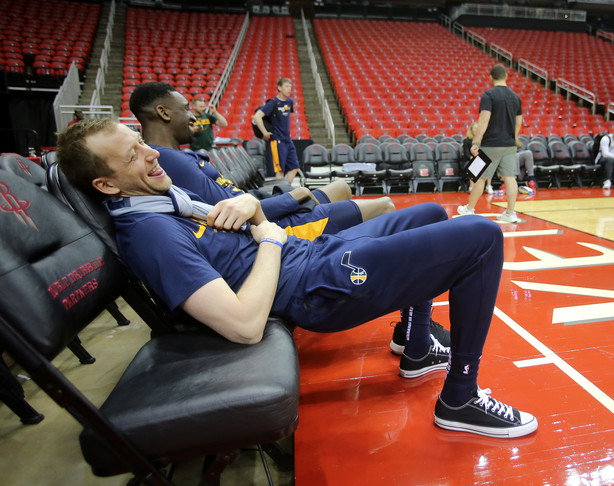 As Lindsey prepared to introduce Mike Conley and Bojan Bogdanovic— players who are widely seen as a duo that can help Utah reach new heights — he first wanted to make sure those former players knew just how much they were appreciated.
He thanked Favors for his "amazing" development. He thanked Rubio for how much he cared. He thanked Kyle Korver for his leadership and example. He thanked Jae Crowder for his toughness and personality. He thanked Raul Neto for being a steady presence. He thanked Ekpe Udoh for making the group more interesting and more intelligent.
He was speaking for himself, but he might as well have been speaking for the entire state. And the messages of gratitude didn't end there.
Jazz owner Gail Miller took out a full-page ad in both the Deseret News and The Salt Lake Tribune to specifically honor Favors and his time in Utah.
"Your hard work and class, both on the court and in the community, continually set a high standard," Miller wrote in the message. "You elevated your teammates — and the rest of us — along the way, and we can never thank you enough.
"And to Ricky, Jae, Kyle, Raul, Ekpe, Thabo and Grayson, I want to express my deepest gratitude for all you've accomplished. You've played key roles in helping our team reach the playoffs, and you've spent countless hours enriching people's lives in our community."
There's undeniable excitement for the upcoming season. The Jazz have improved and have a real chance to compete for a title — at least on paper. But for the organization, and for many fans, the offseason has been bittersweet. The moves were necessary, most will agree on that, but it took saying goodbye to players that made the last two years truly special.
"I was just really excited with the two years I spent out there — I really learned a lot," Rubio said. "Coach Quin is special. And what they're building over there is something that I'm proud of being a part of, that organization. But it's time for me to move on, and I'm really excited to be here."
×
Related Stories