This archived news story is available only for your personal, non-commercial use. Information in the story may be outdated or superseded by additional information. Reading or replaying the story in its archived form does not constitute a republication of the story.
SALT LAKE CITY — The NBA's teams are often separated into three tiers. There's the teams rebuilding, the ones that are playoff competitive and the true title contenders.
Jazz executive vice president of basketball operations Dennis Lindsey has been through the first two stages since coming to Utah in 2012. He has steadily rebuilt the Jazz from the ground up. There was the trying 2013-14 season where the Jazz just about bottomed out. There was the near playoff misses in the seasons following. And, finally, the playoff successes.
But even as the Jazz advanced in the playoffs in two straight seasons, they were never in that final tier. Each time they've been eliminated over the last three seasons, it's been in five games or less.
Those Jazz teams, though, weren't built to be title-winning squads; they were part of the steps needed to get there.
Lindsey, for as good as he has been in his seven years in Utah, wasn't going to convince the top players in the league to choose Utah in free agency. A championship team wasn't going to be built in one summer. A few of them, though? Sure. And Lindsey believes the Jazz have added the pieces this summer to be championship competitive.
As the Jazz enter next season, there's strong confidence within the organization that they have put themselves in that final tier by acquiring Mike Conley and Bojan Bogdanovic.
"No one's ever won a trophy, been the last team standing, because of their preseason comments," Lindsey told ESPN2 during Utah's 97-93 win over Portland in the Las Vegas Summer League on Tuesday. "We are not going to prematurely dust off the trophy mantle here."
They aren't getting too far ahead of themselves, but things have felt different for the Jazz brass this offseason. The reason: They've had more to pitch to free agents.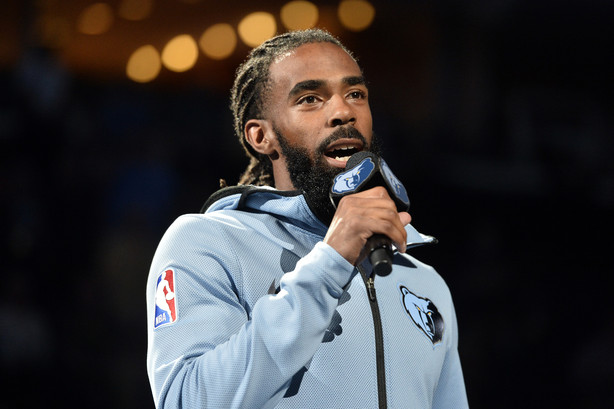 They have Rudy Gobert, the two-time Defensive Player of the Year. They have Donovan Mitchell, who is coming off a sensational second half of the season. But after they traded for Conley, they felt a change in how the team was perceived
"He's everybody's best man," Lindsey said of Conley. "He's been a real accelerator with conversations. We get Mike and suddenly Bojan Bogdanovic wants to have a conversation and we have a few other guys coming that it's similar. He's got relationships."
But it's more than just the history of playing with Conley; it's what his presence on the Jazz creates. With Bogdanovic, it was pretty easy for him to see himself succeeding with the team.
He wasn't alone in that thinking. Jeff Green and Ed Davis came along on deals that were likely below their market value in order to be part of a potential championship. And Utah was able to add former lottery pick Emmanuel Mudiay because of his belief in the team's developmental staff.
"They see Rudy being the best defender in the world," Lindsey said, "They see Donovan, his dynamic, athletic ability and being a really unselfish scorer. I think a lot of people when we had conversations in free agency could envision the plan."
That plan was to add as much shooting as "humanly possible" around Gobert and Mitchell, creating a dynamic offense to go along with Utah's stout defense.
The shooting will help create space for Gobert to roll to the rim and for Mitchell to operate in the paint — and it'll help take advantage of Utah's ability to create open threes. No team in the NBA shot as many catch-and-shoot 3-pointers last season than the Jazz. In Memphis, Conley hit 40% on those catch-and-shoot threes last season, with Bogdanovic hitting 45% of those shots.
When asked why he wanted to come to Utah, Bogdanovic said it was the "Jazz being one of the best teams of moving the ball offensively" that made a difference; which was another thing Lindsey and the Jazz front office could sell this year: Look how Quin Snyder has been able to manufacture offense without great spacing — can you imagine what he could do with a lineup full of shooters?
"We play five-men basketball," Lindsey said. "So when I sit with free agents, it's pretty elementary. The guys get to touch the ball, they don't get to sit and wait. That, again, is a credit to coach and his vision and the way we move the ball."
Even with the likes of Kawhi Leanard, Anthony Davis, Kevin Durant, Kyrie Irving and Paul George changing teams, the Jazz were one of the winners of the offseason. For the first time in a long time, they are in a position to contend.
"We are very confident; we are anxious for the competition and we want to mark ourselves against the rest of the league," Lindsey said. "Hopefully we have moved to the next stage but the proof is in the pudding."
×
Related Links