SALT LAKE CITY — Utah Jazz general manager Justin Zanik turned to his right and looked at the Jazz's new point guard. Zanik was supposed to be addressing the media; instead, he allowed everyone in on a personal message to Mike Conley.
"Your leadership, your talent, mentoring our young guys," Zanik said to the 12-year veteran. "We are really excited to have you."
The Jazz brass had plenty of plans as they prepped for free agency — the one they formally introduced Monday at a press conference in Las Vegas was near the top of the list. Conley came over from Memphis in a trade and Bojan Bogdanovic chose Utah instead of a stay in Indiana. Together, they helped the Jazz turn into a championship contender.
"We had multiple plans running side by side on rails," Jazz executive vice president of basketball operations Dennis Lindsey said. "This was a plan that was really highly thought of. You're always nervous on your ability to execute, and things really just came together. Us being able to make the trade for Mike first was really an accelerant for Bojan."
Bogdanovic confirmed just that.
During his first talk with the press as a member of the Jazz, he recalled his excitement when he received the call from the Jazz expressing their interest in him. He knew the roster and could immediately see himself playing there with Conley, Donovan Mitchell and Rudy Gobert. It seemed like the perfect fit.
"Great group of guys, a great mix of young and veteran players make me so excited," Bogdanovic said. "I was so happy to have that call and be part of this organization and this culture."
That culture might just be what is changing the perception around the league of Utah being a free agency destination.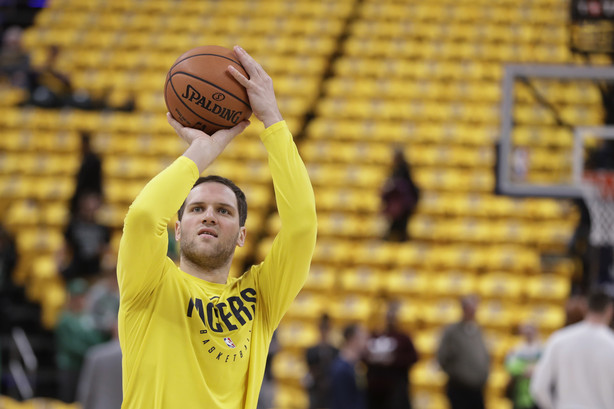 Bogdanovic averaged 18 points and 4.1 rebounds for Indiana last season while shooting 42.5% from three. He upped his average to 20.6 points per game after Victor Oladipo went down with a season-ending injury. It hasn't been common for a 20-point scorer to entertain a Jazz offer, let alone be through the moon about it.
This free agency period has ushered in a new day in the NBA — and a new day for the Jazz.
Bogdanovic is a versatile player. He's deadly from behind the arc, he can drive, he can pass; he's almost tailor-made to play under a coach like Quin Snyder. And he's looking forward to seeing just how he'll fit in with what he called one of the "deepest rosters in the league."
"There are many rotations, many combinations, (Snyder) can use during the game," Bogdanovic said. "So it's going to be really fun for all of us."
The Jazz won the press conference on Monday. They added two great offensive players and didn't project to have lost much, if any, on the defensive end. Zanik said the goal is to try and be in the top five in both offensive and defensive efficiency — numbers that surely would make Utah one of the favorites for the NBA title. In theory, Conley and Bogdanovic will help the Jazz get there.
4️⃣4️⃣ & 🔟 pic.twitter.com/m71T4Rfaek

— Utah Jazz (@utahjazz) July 8, 2019
But now the real work begins.
"I think the whole league feels that there is an opportunity for everybody," Conley said. "Our goals are to going to be day to day, to get in the mud and get to work. We don't know what it takes to win a championship yet. As we go through the journey, we are going to learn together and fight together, lose, win and all the things that come into play throughout the season to hopefully have that opportunity."
The acquisitions have created a fever pitch among the fan base and even throughout the league. The Jazz are viewed as a team with a legitimate title shot — and that lofty goal is something the organization is welcoming with open arms.
"We embrace the expectations because we are trying to field the most competitive team that we can in pursuit of a championship," Zanik said. "We got a lot of work to do. We gotta have the team gel and spend time together and we have time to do that. We will embrace everything because we are here to compete."
That chance to compete with the best is just what Conley is ready for in Salt Lake City.
"It's all you really want as an NBA player is to be able to compete at a high level every night and give yourself opportunities to do great things," Conley said. "Unfortunately for me, the last few seasons we didn't really have that opportunity. … Right now, it's just a breath of fresh air, it's a shot in the arm."
Turns out, Zanik isn't the only one that's really excited to see Conley with the Jazz. The point guard himself is too.
×