SOUTH JORDAN — The second time was the charm.
A new electric, low-speed ride-share vehicle for the Daybreak community was finally unveiled during a ceremony Wednesday afternoon, a month after it was originally set to launch. The vehicle was damaged during shipping, prompting the delay.
"It's pretty cool," South Jordan Mayor Dawn Ramsey said, as she exited the electric kart following its maiden journey around a few blocks in the Daybreak area. Ramsey, representatives from Sen. Mike Lee and Rep. Ben McAdams' offices, and Wasatch Front Regional Council members were among those on hand for the ceremonial event.
KartsUT, a private company, owns the first-in-Utah-type vehicle , which will allow people an ecofriendly option to ride around Daybreak. The company provides a service similar to ride-share car apps like Lyft or Uber, but with an electric kart akin to a golf cart. People can book and pay for their ride online. Prices range from $5 for one ride to $55 for a commuter subscription.
It's the first first-mile, last-mile connection with Utah Transit Authority's TRAX line that's exclusively available in the city, Ramsey said. In addition, Julie Holbrook, a Daybreak resident and owner of KartsUT, said she hopes her company will serve as a pollution solution in Salt Lake County and solve some traffic headaches in the area.
The kart that debuted Wednesday seats four. It was scheduled to launch last month, but was damaged during shipping. Holbrook said she already had a half-dozen sign-ups for rides Thursday, after opening registration late Tuesday night.
"So far, the response has been much more than I expected," she said.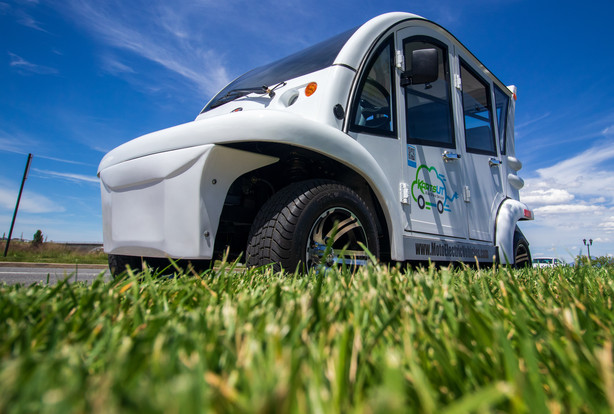 Luckily for her, the damage done to the kart during shipping didn't cost Holbrook anything out of pocket, aside from the delay in the company launch.
There will be a second six-seat vehicle option for people in the Daybreak community by the end of the month. Holbrook expected the second vehicle she ordered to be up and running next week. That vehicle was intentionally delayed to allow time for SB139 to take effect which, among other things, made it legal to drive a six-seat kart on Utah roads. More karts could be added to the company's fleet in the future, depending on demand, Holbrook said.
She envisions many uses for the kart service.
"I had someone say, 'Hey, can you take me over to Smith's?' And then we have events — the concerts are held (by Oquirrh Lake) — there are events all over in Daybreak in different parks," she said, adding that others have also mentioned they planned on using it to get to the nearby Oquirrh Temple.
For her, Wednesday's launch was the culmination of nearly a year's amount of work. The idea sprouted from when she saw a golf cart driving around Daybreak area last year and thought it would be a good option for residents to be escorted around the neighborhood without walking or driving around.
Here's KartsUT owner Julie Holbrook and South Jordan Mayor Dawn Ramsey pulling in after the kart's maiden voyage pic.twitter.com/iLtMSEjVQF

— Carter Williams (@cwilliamsKSL) June 19, 2019
She looked into it and found the carts weren't street legal, but later found similar street-legal vehicles and ordered two from a manufacturer on the East Coast. Holbrook hopes to one day branch out further than Daybreak but is focused on her neighborhood first.
"It's a pioneering effort. Nobody's done this before, so I've kept it real simple," she said. "We'll make adjustments as we go. We need to meet the needs of the people."
Ramsey praised Holbrook and KartsUT as "a fun, innovative idea." She first learned of it when she met with Holbrook and was shown a drawing concept of the business. Ramsey liked the idea and told Holbrook to keep in touch.
She was also impressed with how it turned out.
"I wish her the best," Ramsey said. "I think all of the communities around us are looking for ways to mitigate impact on the roads, take cars off the road, and be wise for the environment. What can we do? I think we're all looking at different things."
KartsUT might just be the newest potential solution to that problem.
×
Photos
Related Stories