This archived news story is available only for your personal, non-commercial use. Information in the story may be outdated or superseded by additional information. Reading or replaying the story in its archived form does not constitute a republication of the story.
HERRIMAN — A teen critically injured when the motorcycle he was riding crashed into a dump truck Monday morning is expected to survive and recover, but he may face reckless driving charges, police said.
Meanwhile, police are still trying to locate the dump truck that was involved in the crash, said Herriman Police Lt. Cody Stromberg in a statement Wednesday. He said police have not received any new information or additional witnesses over the past two days.
Herriman police declined to identify the teen, a 17-year-old boy, because he is a minor. He remained in a hospital with critical injuries Wednesday morning.
Emergency crews responded to a report of a motorcycle crash on Mountain View Corridor at 12800 South about 7:20 a.m. Monday. Witnesses told police they saw a black motorcycle speed past other vehicles on the shoulder of the road near 12300 South, cross through the 12600 South intersection and drive around another vehicle at 12800 South before crashing into the back end of a dump truck hauling a pup trailer, Stromberg said.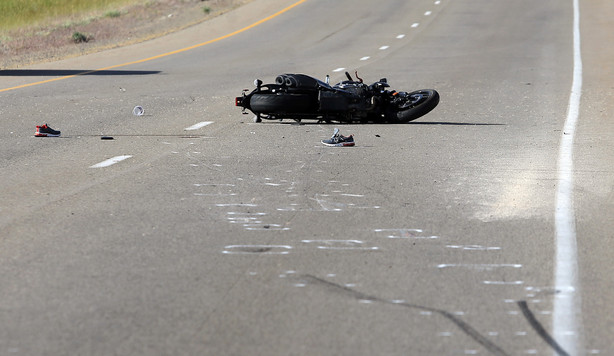 The motorcyclist wasn't wearing a helmet and was transported via medical helicopter to a hospital in "extremely critical" condition with severe head trauma, police said.
The crash remains under investigation, and Stromberg said Wednesday police are investigating "excessive speed" and "reckless behavior" as factors in the crash. The teen may face charges once he has fully recovered, Stromberg added. Police don't believe impairment was a factor.
Police believe the driver of the dump truck likely didn't even know his vehicle had been struck. They hope the driver of the truck will come forward to help in the investigation. Anyone who may have seen the crash is encouraged to call Herriman police at 801-840-4000.
Stromberg added that police encourage motorcycle riders to wear a helmet while riding.
"We highly urge the use of an approved helmet and other safety equipment for any operator or passenger of a motorcycle," he said in a statement, "and would ask that all drivers operate at a safe and prudent speed."
×
Related Stories