SALT LAKE CITY — The time is winding down.
With just five days remaining until the 2019 NBA Draft, the Jazz were doing a little cramming on Saturday.
Utah brought in 12 prospects — with two more having to cancel due to injury — as it begins to finish up draft preparation.
It was a group that featured a local prospect, some hopeful first-rounders, a player looking to be the first from his country selected in the draft and even a younger brother of a potential free agent target.
Here are five stories from Saturday's workouts.
Bruno Fernando, C, Maryland
Utah Jazz Vice President of Player Personnel Walt Perrin almost sounded like he had a secret.
It's no surprise that in the college game many top tier athletes don't get a chance to show everything they can do. The spacing is too tight, teammates aren't as skilled, the game is simply different. Predraft workouts can be used to find out just what a player can do. A player like Maryland center Bruno Fernando.
"He's got an NBA body already," Perrin said. "He plays hard, very talkative, shows some things that he wasn't able to show at Maryland — which I won't get into it."
Did he not want to tip off the rest of the league? Or was there another reason he didn't want to get into specifics?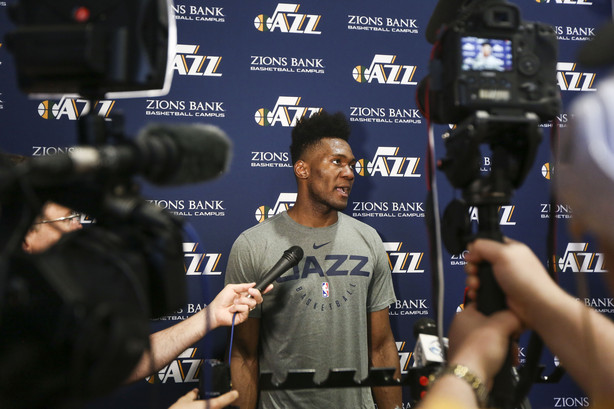 Speculate away.
Fernando is looking to be the first player from Angola to get drafted, and his family, which has never visited the United States, is trying to complete paperwork with the Angolan Embassy in time to make it to New York for Thursday's draft.
"My dad and my brother pretty much got their stuff done," he said. "My mon is running a little late with a couple of stuff from the embassy."
He also knows how big it would be for his country for his name to be called.
"The whole country has been dreaming about that," he said. "It's not something that is just gonna benefit myself. Everyone's going to be extremely happy and celebrate."
Talen Horton-Tucker, G, Iowa State
At the young age of 18, Talen Horton-Tucket already knows what it's like to have his number retired.
No one will ever wear No. 5 at St. Matthias Elementary School again.
"I was probably one of the first basketball players that was pretty good to come out of the school," Horton-Tucker said with a smile. "(When I was in) high school, they just retired it. Hopefully, my high school number gets retired. That'd be great."
That might be a bit more prestigious.
Horton-Tucker is projected to go in the second round of Thursday's draft.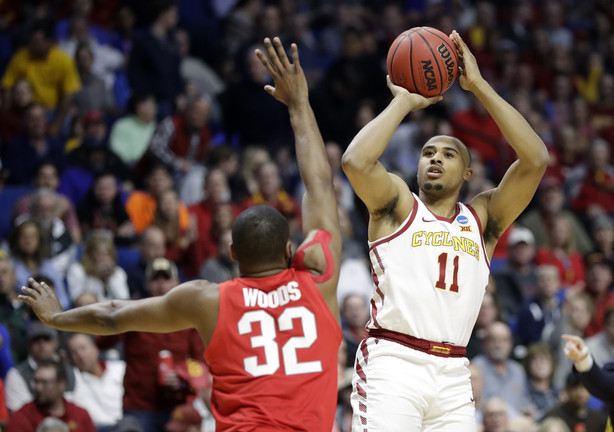 He's a 6-4 guard that shot just 40% from the field in his lone season with the Cyclones and just 30% from behind the 3-point line. But he's also one of the youngest players in the draft — he doesn't turn 19 until November — and he already has an NBA frame. And with him being so young, there's still a lot of time to develop.
"He's one of the youngest players in this draft, so he has a long time to improve his game," Perrin said.
Enough time to get another jersey retired? Time will tell.
Brekkott Chapman, F, Weber State
Brekkott Chapman has been around the state's basketball scene for years. The 6-foot-9 wing starred at Roy High where he became a four-star prospect. He then started his collegiate career at the University of Utah before finishing at Weber State. So it seemed appropriate that he would end up working out for the Jazz.
"It's been an incredible journey," Chapman said. "It's been a lot of ups and a lot of downs, it just shows me that with the support that I have I can get through anything. I'm about to play a game for a living. It's just a blessing to be here."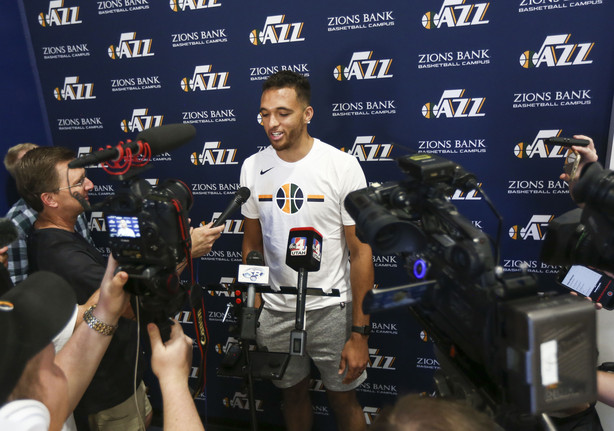 Perrin said that he hadn't watched Chapman since he transferred to Weber State for his junior and senior seasons and called it "enlightening" to see how he's improved.
"(He) showcased his ability to make plays off the dribble, knocked down shots in our drills, showed some explosiveness going to the basket," Perrin said.
It was Chapman's third workout in three days. He worked out with Phoenix on Thursday and Oklahoma City on Friday.
Chapman isn't expected to be selected in the draft.
Terry Harris, F, North Carolina A&T
Terry Harris doesn't really mind all the questions that come because of his older brother, Philadelphia forward and soon-to-be free agent Tobias Harris. In fact, he's liked having the sounding board. Tobias has been able to share advice for workouts. And with their dad also representing Terry, the whole predraft process has been a family affair.
"I love it," Terry said. "I wouldn't have it any other way. Having my brother as a role model, having my dad as someone I talk to every day to represent me. It's great."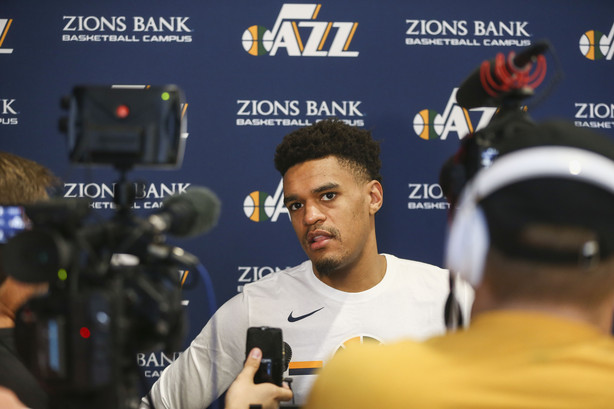 Terry Harris mentioned that he's worked out for the Knicks, Nets, Suns, Sixers, Kings and Clippers before Saturday's workout. While cynics can say that bringing him for workouts is a way of using him to tip the scales to sign his brother later this summer, he just wants to show who he is.
And that's a 6-foot-6 wing that shot 41% from 3-point range in his senior season.
"That's why I'm here," Terry said. "Show them what Terry Harris can do. I think I did that today. If I could leave a workout and let them know that Terry Harris is a knockdown elite shooter, I think I did my job."
Harris is not projected to be drafted.
Luguentz Dort, G, Arizona State
Luguentz Dort has heard a lot of good things about how he's playing during the predraft process. So many that he is confident that he'll be a first-round pick come Thursday.
"I feel like I'm in a pretty good position in the first round," Dort said.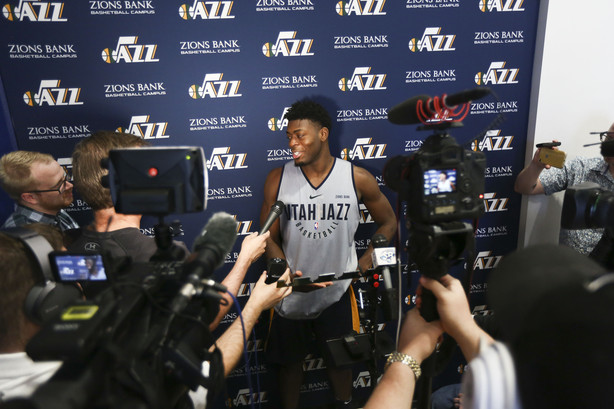 He might just be able to add what the Jazz said about him after Saturday's workout — a workout that Perrin seemed absolutely pleased with as a whole.
"Love his body, love his aggressive and competitiveness, got a physical game," Perrin said of Dort. "Showcased his ability to get up open shots. Defensively, tried to get into people."
The 6-foot-4 wing averaged 16.1 points for the Sun Devils last season while shooting 40% from the field. But what Dort really has prided himself on is his defensive tenacity. He often picked up his man at full court in college just because he wanted to showcase his aggressiveness.
And while most draft experts peg him as a second rounder, that aggressiveness might just earn him a spot in the first round.
×