SALT LAKE CITY — Nate Martinez still remembers sitting in a Layton gym as a kid eagerly awaiting to see who would be walking through the doors.
His Junior Jazz team only knew that a Utah Jazz player was on his way, but they didn't actually know which player. Those kids were in for a surprise. When the doors finally swung open, John Stockton walked into the gym.
"I still have vivid memories of what he did that day," said Martinez who now runs the Junior Jazz youth program. "That was the start of when I became such a big Jazz fan."
Martinez' story isn't unique.
For 37 years, the Junior Jazz program has allowed kids to wear the Jazz logo, to interact with players and to feel a part of the franchise. And while he's obviously biased, Martinez doesn't think the Jazz fan base would be what it is today without the Junior Jazz program.
And biased or not, he might not be wrong.
The Jazz brand is just about everywhere when it comes to hoops in Utah. The franchise has built nearly 20 community courts around the state since 2001. It has started a camps and clinics program to give instruction for newer players all the way through AAU team members. And it hosts one of the NBA's three summer leagues along with a public 3x3 tournament.
In 1982, though, the Jazz were still fairly new to Utah and hadn't made the strongest of first impressions. The franchise started the Utah era with three straight losing seasons and home game attendance hovered around 7,500-8,000 per game. With attendance near the bottom of the league, the Jazz opted to play 11 home games in Las Vegas in 1983-84 to try and garner some regional support.
The fan base that now prides itself on being among the most passionate in the NBA hadn't yet been fully established. And while names like Stockton, Karl Malone and Jerry Sloan were the main catalysts in getting Utah to fully embrace the Jazz, a forward-thinking community program helped solidify it.
During the 1982-83 season, the Jazz began a first-of-its-kind youth program. There were around 7,000 kids that participated in the first year of Junior Jazz and it quickly grew from there. Last year, 62,000 kids in seven different states were involved in the program.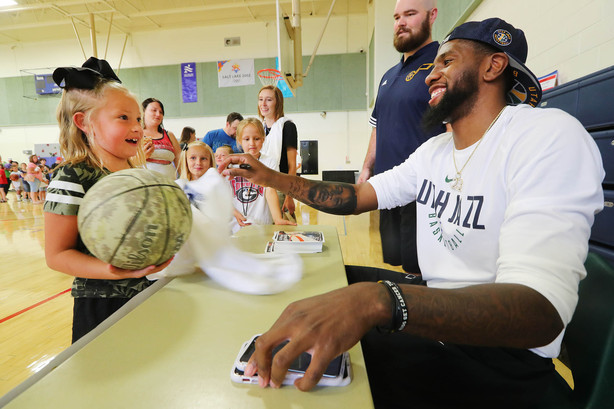 "We are at the point now that there are at least two generations have played," Martinez said. "I played when I was a kid and now my kids are playing. My dad even coached me when I was young, so you are almost to the point where there are three generations."
Since the start of the program, it has provided many kids with their first association with the franchise. They get a jersey with a Jazz logo, they get to meet a player and most get to even attend a Jazz game. They make it hard not to become a fan.
On Monday, Jazz wing Royce O'Neale will embark on the first leg of the 35th annual Junior Jazz summer road trip. In five days, O'Neale will visit 14 different cities and conduct camps. It's a road trip that will take him to Duchesne, Moab, Price, Beaver, Santaquin and plenty of places in between.
"I have heard lots of stories of people saying: 'That was when I've become associated with the Jazz; that's when I became a fan,'" Martinez said. "They put that jersey on — No. 12 or No. 32 or whatever number it had — and started coming to Jazz games and it just continued throughout their life."
They've become fans, but they've also become passionate about the game.
The Jazz wanted to provide an avenue for youth players to improve their skills. So after about a 15-year hiatus, the Jazz Camp and Clinics program was brought back.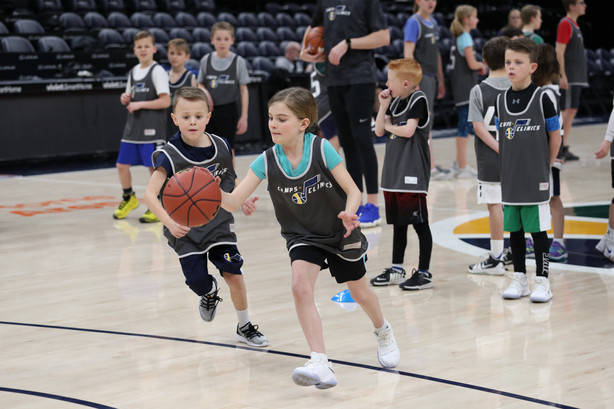 "There are a lot of talented players, but we want to up that level," program director Gary Seljaas said.
There are rookie camps for newer players, skill-specific camps and elite camps for more experienced and skilled hoopers.
"We might look at the footwork of Donovan Mitchell and the move that he made, or here's Dante Exum coming off with his head up looking for a certain situation," Seljaas said. "We show it on the court and then we show it visually for what an NBA player is doing and it gives them a different perspective of the game and how they approach it."
Like the Junior Jazz program, it's about providing a unique opportunity for the youth and growing the game.
"I know it stems from the Miller Famly and what Larry Miller's vision was for the whole Jazz organization and the impact it has on the community," Seljaas said. "To start at such a young level, providing these opportunities and experiences, it's more than gaining a future Jazz fan or Bees fans and those type of things, it's also providing opportunities in a community that you might not get anywhere else."
×