This archived news story is available only for your personal, non-commercial use. Information in the story may be outdated or superseded by additional information. Reading or replaying the story in its archived form does not constitute a republication of the story.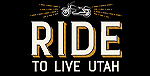 This story is sponsored by Ride to Live Utah.
Utah's new motorcycle lane filtering law goes into effect May 14. Make sure you know the ins and outs of the new law, and what it means for both motorcycle riders and vehicle drivers.
Lane filtering will make it legal for motorcycles to filter — or move in between stopped traffic — under certain circumstances.
Learn more about the specific conditions in which motorcyclists may lane filter and some safety considerations riders will need to take into account.
When can motorcyclists lane filter?
Motorcyclists may only engage in lane filtering if ALL of the following criteria are met:
The individual must be operating a motorcycle on a roadway that has two or more traffic lanes in the same direction.
The posted speed limit on the roadway must be 45 mph or less and the motorcyclist must be traveling at a speed of 15 mph.
Any vehicle or vehicles overtaken by the motorcycle must be stopped and the movement must be made safely.
What do motorcyclists need to know?
Lane filtering is a choice and not a requirement. Each situation will be unique and the rider must determine if they can safely lane filter when all of the criteria are met. Only the rider can choose whether they want to lane filter in the approved conditions.
Regardless of your skill level as a rider, lane filtering may present unique safety challenges for motorcyclists. Make sure that you are alert when lane filtering and always exercise caution.
The law was designed, in part, to prevent or reduce rear-end collisions between approaching vehicles and motorcycles stopped in traffic. Unlike lane splitting, lane filtering is intended to provide a safety pocket for motorcycles when encountering stopped traffic.
What should I do to prepare for lane filtering?
Motorcycle riding skills are perishable and need renewal and lifelong commitment. Whether you're a new rider or experienced ride, whether you plan to lane filter or to avoid it altogether, you can always improve your skills and ride your bike safer. Learn or refresh the skills you need to ride to live by taking a Motorcycle Safety Foundation rider skills class.
The Utah Department of Public Safety is offering a 25% discount code for rider skills classes. Check out the different courses available and get the discount code from their website.
×