This archived news story is available only for your personal, non-commercial use. Information in the story may be outdated or superseded by additional information. Reading or replaying the story in its archived form does not constitute a republication of the story.
WEST JORDAN — Utah Gov. Gary Herbert, state lawmakers, State Superintendent of Public Instruction Sydnee Dickson, local school officials and students broke ground Wednesday for a new and as yet unnamed elementary school at 8860 S. 6400 West.
The Jordan District school is one of seven new schools the district needs to keep pace with steady enrollment enrollment growth in the southwest quadrant of Salt Lake County. A new high school in Herriman is on track to open next fall.
Jordan School Board member Janice Voorhies, who represents the precinct where the new elementary school will be built, noted antelope grazing in what now is an open field.
"Maybe the antelope would make a nice mascot," she said.
Celebrating 5 pieces of legislation
While the groundbreaking was cause enough for celebration, the ceremony served another purpose: Herbert ceremoniously signed five pieces of education legislation passed during the recent legislative session.
The bills included HB120, sponsored by Rep. Ray Ward, R-Bountiful, on school safety measures; HB260, sponsored by Rep. Derrin Owens, R-Fountain Green, which created the Access Utah Promise Scholarship to assist low-income students with tuition costs not covered by financial aid; and HB227, sponsored by Rep. John Knotwell, R-Herriman, which is a public-private partnership to boost computer science education in Utah schools.
Another bill ceremonially signed by the governor included HB373, the student support act intended to boost school safety by increasing the availability of an array of mental health services and school support personnel through matching grants. The bill was sponsored by Rep. Steve Eliason, R-Sandy.
HCR14, sponsored by Rep. Robert Spendlove, R-Sandy, which encourages schools to set high expectations for students with disabilities, was also signed by Herbert during the ceremony.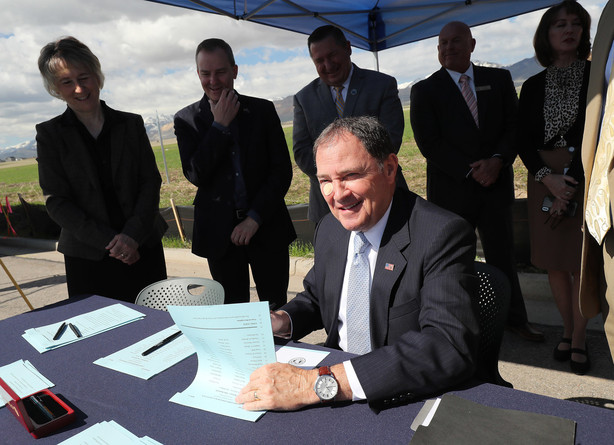 Herbert, who said he had recently undergone surgery to remove skin cancer under his right eye, likened the ceremonial bill signing to his procedure. The bills he signed were proactive measures intended to get ahead of challenges facing Utah public schools and colleges, he said.
Likewise for the groundbreaking of a new school, which Jordan District patrons hope will ease overcrowding in the rapidly growing district.
Be proactive
"In education we ought to be proactive, do what we can with whatever we have to get the best results we can afford and give our young people the chance to be the best they can be. That's being proactive," he said.
Herbert said had he used sunscreen in his youth, it would have been a proactive step to prevent skin cancer. However, the governor said he was of a generation that instead used suntan lotion. After his skin cancer diagnosis a month ago, he underwent surgery, which he described as reactive.
Herbert said his surgeon believes the cancer cells were fully removed.
When asked about his health and prognosis, he said simply, "I'm fine."


×
Photos
Related Stories