This archived news story is available only for your personal, non-commercial use. Information in the story may be outdated or superseded by additional information. Reading or replaying the story in its archived form does not constitute a republication of the story.
SALT LAKE CITY — Here are 10 stories you may have missed over the weekend. As always, click on the headline to read the full story.
1. Utah faith, political leaders mourn deadly toll in Sri Lankan bombings
Faith leaders and members of Utah's congressional delegation on Sunday expressed sympathy and condemned violence against worshippers in Sri Lanka, where Easter bombings at churches and hotels killed more than 200 and injured hundreds more.
2. Report shows 239 people sickened in Utah fluoride overfeed; investigation continuing
A state-required report documenting the health impacts of an accidental release of fluoride concentrate in Sandy said there were 239 cases of human exposure in which people experienced gastrointestinal symptoms such as vomiting and headaches.
3. University police release new car description in attempted sexual assault case
University of Utah police are asking for the public's help in identifying the suspect and vehicle from an attempted sexual assault in the Rice-Eccles Stadium parking lot last weekend.
4. Columbine honors 13 lost with community service, ceremony
Community members in suburban Denver marked the 20th anniversary of the Columbine High School shooting Saturday with a remembrance ceremony that celebrated the school's survival and by volunteering at shelters, doing neighborhood cleanup projects and laying flowers and cards at a memorial to the 13 people killed.
5. Will Salt Lake tourism suffer during major Temple Square renovations?
In terms of popularity, Salt Lake City's Temple Square is the No. 1 tourist and visitor destination in Utah. Every year, between 3 million and 5 million people visit the site. Experts weighed in on how those numbers might be affected when the temple renovations announced by leaders of The Church of Jesus Christ of Latter-day Saints begin?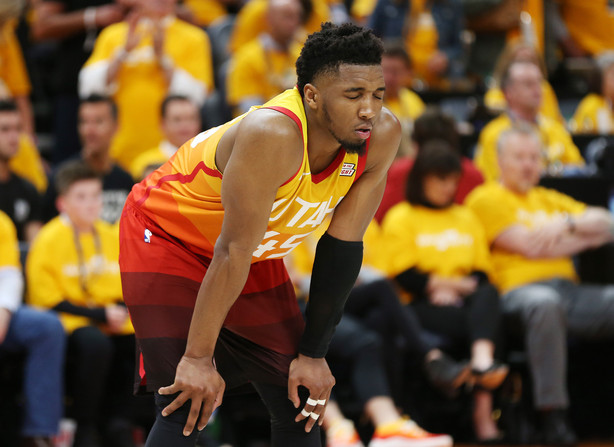 Sports
1. Rockets outlast Jazz to take commanding lead in series
The Rockets beat the Jazz 104-101 in Game 3 at Vivint Arena to take a commanding 3-0 lead in the best-of-seven series. No team has ever come back from a 3-0 deficit.
2. Kyle Korver: 'I've never been around a young player like Donovan Mitchell'
"I have never seen someone so young take ownership of a team, take ownership of his play. Do it with charisma, do it with class. I have never seen that in my 16 years in the NBA."
3. Real Salt Lake tops FC Cincinnati 3-0 to claim season's first road win
With a brace holding his middle fingers together, Albert Rusnak scored a brace while Sam Johnson added a goal for the second-straight match to lift Real Salt Lake to a 3-0 win over FC Cincinnati at Nippert Stadium in Cincinnati, Ohio.
4. LaBonta's goal leads Utah Royals FC to 1-0 win, vital 3 points in home opener
Lo'eau LaBonta scored a goal just 10 minutes into the match, U.S. international Christen Press supplied the assist, and Utah overpowered the visiting Washington Spirit for a 1-0 victory Saturday night in front of an announced crowd of 18,015 at Rio Tinto Stadium.
5. Utah gymnastics scores season-low, finishes last at national semifinal
The Red Rocks placed fourth in the afternoon semifinal with a disappointing season-low 196.725. Moving on to Saturday's championship is semifinal winner UCLA (197.675) and semifinal runner-up LSU (197.5125). Michigan (197.20) finished third and missed the cut.
×