This archived news story is available only for your personal, non-commercial use. Information in the story may be outdated or superseded by additional information. Reading or replaying the story in its archived form does not constitute a republication of the story.
SALT LAKE CITY — When Brad Fritz saw the carjacking happening Tuesday, he had no hesitation as he accelerated, driving to the other side of the road to park in front of Joanna Kingston's car.
"There was no question I was going to help," Fritz said.
At that point, he did not know there were kids in the car. Fritz said once he noticed he stayed in his white truck in front of the car, ready if the suspect tried to drive off.
On Friday, South Salt Lake police executive officer Gary Keller called Fritz a hero and a good Samaritan for his role in thwarting the attempted carjacking Tuesday evening. The agency held a news conference to honor him.
Kingston and her family brought him a large fruit basket with a note to thank him, saying if he had not been there the attacker could have gotten away or been more aggressive toward her.
"Thank you so much, it really did help a lot to know that there was someone out to help us out," Kingston told Fritz.
Kingston said she and three siblings, Janice, 9, Jane, 10, and Jack, 12, were heading to a birthday party when they saw a man walking in the road. She honked to alert him to get out of her way and he turned, heading straight toward her car.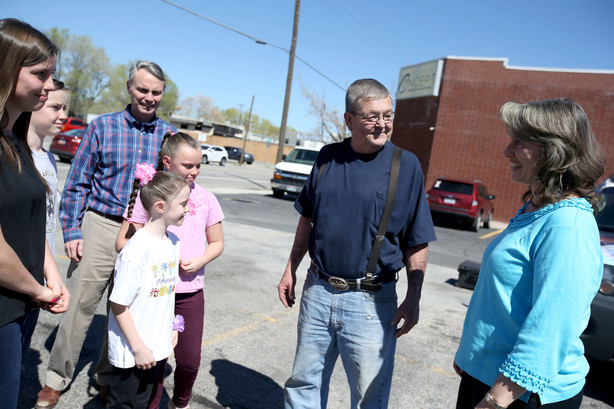 She quickly parked the car and tried to lock the doors, however, she wasn't able to lock her door in time. She said after the attacker opened the door, he asked Kingston to get out and reached over to unbuckle her seat belt. Kingston said she told him "no" multiple times. He proceeded to pull her out of the car.
"When he grabbed my neck that's when it started to hurt so that's when I just let go of the steering wheel and got out," Kingston said.
She stood by the door as man got in the driver's seat, and then reached over him to grab the keys from the car.
"My main goal was to stop him from driving the car because if he drives away with the kids in the back, I'd probably never see them again," Kingston said.
---
My main goal was to stop him from driving the car because if he drives away with the kids in the back, I'd probably never see them again.
–Joanna Kingston
---
Kingston said she is doing better, but still kind of in shock a few days after the incident.
Fritz called Kingston "the brave one," saying she did all the right things, including getting out of the way after the would-be carjacker turned his attention to Fritz and got out of the car and began pounding on his truck window. Kingston got back in her car and drove off.
"She used her head and she did a very, very outstanding job in saving those kids," Fritz said.
Police responding to the scene had to use a Taser to detain the man. Christopher Medina-Izarra was booked into jail for investigation of aggravated robbery, resisting arrest and disorderly conduct.
Keller said Medina-Izarra had been in a fight with his wife, who stopped the car for him to get out and locked the doors so he could not get back in. He was wandering through the traffic on the street when he allegedly attempted to hijack Kingston's car.
×
Photos
Related Stories