SALT LAKE CITY — The calendar says it's spring, but yet another wintry storm is headed toward the Wasatch Front and other parts of Utah.
"It's the storm nobody wants to hear about," said KSL meteorologist Grant Weyman. "It's looking like a big storm."
The National Weather Service has issued a winter storm warning from Cache County south to Washington County. The agency projects a cold front will bring the storm into northwestern Utah Tuesday afternoon and move east, bringing rain and snow across the state through Thursday morning.
Mountainous areas may see 1 to 2 feet of snow during that time.
"High valleys like Park City, Heber City and the Wasatch back could see several inches — 4 to 9 inches," Weyman added.
As of 5 p.m., traffic in Big and Little Cottonwood canyons is restricted to vehicles with 4-wheel drive or tire chains, according to Utah Department of Transportation. The agency estimated that the restrictions will be in effect at least until 10:30 p.m. Tuesday.
Little Cottonwood Canyon also is scheduled to close from 5:30-8 a.m. Wednesday for avalanche control, Unified police said on Twitter.
Apr10 Little Cottonwood will close from 5:30am-8:00am for avalanche control. Estimated Open 8:00am #utsnow

— UPD Canyon Alerts (@CanyonAlerts) April 9, 2019
The valleys are projected to receive half an inch to an inch of rain during that time. However, Weyman said that rain in the valleys could turn into snow overnight Tuesday and make for a slushy commute for many Utahns Wednesday morning.
Weyman likened it to a storm that rolled through Utah on March 28, making for a messy commute the following morning. That storm led to many power outages from downed power lines and felled tree limbs, which also made for a difficult cleanup.
Weyman said the same could happen across areas where snow accumulates.
"This is the bad thing with a late-season storm … The more surface area you have on these trees, the more surface area for this wet snow to hold onto," he explained. "It's not going to be light snow. This is going to be another heavier snow, so even an inch or two of heavier snow is going to create some problems on some branches."
WINTER STORM coming this evening... pic.twitter.com/hdo7BrwSrH

— Grant Weyman (@KSLweyman) April 9, 2019
A large avalanche took place in the Day Canyon area in Emery County, about 20 miles northwest of Huntington, authorities said Tuesday.
The slide was about 200 yards wide and 30-40 feet deep, according to a Facebook post from Emery County Sheriff's Office.
Debris and snow came off the burn scar from 2012's Seeley Fire, temporarily blocking Huntington Creek, authorities said. The creek eventually broke through the snow on its own, officials said.
State Route 31 was not impacted by the avalanche, the sheriff's office said.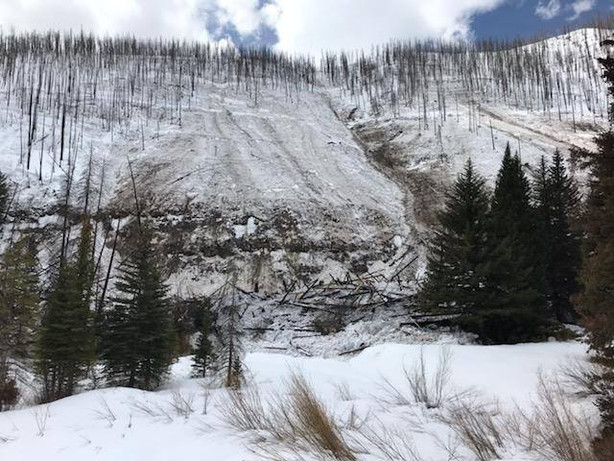 Rocky Mountain Power officials tweeted out a list of emergency kit products Utahns should have to be prepared in case of an emergency. It includes a gallon of water per person each day, non-perishable food, a battery-powered radio with extra batteries, blankets, a first-aid kit, a wrench or pliers to turn off utilities, a manual can opener, medications and copies of important family documents.
For those looking for spring to return, Weyman says the forecast projects 60-degree temperatures by Sunday.
×
Photos
Related Links
Related Stories