This archived news story is available only for your personal, non-commercial use. Information in the story may be outdated or superseded by additional information. Reading or replaying the story in its archived form does not constitute a republication of the story.
COLUMBUS, Ohio — Utah State's first NCAA Tournament in nearly a decade has come to an end.
The Aggies' run was locked down by a pervasive defense, as Washington defeated Utah State 78-61 in the first round Friday evening at Nationwide Arena in Columbus, Ohio.
Noah Dickerson had 20 points and 12 rebounds to lead Washington, posting the Huskies' first double-double in an NCAA Tournament game since 2010. Jaylen Nowell added 19 points, five assists and five rebounds for Washington, and teammate Nahziah Carter supplied 13 points and four assists for the Huskies (27-8).
"You see my hairline? I've lost a lot of real estate the last two years and a lot of sleep," said Washington coach Mike Hopkins, who won his first NCAA Tournament as a head coach. "But I've dreamt my whole life of being in this position. When you dream it and get the opportunity, it's special."
Former Brighton High standout Brock Miller had 13 points and five rebounds to lead Utah State (28-7), which got 10 points form Abel Porter.
What Utah State did in 2018-19 will not be forgotten. A team picked to finish ninth in the league's preseason poll steamrolled to a regular season co-championship, won three games in Las Vegas for a tournament title, and clinched the first NCAA Tournament bid for Cache Valley dwellers since 2011.
FINAL: Washington ends Utah State's season.#NCAATournament#MarchMadnesspic.twitter.com/gdUhRccg8M

— KSL.com Sports (@KSLcomSports) March 23, 2019
In his first year in Logan, Craig Smith set a program record for most wins by a head coach en route to Coach of the Year honors from the Mountain West and the National Association of Basketball Coach's District 17. He helped guide Sam Merrill to Mountain West Player of the Year honors, and went to Portugal to find Neemias Queta, the 6-foot-7 NBA prospect who took league defensive player and newcomer of the year honors.
"From here we were last May and last summer, to where we are now — we were throwing shots into the stands of the Spectrum on a routine basis. That's not a lie," Smith said. "But how far this team has come — I just wish every coach could coach a team like this. It's just an amazing, amazing group to be around.
"This team is a band of brothers. They will be forever connected. There's no ego, nothing. Even tonight, when we were dead in the water, we kept fighting. We kept chipping away and giving ourselves a chance, but we just couldn't get it done."
But fight could only get the Aggies so far. Utah State committed 21 turnovers in their first NCAA Tournament appearance since 2011, and the Pac 12 regular-season champion Huskies turned them into 26 points while leading for all but eight minutes of the game.
Merrill finished with 10 points and three assists for Utah State — but was held scoreless in the first half by Pac 12 defensive player of the year Matisse Thybulle, who finished with 10 points, two rebounds and two assists himself.
Queta finished with 11 points and nine rebounds on just 4-of-12 shooting, and the Aggie freshman who destroyed the program's single-season record for blocked shots had just one block.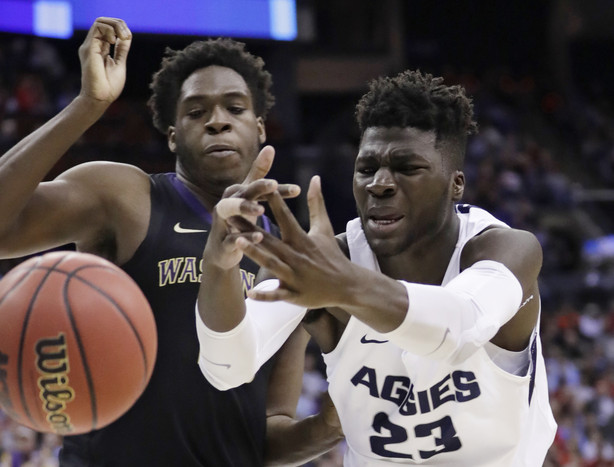 "Their zone was really good tonight and it made it really tough on us," said Merrill, who tipped the Pac 12's back-to-back Coach of the Year recipient Hopkins in bringing the 2-3 zone to Seattle from Syracuse. "We practiced against it all week, but you can't replicate the length and athleticism that they have.
"They did a really good job of not just taking away my looks, but from the team, as well."
The Huskies forced six turnovers from Utah State in the first 9 minutes and held Queta to just four points and two rebounds on 2-of-5 shooting in the first half.
The Huskies ended the first half on a 13-3 run, led by Dickerson's 14 points on 6-of-8 shooting. The freshman also had nine rebounds at the break, and Pac-12 Player of the Year Jaylen Nowell added 11 points and three assists.
"Good teams make plays. Good players make plays," Smith said. "We've done it all year and tonight they did it for us."
Merrill didn't score until a 3-pointer with 14:06, missing his first five shots from the field. That trey pulled the Aggies within 48-38, and Abel Porter added a triple just three minutes later as part of an 11-3 spurt that cut Washington's deficit to 51-46 with 11:24 remaining.
.@Ah_bell 👌👌👌#AggiesAllTheWaypic.twitter.com/O12y6aZDNc

— USU Men's Hoops (@USUBasketball) March 23, 2019
Merrill hit his second three as part of a 7-0 run in 35 seconds, and Utah State rallied from 13-down to trail by just one, 54-53, with 9:54 left to play.
But Carter answered immediately with a pair of threes, and the Huskies responded with an 11-2 run of their own. Washington held the Aggies without a field goal for more than three minutes to wrest control back in their favor and hold on for the program's own first postseason win since 2011.
"At the end of the day, we knew they did a great job of packing the paint. They are one of the best two-point field goal percentage defensive teams in the country," Hopkins said. "Carter is one of the hardest workers on our team and to do that was pretty special."
×
Related Stories