This archived news story is available only for your personal, non-commercial use. Information in the story may be outdated or superseded by additional information. Reading or replaying the story in its archived form does not constitute a republication of the story.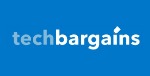 This story is sponsored by TechBargains.
In recognition of this week's 2019 Game Developers Conferece, the team at Techbargains is featuring gaming deals, electronics, and TVs. Prices and stock are accurate at the time of posting but can end without notice, so please act fast.
Featured Deals
Check out more deals from TechBargains.
---
Laptops and Desktop Computers
Check out more Laptops and Desktop PC deals.
---
TVs and Home Entertainment
Check out more TV deals.
---
Electronics and Components
Check out more Electronics and Tech deals.
---
Tools, Home Improvement, Kitchen Gadgets, and More
Check out more Home deals.
For more great deals, head to TechBargains.
×