Estimated read time: 3-4 minutes
This archived news story is available only for your personal, non-commercial use. Information in the story may be outdated or superseded by additional information. Reading or replaying the story in its archived form does not constitute a republication of the story.
SALT LAKE CITY — Here are 10 stories you may have missed over the weekend. As always, click on the headline to read the full story.
1. Authorities suspend search for 3-year-old girl, Navajo police say"
Authorities on Sunday suspended the search for 3-year-old Anndine Jones, who was reported missing on Thursday with search efforts concentrated in the vicinity of McElmo Creek near her home in the Aneth area of San Juan County on the Navajo Nation in southeast Utah.
2. Fire destroys cabin after propane tank explodes in Heber City
A cabin burned to the ground after a propane tank inside exploded Sunday afternoon in the Timber Lakes subdivision on Cottonwood Lane in Heber City. The cabin was immediately engulfed in fire, said Wasatch County Fire spokeswoman Janet Carson.
3. 13-year-old Iowa boy falls to his death while climbing in Utah's Snow Canyon State Park
A 13-year-old Iowa boy fell to his death Sunday afternoon while climbing in Snow Canyon State Park. The boy, who was visiting the park with his mother and two siblings, was free climbing in the Pioneer Names area when he fell "from a significant height and died due to injuries sustained from the fall," said Utah State Parks spokesman Eugene Swalberg.
4. Police identify man who crashed stolen car after allegedly fleeing hit-and-run
A man was arrested after fleeing the scene of a hit-and-run in Eureka, leading the police on a chase in a stolen car before crashing again in Delta, police say.
5. 2 arrested in connection with West Jordan, Sandy armed robberies
Police took a man and woman into custody Sunday morning following reports of armed robberies in West Jordan and Sandy. The West Jordan robbery happened at the Murphy Express gas station at 3853 W. Campus View Drive, and the Sandy robbery took place about an hour before at a Chevron gas station near 7800 South and Union Park Avenue, police said.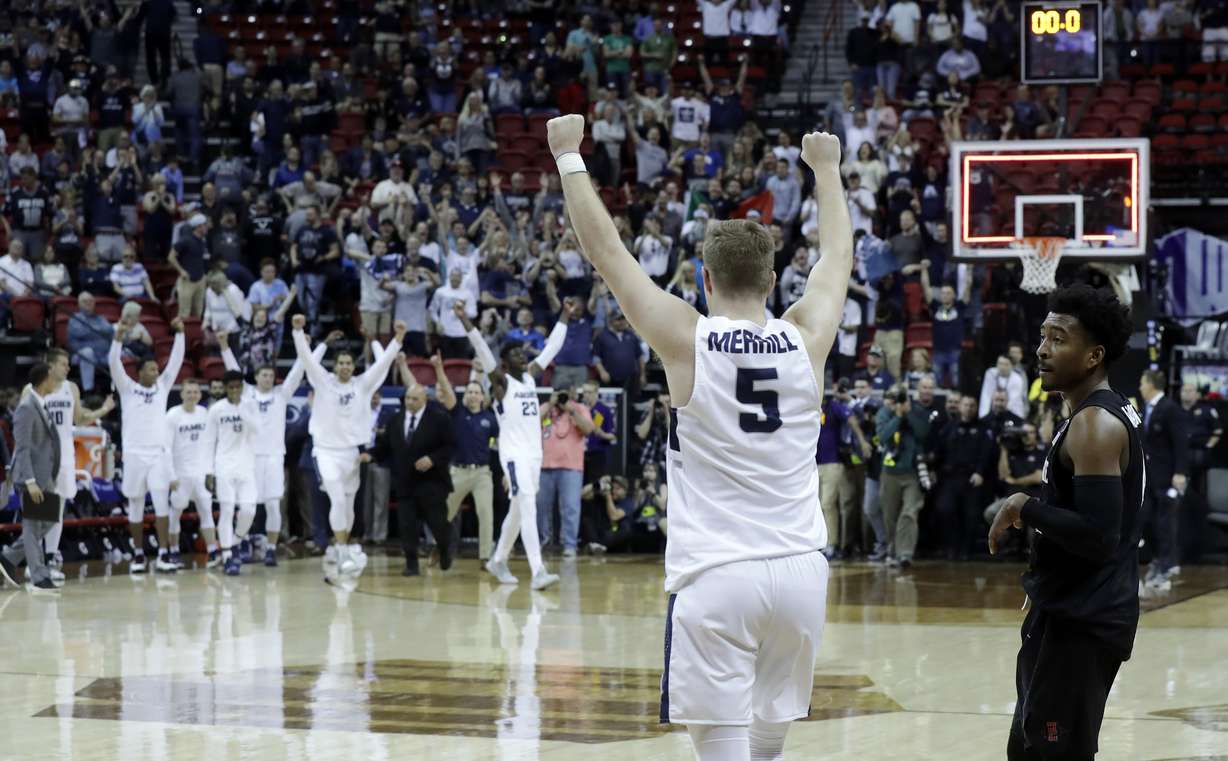 Sports
1. No sweat: Utah State draws Washington to open 2019 NCAA Tournament
The No. 8-seeded Aggies will open the NCAA Tournament on Friday against No. 9 Washington in Columbus, Ohio, the selection committee announced Sunday on CBS.
Tipoff is scheduled for 4:50 p.m. MDT on TNT.
2. Jazz blast Nets for 3rd straight win
The Jazz had plenty of fun on the court, too. Utah rolled to its third straight win with a convincing 114-98 win over Brooklyn Saturday at Vivint Arena.
3. What about the NIT? Here's where Utah's other teams will play in the postseason
Utah State will make its first NCAA Tournament appearance since 2011 when it opens against Washington in Columbus, Ohio.
You already know that.
But what about the other five Division I teams in the state of Utah?
4. Salt Lake Stallions pitch second-half shutout to earn 22-9 win over Memphis
There were some good things to say about Woodrum on Saturday, though, too. He threw for 243 yards, two touchdowns and an interception, and Joel Bouagnon added 60 yards on 19 carries to help the Salt Lake Stallions to its second win of their inaugural season 22-9 Saturday afternoon over the Memphis Express.
5. Gonzaga, Kansas, Syracuse among teams coming to SLC for NCAA Tournament
The NCAA Tournament is coming March 21 and 23 to Vivint Smart Home Arena.
Eight teams will play first and second round games this weekend in the first and second rounds, four each in the Midwest and West regions.
×
Most recent Utah stories