This archived news story is available only for your personal, non-commercial use. Information in the story may be outdated or superseded by additional information. Reading or replaying the story in its archived form does not constitute a republication of the story.
SALT LAKE CITY — Many years ago, Salt Lake City police officer Rod Hunt made a habit of looking out for stolen cars during his downtime on the job. He's since recovered well over 2,000.
When he's not going from call to call, Hunt is often checking his computer and cross-referencing his own notes for some of the most recent stolen car reports in the area. He keeps a close watch on some of the more frequented areas in the Glendale neighborhoods.
"You have to know the area because people don't buy new cars every three, four months," Hunt said. "I would drive by in the morning and I would see if there are any cars that don't belong."
Hunt says he developed the skill toward the beginning of his 29-year career. It was something to help keep him busy during the overnight shift.
"Come around 3 o'clock, it's slow," Hunt explained. "And you want to take a nap. So basically, I had to find something to keep me awake."
Hunt's superiors noticed his knack for finding stolen vehicles. They started keeping track about 11 years ago, and on Thursday, they presented him with an award for racking up about 730 stolen vehicles recovered during that time.
Hunt says his career-long total is closer to somewhere over 2,000.
"You cannot find a stolen car sitting in one location," Hunt said. "You have to know where to go."
Within 20 minutes of a KSL ride-along with Hunt, he spotted a stolen Chrysler sedan.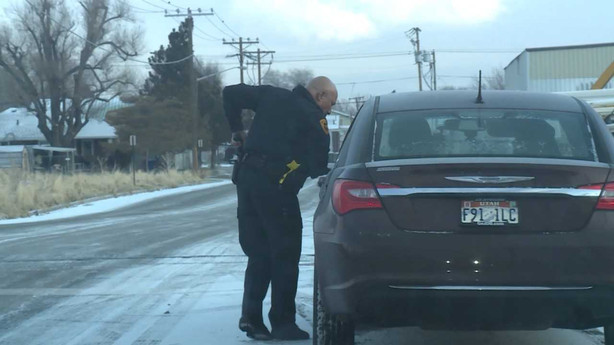 What caught his eye, he said, were two things. First was the fact that it was parked with the windows left open in the cold. Second was that it was left next to the train tracks in an area that doesn't get a lot of visibility.
Hunt often puts himself in the shoes of the criminal, pointing out that thieves often steal just to get from point A to point B.
"Why would you leave it here?" he asked. "If I steal this car and I'm going to work, where would I park so that nobody sees me get out of it?"
Captain Farillas presenting Officer Hunt (right) with an award for recovering 730 stolen vehicles in 11 years. #policework#BackTheBlue#CommunityPolicing@ChiefMikeBrownpic.twitter.com/ydTU2trEKo

— SLC Police Dept. (@slcpd) February 21, 2019
#slcpd_tweet
The Chrysler sedan's owner, Curtis Gresham, later showed up, dropped off by a taxi.
"I felt great, man," Gresham said, describing how he reacted to hearing from Hunt. "They were on that really, really fast. I'm totally impressed. I would say within 12 hours."
Hunt says patrol officers like himself are typically busy, rushing from call to call. He doesn't get as much time as he used to to look out for stolen vehicles. When he does get the time, however, he says it's worth it.
"Yeah, it's therapy for me," Hunt said smiling. "It's just fun to come out here, and do something and make a citizen feel good, like 'hey, that was my life. I needed that car.'"
×