This archived news story is available only for your personal, non-commercial use. Information in the story may be outdated or superseded by additional information. Reading or replaying the story in its archived form does not constitute a republication of the story.
SALT LAKE CITY — It took Donnie Tillman one minute after checking into the game to score his first 3-pointer for Utah.
Less than two minutes later, the sophomore had made three consecutive 3-pointers and had given Utah an 11-point lead over the visiting Oregon Ducks with just over 10 minutes left in the first half. Freshman Riley Battin would follow that up with a 3-pointer of his own to give the Utes its largest lead of the game — 14 points — and all the momentum.
Everything was going as planned for Utah.
That was until Oregon instituted a full-court press for the remainder of the game and forced Utah to commit 19 turnovers. The Ducks would go on to score 29 points off of Utah's turnovers en route to a 78-72 win over the Utes.
The hot start for the Utes was quickly stymied as turnover after turnover after turnover broke up Utah's rhythm and changed the entire momentum of the game. At its worst, the final seven minutes of the first half, Utah failed to make a field goal and committed nine turnovers — many of which were simple errors.
Twice on the night, Utah failed to cross midcourt before a 10-second violation was called. Another time, it was a shot-clock violation. And several more times it was a lazy pass that was easily picked off by an Oregon defender that was taken the other way for a quick score.
"I think that we all know the storyline of the game," Utah head coach Larry Krystkowiak said after the loss. "There are just a lot of factors that go into being a good team."
Utah entered the game on a four-game winning streak and was tied for second in the Pac-12 standings. Being a "good team" was something Kyrstkowiak's team was getting better at as they started to gel on offense and defense. But both sides of the ball became nearly impossible to control as turnovers mounted.
"All of a sudden in the first half, they scored 19 points off of turnovers, which sucked a lot of life out of the building," Krystkowiak added. "After that, consequently our defense became bad because you can't defend turnovers and layups at the other end."
Add to that Utah's poor free-throw shooting, in which the team shot 57 percent from the charity stripe, and it all amounted to a frustrated effort by the Utes who would eventually find themselves down 14 points before closing the margin late in the game. But a late-game comeback was too little, too late as the Ducks held onto the win.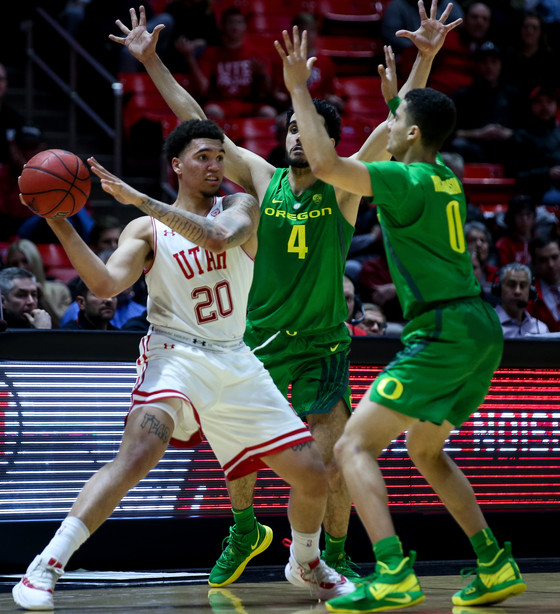 Oregon would finish the night with 11 steals and eight blocks that would account for 12 fast-break points, and a total of 38 points scored in the post.
The Ducks were led in scoring by guard Will Richardson, who finished with a career-best 19 points on 8-of-12 shooting in 34 minutes of play. He was joined by three other Ducks in double figures on the night.
For the Utes, senior Sedrick Barefield and Tillman led the team in scoring with 16 points apiece. Barefield would only make four buckets all night on 4-of-16 shooting, three of which were 3-pointers, in a relatively quiet night for the senior who had been averaging 20.3 points per game on 47.6 percent shooting in Utah's last three games.
Utah junior Jayce Johnson would finish the game with a double-double, scoring 11 points and collecting 13 rebounds. And freshman Timmy Allen added 13 points and four rebounds in 28 minutes of play.
Utah returns to action Saturday as they welcome Oregon State at 3 p.m. MST at the Huntsman Center. The game will be broadcast on the Pac-12 Networks and ESPN 700.
×