SOUTH JORDAN — A Kearns man was arrested after police said he was intoxicated when he ran a red light in a stolen vehicle, causing a crash at an intersection that a killed a woman Wednesday morning.
Edilberto Lopez-Ramirez, 23, was arrested on suspicion of automobile homicide negligence — DUI, driving under the influence of alcohol, receive or transfer of a stolen vehicle, failure to remain at the scene of an accident, reckless driving and driving on a denied license, according to jail documents.
Pearl Iata, 38, of Herriman, was killed in the crash, South Jordan police said.
Emergency crews responded to a report of the crash at the intersection of Lake Avenue and Mountain View Corridor, in the Daybreak area, shortly after 10:40 a.m., according to South Jordan Lt. Matt Pennington.
Pennington said Iata was driving a Dodge Caravan north on Mountain View Corridor when she collided with a GMC K3500 pickup truck, driven by Lopez-Ramirez, traveling east on Lake Avenue. Pennington said investigators believe the pickup truck ran a red light, causing the crash.
"The van ends up broadsiding the pickup truck," Pennington said.
Iata died at the scene of the crash, Pennington said. Police initially believed Lopez-Ramirez had been ejected from his vehicle during the collision, but later said he actually crawled out of the truck on his own. He was taken to a hospital as a precaution with minor injuries before he was booked into the Salt Lake County Jail.
Police said the truck Lopez-Ramirez was driving was reported stolen from a Herriman job site just one hour before the crash. Authorities added the vehicle was involved in a hit-and-run crash at the intersection of South Jordan Parkway and Mountain View Corridor just prior to the fatal crash.
Lopez-Ramirez told detectives he had consumed three or four 12 oz. cans of beer and three 32 oz. cans of beer and that he was drunk at the time of the crash, according to a police affidavit filed in 3rd District Court. Police wrote that a search warrant was obtained for a blood test.
He also told police he was involved in the hit-and-run case and had been traveling 70 to 80 mph on Mountain View Corridor, and "possibly 60 mph through the northbound intersection on Mountain View at Lake Avenue," the affidavit stated.
"He believes his light was red and was trying to beat the red light," the affidavit stated. "He did not look left or right when he entered the intersection."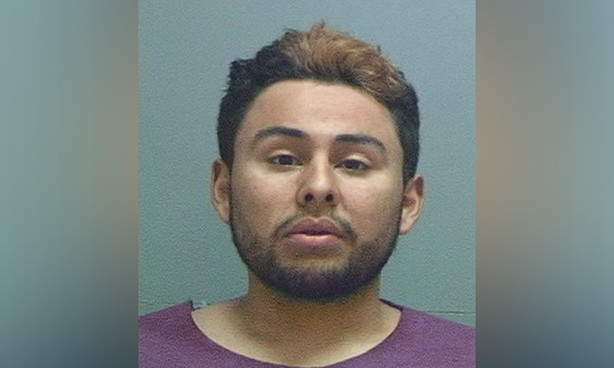 Court records show Lopez-Ramirez pleaded guilty to and was sentenced for assault, a class B misdemeanor, in 3rd District Court, on Dec. 11, 2018. He was sentenced to 5 days in jail. His guilty plea came four days after he was arrested on suspicion of aggravated assault and intoxication in connection with a bizarre incident at a Harmons grocery store in Kearns.
Police wrote in an affidavit filed in 3rd District Court that Lopez-Ramirez entered the store and started throwing glass bottles around.
"Harmons employees began to approach the suspect and he started throwing the glass bottles filled with liquid at them," the affidavit stated. "Other victims also included other patrons attempting to leave the store. No one was hit due to the victims dodging and moving out of the way of the bottles."
Lopez-Ramirez's father was hit but uninjured when he begged his son to stop, the affidavit stated. It added that the father told police his son had used meth the day before. Police stated the incident caused more than $750 in damage at the store. Charges are still pending in that case.
Wednesday's fatal crash closed northbound lanes of Mountain View Corridor and both directions of Lake Avenue for several hours while police investigated the crash; however, Utah Department of Transportation cameras showed traffic moving through the intersection again by 4 p.m.
Contributing: Natalie Mollinet
×
Photos