This archived news story is available only for your personal, non-commercial use. Information in the story may be outdated or superseded by additional information. Reading or replaying the story in its archived form does not constitute a republication of the story.
NEPHI — A man injured in a two-vehicle crash Thursday was taken off life support, officials said Friday.
The person that was listed in critical condition in this release has succumbed to his injuries. Additional information has been added/updated on DPS News.

— Utah Highway Patrol (@UTHighwayPatrol) January 19, 2019
The crash, which occurred at 12:30 p.m. on I-15 South five miles north of Nephi, involved a collision between a Dodge Dakota pickup truck and a Ford Focus. The male driver of the truck was driving northbound when he lost control and crossed the median into southbound traffic lanes, officials reported. The truck then hit the Ford Focus in a head-on collision.
The male driver of the Ford, identified by UHP as Christian E. West, 45, of West Valley City, was trapped in the vehicle with numerous serious injuries and internal bleeding, according to Utah Highway Patrol. Once West was freed, they transferred him to Central Valley Medical Center and then to Utah Valley Hospital, where was taken off life support Friday afternoon, officials said Friday evening.
The female passenger in the Ford sustained a broken arm and her child in the back seat had a collapsed lung. The two were taken to a local hospital where they were treated. The driver of the pickup truck had minor injuries and his two children in the back seat remained unharmed, according to UHP.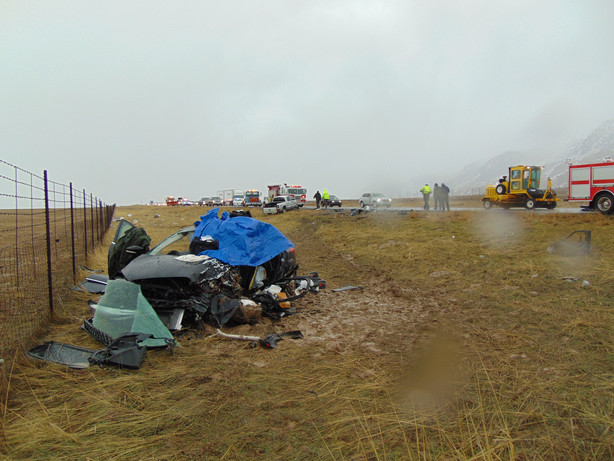 All adults involved in the crash were wearing seatbelts and the children were in car seats. Officials added that it was raining at the time of the crash and that the road was wet.
Editor's note: An earlier version of this story stated the car that lost control was the Ford. This article has been corrected to state the truck had lost control.
×
Related Stories