SALT LAKE CITY — Utah's first winter storm of the year brought several inches of snow, three "small" avalanches and more than 50 crashes throughout the state.
But it's not over quite yet.
As another snow storm is expected to hit, a winter weather advisory goes into effect at 11 p.m. and is expected to last until Monday afternoon along parts of the Wasatch Front and Cache Valley.
Ready for another storm Utah?Another storm will impact northern/central Utah Monday on the heels of Sunday's storm. *Accumulating snow will impact the Monday morning commute Wasatch Front/Cache Valley* #utwxpic.twitter.com/I8vBBpV075

— NWS Salt Lake City (@NWSSaltLakeCity) January 6, 2019
The expected snow accumulation could impact Monday morning's commute. Drivers in Lehi, Provo, Nephi and surrounding areas should expect slippery road conditions and plan ahead, weather officials said.
Avalanches
The three avalanches occurred on the North Ogden Divide — also known as North Ogden Canyon Road — in the early afternoon, according to a news release from Weber County Sheriff's Lt. Matt Jensen. The avalanches crossed the road — and covered it with 3-5 feet of snow — near the Chicken Creek area over to the Liberty side of the divide.
A motorist who was traveling on the highway got caught between two of the avalanches but crews were able to transport the driver out safely. Crews were still working on getting the vehicle out Sunday evening, Jensen said.
Look aerial view of an #avalanche on the North Ogden Divide from @KSLChopper5#KSLTVpic.twitter.com/g6YcSvkFFv

— Derek Petersen (@Derek_Photog) January 6, 2019
No injuries were reported and no other vehicles were affected by Sunday's avalanches. Officials estimate the road may be closed for up to two days as crews work to clear the snow.
Travel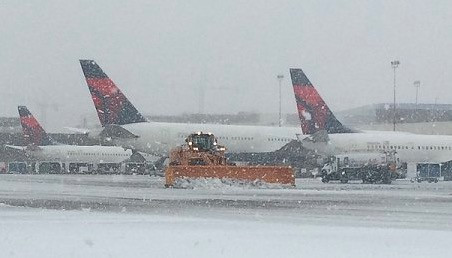 About 70 crashes had been reported throughout the state just before 2 p.m., according to Utah Highway Patrol troopers. Of the 70, about 28 occurred in Davis, Salt Lake and Utah counties.
At Salt Lake City International Airport, about 90 flights were delayed and seven were cancelled, airport officials said on Twitter.
Snow accumulation
Snow totals varied from 1 inch to 24 inches across the Wasatch Front.
In Cache Valley, parts of Logan received about 12 inches of snow by noon, according to the National Weather Service. Wellsville and Hyrum weren't too far behind with 11 and 10 inches respectively.
In the northern Wasatch Front, parts of Brigham City had 12 inches by 5 p.m. North Ogden reported about 9 inches while South Ogden had 6 inches. Bountiful and Roy both had 5 inches by 1 p.m.
Centerville, Clearfield and East Layton all received about 2 inches of snow.
In the Salt Lake and Tooele valleys, Draper received the most snow at 4 inches and Salt Lake City got 3.8 inches. Sandy and Tooele both got about 2 inches.
Liberty and Jeremy Ranch received about 14 and 12 inches respectively, while Park City got 9 inches.
Brighton Crest and Emigration Canyon received the most snow Sunday. Both had about 24 inches by about 4 p.m, the weather service reported. Alta Collins and Solitude Powderhorn, located in the Wastach Mountains south of I-80, trailed behind at 20 inches.
For more weather updates, check KSL's weather page.
×
Photos
Related Stories