Estimated read time: 3-4 minutes
This archived news story is available only for your personal, non-commercial use. Information in the story may be outdated or superseded by additional information. Reading or replaying the story in its archived form does not constitute a republication of the story.
Editor's note: This is part of a series at KSL.com featuring some of Utah's coolest cars. If you own a customized vehicle — from sports cars to semitrucks — email fjolley@ksl.com with a photo of the vehicle and a brief description for consideration.LOGAN — Darrell Halbert was a shop teacher and taught machining at an East Los Angeles high school. He inspired a young Erick Mego to get into machine work, and Halbert's ride, an early Bronco, hooked Mego immediately on the off-roading Fords.
In 1993, at the age of 17, Mego bought his own Bronco, a 1972. He had to have it towed from Santa Monica to his driveway in East LA. Mego's mother "flipped out," he said.
Mego got right to work on it, but said it was harder to get parts back then because the early Broncos had not become "cool" yet. Back then, he said, if you wanted power brakes or steering, you had to get them off of a GMC in a junkyard. He made his own custom parts and started welding.
He took the Bronco with him when he moved to Utah. He welded his own cart so he could do a frame-off restoration to his first 4x4. He then dropped in a 351 Windsor stroked to 408 and put a ZF five-speed behind that, claiming 90 mph on the freeway.
Mego has since taken the vehicle from LA to Key West, and back to Utah. It has also been to Baja California, though it had memorable breakdowns in Baja and the Everglades.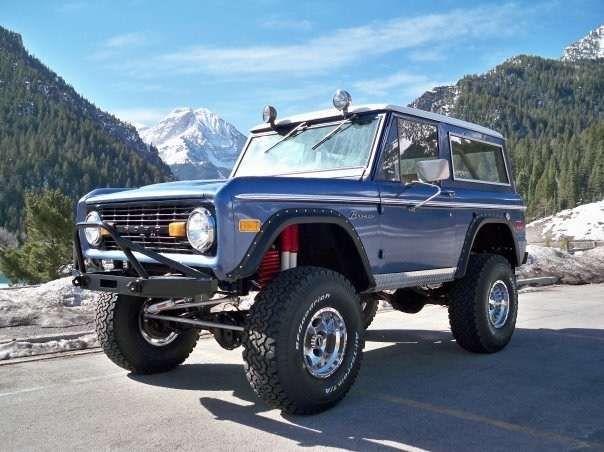 In 2007, he found himself with too much space in his driveway and bought a 1973 Ford Bronco with a 302 engine. He gave it a simple lift, cleaned up the interior and added some extras, but did not do the full restoration that he did with his first one.
Mego is currently finishing up work on his cousin's 1967 Bronco. His cousin, Joe Mego, lives in Florida, but flies out to help work on the vehicle when the weather's decent. They bought the Bronco in West Jordan, and although it was garaged in San Diego since 1987, it still needed some work.
The two gave it a full strip-down, including powder-coating the frame. The 302 got extras on top and a ZF five-speed, as well. Mego handled the welding to make it fit, and said the powder coating and the engine work were the only things outsourced — self-taught skills or ones learned from Halbert took care of the rest of the rebuild.
Mego said he has none of the regrets many of us do about selling his high school vehicle. He said in his mind it is the only car and considers Broncos the greatest cars ever built. He considers them self-explanatory when he opens the hood and calls them basic and tough.
Ford has a new Bronco coming out soon. Mego joked that if the top doesn't come all the way off and it has four doors, it's just a Ford Explorer. But he said he hopes the new model will have a ripple effect the same way the 2005 Mustang helped the older models get a little more appreciation.
His stable doesn't seem to need any external appreciation; it's had plenty from Mego since he was 17 years old.
---
Brian Champagne has reported on cars for more than nine years. He holds a master's degree in communications from the University of the Pacific and teaches at Utah State University.
×
Photos
Most recent Utah stories