This archived news story is available only for your personal, non-commercial use. Information in the story may be outdated or superseded by additional information. Reading or replaying the story in its archived form does not constitute a republication of the story.
SALT LAKE CITY — Utah State had an incredible nonconference schedule with a 10-3 record and the best start under a first-year head coach in school history.
But Wednesday night's Mountain West opener was a completely different challenge for the Aggies, on the road at No. 6 Nevada.
Jordan Caroline had 15 points, 12 rebounds and seven assists, and the sixth-ranked Wolf Pack overwhelmed Utah State, 72-49 in a Mountain West opener for both teams Wednesday night at Lawlor Events Center in Reno, Nevada.
Cody Martin scored 10 of his 14 points in the first half to go along with seven rebounds, six assists and four steals, and Tre'Shawn Thurman added 14 points and four steals for the undefeated Wolf Pack (14-0, 1-0 MWC).
Nevada won its first 14 games to start the since for the first time since 1951-52, when the Wolf Pack played in the Far Western Conference.
"There's a reason they're one of four undefeated teams in the country because they have it all," Utah State coach Craig Smith said. "They have skill, size, length, they play hard defensively. I knew going into this game it was going to be difficult to score on them, and it certainly proved to be. You can't go 4-of-23 from the three against a team like this. You're going to have to make some shots."
Sam Merrill led Utah State with 16 points, and Brock Miller added 10. Neemias Queta had eight points, 10 rebounds and five blocks for the Aggies (10-4, 0-1 MWC), who return home Saturday to host Air Force at 7 p.m. MT in the Spectrum.
"They beat us tonight," Merrill said of the Wolf Pack. "We just, defensively, had another pretty solid game. To be more consistent on the road, we have to find a way to be better offensively. 49 points and 20 turnovers just isn't going to cut it. They're a good defensive team. They're probably the longest team that we've played up until this point. We'll make those strides that we need to. I'm excited for what we have going forward."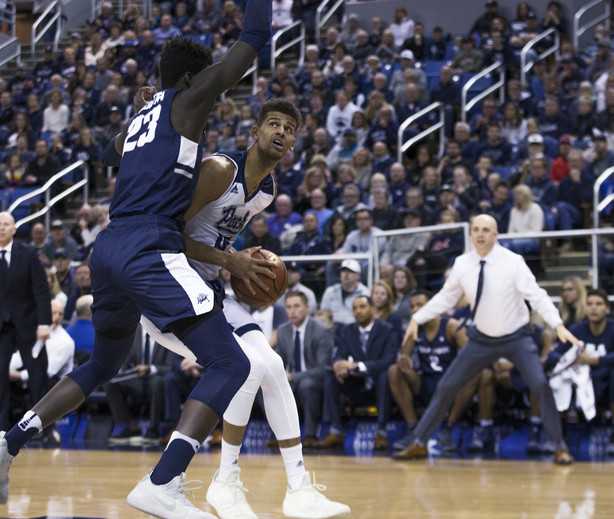 Utah State hung with the sixth-ranked team in the country early, but the Pack turned it on after the first media timeout. But Cody Martin's dish capped a 13-3 run over 5:37 that gave the Wolf Pack a 25-13 lead with 6:54 left in the half, and the Mountain West favorites were off to the races.
Merrill's 3-pointer capped a 10-2 flurry to pull the Aggies within four, 29-25 with 1:42 left to go in the half. But the Wolf Pack held Utah State scoreless the rest of the half, limiting the Aggies to 9-of-27 shooting, including an abysmal 2-of-11 from 3-point range en route to a 35-25 lead at the break.
The Aggies never threatened again, trailing by as much as 18 in the final minutes.
Nevada's 14-0 mark includes a 3-0 record against Utah opponents. The Wolf Pack beat BYU, 86-70 in the regular-season opener in Reno and added an 86-71 win over Utah in Salt Lake City last Saturday.
×
Related Stories
More stories you may be interested in