SALT LAKE CITY — For just over 16 months, many Jazz fans have waited.
They've waited to scream, to boo, to chant, to let out all of their frustration that came from the infamous Fourth of July over a year ago.
On Friday, they'll finally get the chance. Gordon Hayward is coming back.
On July 4, 2017, Hayward left Utah. He walked away from the franchise where he grew from a skilled kid from Indiana to an All-Star forward to head East. It was a day filled with early reports of his departure, then denials, before Hayward finally released his "Thank you, Utah" post on The Players' Tribune announcing he was signing with Boston. Come Friday night, Jazz fans will likely have their own unique way of saying, "You're welcome."
Donovan Mitchell smiled wide and then laughed after he was asked what he thought the crowd would be like for Hayward's returns. He never played with Hayward, but he's been around long enough to know how Utah fans feel about him.
"I don't know what to expect, to be honest," Mitchell said. "Obviously, he did so much for this organization, for this state. He's a great player. … We are just going to go out there and treat it the same way. We aren't going to go out there and go crazy."
They'll leave that up to the fans.
Hayward has been limited to playing just one game of back-to-backs this season, as he continues to recover from a gruesome leg injury he suffered in the first game of last season. Friday will be Boston's second game of a back-to-back. On Thursday, the Celtics announced that coach Brad Stevens "assumes Gordon Hayward will play both games of this back-to-back, but that has not yet been decided."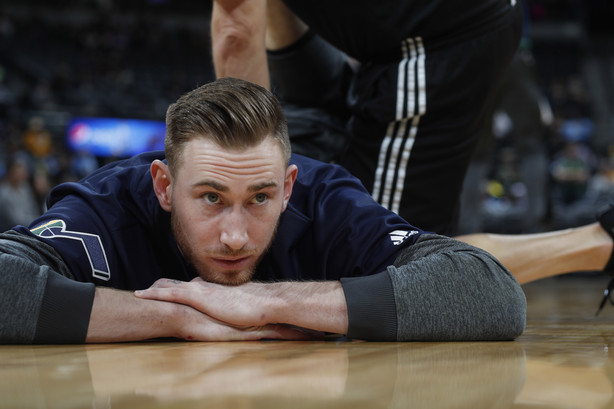 The Jazz, to their credit, have been highly complimentary of their former star since his departure. They took out full-page ads in the Deseret News and the Salt Lake Tribune a few days after the announcement to thank him for his seven years with the franchise and they have kept the same tone leading into Friday's anticipated matchup.
"We as an organization, me as a coach, our players appreciate the time he spent here and what he gave this organization and team," Jazz coach Quin Snyder said. "It was a pleasure coaching him. He did a lot for us."
It's been some time since a number of Jazz players have even been in contact with Hayward, with some silences going all the way back to that day 16 months ago.
Derrick Favors said he texted his former teammate soon after he made his decision, but hasn't contacted him since.
"That was it," Favors said.
Rudy Gobert said he reached out to Hayward following his gruesome leg injury in the opening game of last season, but the moments of communicating with Hayward are few and far between.
"I think it was important to do it," Gobert said. "We don't talk a lot, but when it's important, we do."
Joe Ingles described his friendship with Hayward like "any other relationship."
"We are friends," Ingles said. "We've always been friends. That's about it really. You talk to your friends sometimes and sometimes you don't. He's got his own life and a family. I've got my own life and a family."
For the most part, the Jazz are trying to treat Hayward's return like any other game.
"Gordon is a good guy," Gobert said. "I think I'm a good guy. It is the way it is. You make choices you think are good for you. I'm not here to judge anyone. It's just a game. We are going to go play basketball and that's it."
Jae Crowder was never a teammate to Hayward, but he has a strange connection to the former Jazzman's departure. On Jan. 3, 2017, Hayward and the Jazz faced off against Crowder and the Celtics in Boston. During that game, the Celtic fans cheered for Hayward. In Crowder's mind, they may as well have booed him.
"I heard the cheering (for Hayward) before the game," Crowder told reporters after that contest. "I didn't like that at all. I think that was a sign of disrespect to me from the fans. That sparked a little fire in me."
He'll likely be happier with the Utah fans on Friday.
"Probably a lot of emotion, fans cheering us on," Crowder said. "Very, very, very, very into the game, obviously, with the ties they had with Gordon. I think there will be fans that will be very pleased with a win."
×