This archived news story is available only for your personal, non-commercial use. Information in the story may be outdated or superseded by additional information. Reading or replaying the story in its archived form does not constitute a republication of the story.
SALT LAKE CITY — It all comes down to two games.
The Utah high school football season has reached the semifinals for the state's top three classifications, while the Class 1A, 2A and 3A will finish the season Saturday at Weber State's Stewart Stadium.
Every game will be streamed on live.ksl.com, starting with Thursday's 6A semifinals and ending when champions are crowned Nov. 16.
Here's a look at each semi-final pairing.
6A semifinals
Game 1: American Fork vs Bingham, 11 a.m. MT Thursday
This is the game everyone has been waiting for.
At least, everyone at 510 Caveman Blvd. since Oct. 12, when the Miners handed American Fork its lone loss in Region 4 play, 28-24.
That loss, the second of the year, sent American Fork to road playoff games at Riverton and Weber, which the Cavemen came out on top 52-34 and 45-31, respectively.
American Fork (10-2) has the highest-scoring offense in 6A, averaging 40.3 points per game. The Cavemen are led by standout quarterback Boone Abbott, a 60.2 percent passer who has thrown for 3,582 yards and 42 touchdowns with just seven interceptions. His heralded receiving corps is headlined by Chase Roberts, the senior BYU commit who has 1,419 yards and 20 touchdowns — the most in Class 6A and the second-most in the state.
Not a slouch himself, Abbott's numbers trail just Orem's Cooper Legas for the most in the state.
That offense will have its hands full in Bingham, though, in what is considered the most dominant defense in 6A. The Miners (10-1) have held opponents to just 12.1 points per game, and have allowed more than 20 points just three times in 2018 with three shutouts — most recently, last weeks' 46-0 win over Kearns in the 6A quarterfinals.
Look for players like top recruit Simote Pepa (45 tackles, 3 sacks), Utah commit Junior Tafuna (60 tackles, 1 sack) and Saleka Ataata (50 tackles, 2 sacks) to leave an impact on the high-octane Cavemen offense.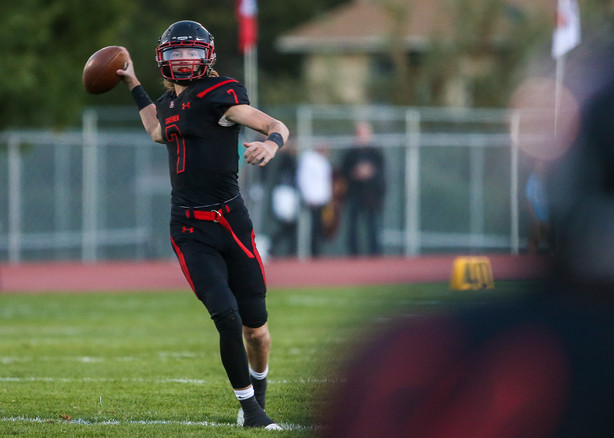 Game 2: Lone Peak vs Pleasant Grove, 2:30 p.m. MT Thursday
The other round of the all-Region 4 semifinals is a classic matchup of two teams from the east side of I-15 in Utah County. Separated by just six-and-a-half miles, the two teams will cap an eventful day at Rice-Eccles Stadium for fans who refer to Region 4 as the "SEC of Utah high school football" (sorry, Westlake).
Lone Peak (8-3) is the only team to beat Bingham on the season, and after bouncing between two quarterbacks for half the season, the Knights' offense is rolling. Braden Siri has thrown for 1,059 yards and 12 touchdowns, while the ground game is powered by fullback Masen Wake (1,006 yards, 8 touchdowns) and Kobe Freeman (453 yards, 3 touchdowns).
No offensive slouch of its own, Pleasant Grove (8-4) is led by standout Dayne Christiansen, the 5-foot-8 power back who has amassed 1,267 yards rushing with 16 touchdowns to go along with 558 receiving yards and 11 scores.
Of course, no commentary on the Vikings would be complete without quarterback Jake Jensen, who has thrown for 2,240 yards and 21 touchdowns with just three interceptions. The 6-foot-5 signal caller was limited by injuries in four games to end the regular season, but returned for the playoffs — just in time to throw for 293 yards and three scores in a stunning 27-21 upset of Region 3 champion East.
5A semifinals
Game 1: Skyridge vs Roy, 11 a.m. MT Friday
Looking to get back to the 5A state final for the second time in its program's three-year history, Skyridge (10-1) rolled through Region 8 with an unblemished 5-0 record, erupting for 45 points or more five times after last week's 58-34 win over Jordan win the 5A quarterfinals.
The Falcons' offense starts with their quarterback, gun-slinging Jayden Clemons has thrown for 2,021 yards and 24 touchdowns with 10 interceptions. But it ends with Ma'a Notoa, an every-down back who has 1,516 yards and 22 touchdowns on 233 carries, as well as 57 yards receiving with three touchdowns. Defensively, they've held opponents to just 18.54 points per game — including 10 points or less three times.
Region 5 champion Roy is back in the state semifinals for the first time since winning the 4A title in 2014, and the Royals (9-2) are led by quarterback and All-Name Team nominee Jaxson Dart.
The 6-foot-2 passer has thrown for 1,952 yards and 14 touchdowns, and ran for 114 yards and five more scores to a Royals offense that has scored less than 24 points just three times.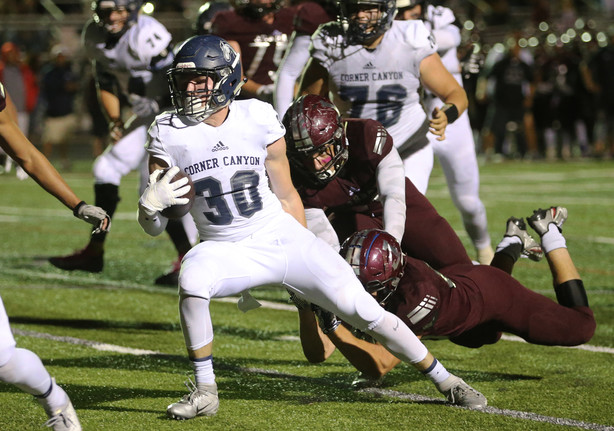 Game 2: Olympus vs Corner Canyon 2:30 p.m. MT Friday
A matchup befitting of a state championship, one of unbeaten Olympus (12-0) and Corner Canyon (10-0) will go home with its first loss of the year.
The Titans' trademark is their defense, allowing just 15.0 points in 12 games, including four shutouts and nine games where the opposing team scored in the single digits. Olympus has allowed just nine total points in the postseason, a 27-6 win over Alta and a 28-3 win over Springville.
Jackson Frank has thrown for 26 touchdowns with four interceptions, but look for the Titans to control the clock with a defense led by Lincoln Draper (89 tackles, 7.5 sacks, 2 interceptions) and a backfield that includes Noah Bennee (33 tackles, 6 interceptions).
Bennee will be tasked with slowing down Corner Canyon's Cole Hagen, the most prolific passer in 5A and the latest in a long line of Eric Kjar-coached signal-callers that includes current BYU starter Zach Wilson.
Hagen, a junior, is a 63-percent passer for 2,919 yards and 32 touchdowns with just nine interceptions. His favorite targets are John Mitchell, who has 1,033 yards and 11 touchdowns on 41 catches, and Noah Kjar, a 59-pass catcher for 868 yards and nine touchdowns.
4A semifinals
Game 1: Park City vs Dixie, 6 p.m. MT Thursday
Region 9 in St. George has made a living on trips to Rice-Eccles Stadium, so it is only natural to see the region champion Dixie at this junction.
Dixie (10-1) hasn't lost since a 26-21 loss to 5A Springville on the final play of the season opener Aug. 17, and the Flyers are led by dual-threat quarterback Reggie Graff — a 56 percent passer of 2,154 yards and 18 touchdowns and a 591-yard rusher for 12 more scores.
They'll be tasked with out-scoring the Region 11 champion Miners (9-3), who stunned previously undefeated Sky View in the quarterfinals to book a spot at Rice-Eccles.
Park City struggled early, opening the season with back-to-back losses to Wasatch and Logan before stunning two-time defending 2A champion South Summit to win nine of their next 10. Quarterback Jack Skidmore has steadied the ship, guiding the offense with 1,392 yards passing and 20 touchdowns with just four interceptions, and Dylan Bauer has 846 yards on the ground for 10 more TDs.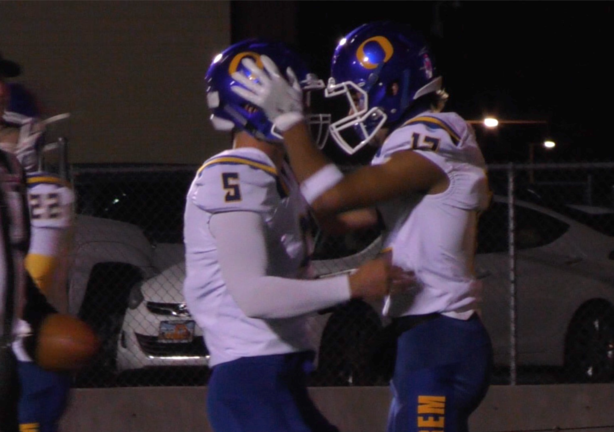 Game 2: Orem vs Pine View, 6 p.m. MT Friday
The Tigers' quest for back-to-back state titles seems like a foregone conclusion to some.
Orem (10-2) rolled to the Region 10 title with a perfect 5-0 record, with their closest game coming in a 59-26 slugfest with second-place Spanish Fork. The Tigers have outscored their playoff opponents 126-40 and boast the top quarterback-wide receiver tandem in the state (regardless of classification) in Cooper Legas and Puka Nacua.
Nacua, a 6-foot-2, 195-pound wide receiver who has committed to USC, took down the state record in career receiving yards after going off for 2,097 yards and 23 touchdowns as a senior.
His signal caller Legas is a 69.5 percent passer who has thrown for 3,761 yards and 41 touchdowns with nine interceptions, and he's already got state titles in football, wrestling and track and field in his personal trophy case.
The Tigers' opponent will be Pine View, the third-place team in Region 9 that made it to the 4A semifinals via a 68-50 upset of Logan and a 65-41 win at Stansbury. The Panthers (8-3) are led by dual-threat Dallin Brown, who has thrown for 1,129 yards and 12 touchdowns and ran for 1,412 more yards with 23 scores, and a balanced passing game topped by receiver Michael Moore, who averages 11.20 yards per catch for 462 yards and eight touchdowns.
Stunning the new powerhouse Orem won't be easy. But then again, the Panthers weren't supposed to get this far, according to seeding. So what have they got to lose?
×
Related Links
Related Stories