SALT LAKE CITY — Utah Jazz forward Derrick Favors was one of the last players to leave the practice court Tuesday. He sat in a chair, staring down at a screen and studying film.
What did he see?
"Lots of miscommunication," Favors said. "... Just out of sync. There are things that we need to work on that we can get better at. I don't think it's time to panic right now."
Feel free to step back from the ledge, Jazz fans. The team doesn't think all is lost.
"We haven't played with an edge," point guard Ricky Rubio said. "We know what we have to do, but one thing is knowing it, another thing is doing it."
But while Utah isn't too alarmed yet, there is a growing frustration following Monday's 124-111 loss to the Toronto Raptors. The Jazz are still looking for their first home win of the season (0-4). And what was once the league's best defense has looked like a shell of its old self over the past week. There are issues and the Jazz have identified what they are. The question is, can they fix them?
"We haven't been a unit," Rubio said. "On one night, it's one guy making a mistake. Another play, it's another guy making a mistake. On defense, it has to be five guys doing the right thing at the same time. If there is just one mistake, no matter what the other four have done, the defense doesn't count. We have to take that personally."
Utah has had a defensive rating over 125 twice during the four-game losing streak, including Monday's loss (125.3). That's a number Utah reached just once during the entire 2017-18 regular season.
"It starts with me on the front line," Rubio continued. "Picking up points higher, being more aggressive, but at the same time, being more aggressive doesn't mean not being smart. We've got to be smart, we've got to know personnel, we've got to know who we are playing against."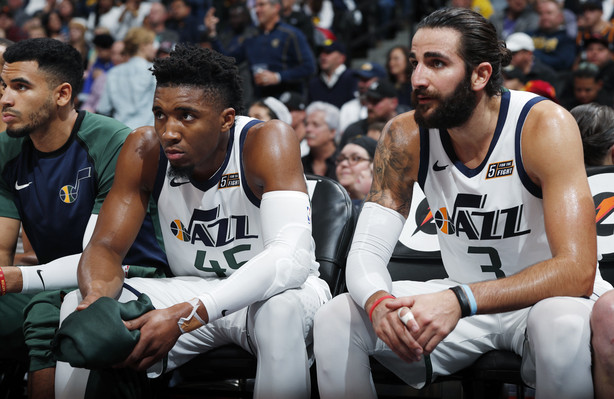 Those types of problems were seen on Monday night with Utah guards going under screens against Kyle Lowry and Fred VanVleet, who made the Jazz pay by burying open triples.
"Kyle Lowry hit a couple open 3s just because we didn't play good in the pick and roll, especially point guards," Rubio said. "He makes one shot and it's over. He feels comfortable, he feels in rhythm."
Rubio didn't want to place the blame on the NBA's new emphasis on freedom of movement rules this season, though. The Jazz have been a physical bunch in the past, but their defense is centered around Rudy Gobert controlling the paint and altering shots. That, in theory, shouldn't be too affected by the new emphasis.
"We got to adjust, know the rules and play by the rules," Rubio said. "At the same time, that can't affect us as much as it's done. What I'm saying is, we have to play better defense.
"Let the referees make the call, we have to trust who we are and play better defense."
Related Story
Head coach Quin Snyder admitted on Tuesday that his own team's poor shot selection added to Toronto's offensive performance, including a 183.3 offensive rating on transition plays (points per 100 fast break opportunities), saying he hoped that raising awareness of how offense impacts defense will help limit those shots — but he also doesn't want guys to stop being aggressive.
"Shot selection is a tricky balance," Snyder said.
It's not a mystery of why things have been bad. It's all the things Favors saw: lack of communication, players being out of place in transition and not being in the right spots while guarding.
"It's good to see on film," Favors said.
It'd be better, though, not to see it next time.
×
Related Stories