This archived news story is available only for your personal, non-commercial use. Information in the story may be outdated or superseded by additional information. Reading or replaying the story in its archived form does not constitute a republication of the story.
SALT LAKE CITY — While colleges compete for athletic victories and political candidates compete for positions of influence, the Utah Lt. Governor's Office is holding a competition that combines both.
The Campus Cup, held every election year since 2012, is a competition to encourage college students in Utah to register to vote.
Not only does the winning school gets a visit from Lt. Gov. Spencer Cox, a trophy and, as many participating students pointed out, bragging rights.
Student involvement groups on almost every college campus in the state have a designated URL where students can register online and it counts toward their school's score. They can also register with paper forms in person on campus.
Standings are mainly determined by the percentage of the total student population that registers to vote during the competition.
Westminster College is currently leading the race, with Southern Utah University in second and Utah State University in third place.
USU won the contest in 2014 and 2016, but Sam Jackson says this year is more difficult because of the scoring system.
Jackson, the USU Institute of Government and Politics chairman and Student Association student advocate vice president, helped the Aggies win the Cup in 2016. This year though, he said, they are at a disadvantage due to school size.
"For every one student that Westminster registers, we have to register 10 to keep pace with them," Jackson said. "It's very daunting for us to make up that total."
Justin Lee, who has overseen the competition as the state director of elections, said the scoring system changes a little bit every year, and it has gone back and forth between gross number of registration forms and percentage-based scoring.
"We work with the student body officers to set the rules," Lee said. "This year, the consensus went to a population-based scoring system."
Associated Students of Westminster Vice President Maggie Regier said she prefers the current system because it gives smaller schools a chance.
"I understand USU's frustration, but it is much more fair when schools are compared based on percentage," Regier said. "We all have different population sizes, and a percentage allows for some middle ground."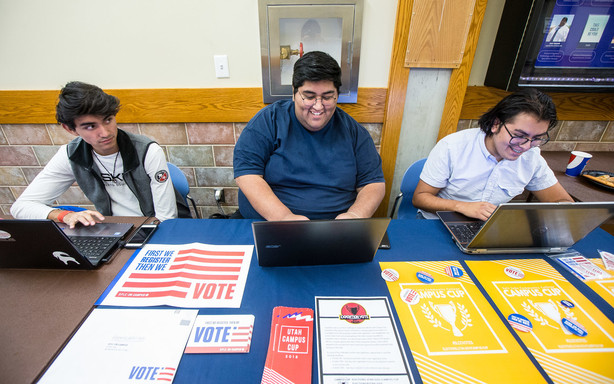 Both Jackson and SUU's Victoria Stephens said they and their teams are competitive, they both recognize that the higher purpose is to increase civil engagement among students.
"The competition aspect is awesome and super fun," said Stephens, a member of the Michael O. Leavitt Center's executive council. "But I think, all in all, what's important is that we get students registered to vote, that we get students excited about democracy, that we get people excited about letting their voice be heard."
Students from all three top schools in the contest pointed out the often overlooked importance of students voting.
"Students are a really underutilized part of elections," said Taylor Cella, also a member of the Leavitt Center executive council, "so encouraging that turnout or even just engagement is super important."
Jackson pointed out that if more USU students voted, they would be better represented in Logan government's decisions.
"If students don't vote," he said, "the representatives that are supposedly advocating for their interests have no real incentive to listen to them, because no one's voting for them."
Regier echoed similar feelings.
"People don't think their vote matters," she said. "If we all voted, and our representatives actually represented the population, politics might look a bit different."
Amid the competition, Lee reminds students and non-students alike that the ultimate goal is to actually vote.
"That's obviously the endgame here," he said. "Participation, not just registration."
×
Photos