SALT LAKE CITY — Donovan Mitchell is staying in Salt Lake City for several years.
The Jazz showed a commitment to last year's rookie sensation by exercising a team option for the 2019-20 season
Per team policy, terms of the deal were not disclosed. But Mitchell's contract is believed to be worth approximately $3.1 million, with a projected jump to $3.6 million for 2019-20, according to multiple reports.
The 6-foot-3, 200-pound wing who played at Louisville led all rookies last season with 20.5 points per game and 1,616 total points. He finished second in the NBA Rookie of the Year voting to second-year player Ben Simmons, and joins David Robinson, Larry Bird, Kareem Abdul-Jabbar and Wilt Chamberlain as the last five rookies to lead their team in scoring en route to 45 wins or more.
Mitchell was named Western Conference Rookie of the Month four times, took home an NBA record for most 3-pointers by a rookie (187), and was dubbed Breakthrough Athlete of the Year at the 2018 ESPY Awards.
The reigning NBA Slam Dunk champion, Mitchell has also burrowed himself into the hearts of the local community with public appearances at local high schools, rapidly thrown together Fourth of July parties, and random acts of kindness that have gone viral on the internet.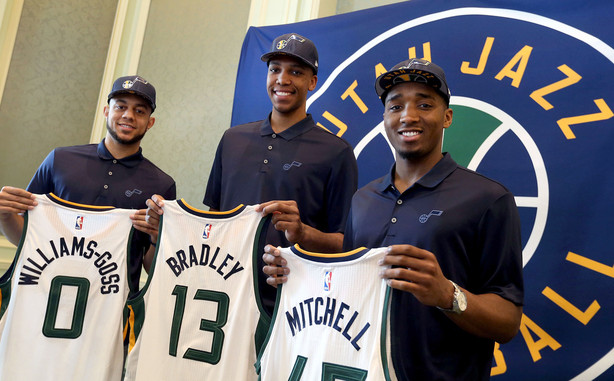 On the same day, Utah also exercised a third-year team option on backup center Tony Bradley for the 2019-20 season. The 20-year-old who played at North Carolina was acquired by the Jazz on a draft-night trade in 2017, and played in 24 games for the Salt Lake City Stars in the NBA G-League for 15.4 points, 102. Rebounds, 1.4 assists and 1.3 blocks per game.
The 6-foot-11 Bradley appeared in nine games for the Jazz, including a career-best four points and three rebounds against Oklahoma City on Dec. 20.
The Jazz close the preseason Thursday at 8 p.m. MT at Sacramento, then open their 45th NBA campaign a week later, next Wednesday, Oct. 17 at the Kings.
The home opener is scheduled for Friday, Oct. 19 against Golden State.
×