PROVO — Roll out.
The 65th edition of the battle for the Old Wagon Wheel kicks off general conference weekend Friday night when visiting Utah State (3-1) goes to Provo to play BYU (3-2).
With a series that has been officially recognized with a traveling trophy since 1948, it's time to call it like it is — a rivalry, or at least, an in-state rivalry.
"I know a lot of coaches on that staff," Sitake said. "They are going to be ready; this is a big game for them, just like it is for us."
If last year's loss isn't enough motivation for the Cougars, the rate at which Utah State is climbing on BYU's coattails is alluring for a school that owns a 48-36-3 overall record in the series, including a 40-24 margin in the series since the traveling Old Wagon Wheel was introduced in 1948.
"There's always motivation in these games," BYU quarterback Tanner Mangum said. "Utah State has had a really good year, and that's a really good team. We've got to bring our A-game."
BYU safety Austin Lee, who prepped at Alta High before playing at Utah and BYU added: "I try to go into each game more prepared than the last. But sometimes it does mean more; you have so much family around, and it naturally puts more meaning into it. They're rivals and they had our number last year.
"These are rivalry games, and we have to go into each game prepared."
Here is what to expect when BYU and Utah State kick off at 7 p.m. MT Friday night (ESPN2, KSL Newsradio).
Utah State offense
The Aggies are known for their offense, which ranks No. 7 nationally with 51.5 points per game. Sophomore quarterback Jordan Love is the catalyst of the surge, having already thrown for 1,070 yards and five touchdowns with three interceptions.
Gerold Bright is the team's leading rusher with 288 yards and four touchdowns, and Ron'quavion Tarver leads all receivers with 229 yards on 22 catches.
They've scored 30 points or more in each of their first four games for the first time in school history.
"They've done a really good job with their kids, with the scheme, and playing within what they do," said BYU defensive coordinator Ilaisa Tuiaki, a former running backs coach at Utah State from 2009-11. "Looking at last year, there isn't much that they've changed; they just do it really, really well. There's something to be said about doing what you do, and doing it really well.
"And Love is a good player. I remember him coming out of high school."
To defend the Aggies' high-octane offense, linebacker Zayne Anderson and safety Dayan Ghanwoloku are likely to return from injuries. Anderson (shoulder) and Ghanwoloku (ankle) are among the team's leaders tackles and pass breakups.
"Good players make coaches look good," Tuiaki said. "The more we can get back some of the guys who are banged up, the better off we will be. We need all hands on deck every single week, with the schedule that we've had.
"Zayne brings a lot to the table, as far as length and speed and athleticism. He's a really, really savvy player. He's like Fred (Warner) was for us last year."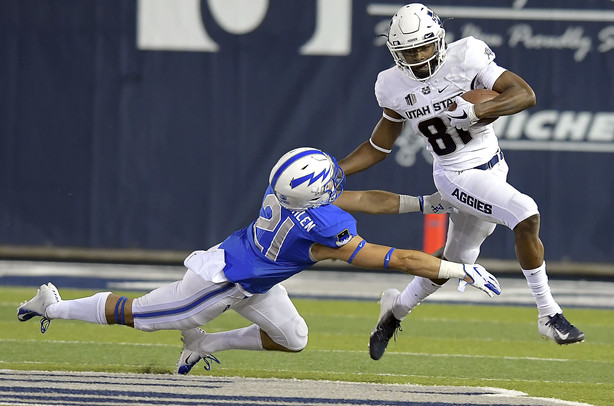 Utah State defense
Linebacker David Woodward (40 tackles, 1 tackle for loss) is the heart of a Utah State defense that gives up 360.2 yards per game but just 20.6 points.
Gone are NFL defensive backs Jalen Davis and Dallin Leavitt from last year's team that stunned the Cougars, 40-24 in Logan. But Utah State returns a linebacker corp that includes Woodward, senior Chase Christiansen, and senior Jontrell Rocquemore.
"They do a great job in their front of eating up blocks and keeping their linebackers free," BYU offensive coordinator Jeff Grimes said. "They've got a really good pass rusher, and a secondary that covers well, particularly on third downs. They aren't afraid to play man and bring pressure."
The Aggies use a transition game from defense to spark their offense, too.
"I think they play well together, and when the defense gets a turnover, the offense has capitalized," Grimes said. "They play so aggressively that they've been able to force turnovers, and obviously we don't want that. We're going to try to prevent that."
BYU will be without its leading pass catcher after tight end Moroni Laulu-Pututau suffered a season-ending knee injury in last Saturday's 35-7 loss at No. 10 Washington.
"Every time something like that happens, you've just got to say 'next man up,' and it's an opportunity for someone else," Grimes said.
X-factor: 'Protect LaVell's House'
There's no question that this year's in-state rival matchup means a lot to BYU.
After a surprising 3-2 start that saw the Cougars travel to Tucson, Arizona; Madison, Wisconsin; and Seattle, Washington, BYU returns to Provo for the first of three-straight home contests Friday night.
Mix in next week's bye week, and BYU will not leave home for the entire month of October. It's easy to see how this month will help define the Cougars' 2018 season.
"This is huge," BYU defensive end Corbin Kaufusi said. "This game means a lot to everyone, not only because of what happened last year, but because of the season in general. This is a big game for us — the biggest game of the season so far."
"One of our biggest goals is to protect LaVell's house, and this is a great time to prove that. Being at home makes it so much better," he added. "This Friday and this home stretch will set a tone for us the rest of the season."
The Cougars are a 2.5-point favorite in Las Vegas, which is a standard toss up with slight advantage naturally given to the host team.
Plus, it's an in-state rivalry.
"They'll get up for every game just for the sake of playing and competing," Tuiaki said. "But obviously, any time you know a lot of guys on the other side of the ball … social media helps, too, and I'm sure they'll all be juiced up to play each other."
The Battle for the Wagon Wheel commences Friday night ...

Full 🎥: https://t.co/hhyMthmZfVpic.twitter.com/CuY5joPq4Z

— KSL SportsBeat (@kslsports) October 2, 2018
Extra: Rollin' on up
At first glance, Matt Wells' record of 2-3 all-time against BYU doesn't look like much.
But the former Aggie quarterback has had as much success against the Cougars as any other coach in a generation.
Wells' two wins re the first multiple wins against BYU by a Utah State coach since Bruce Snyder went 2-5 from 1976-82. Snyder beat BYU in 1978 and 1982, and Wells matched him with last year's win in Logan.
A win by the Aggies would be the Logan school's first back-to-back win streak in the series since 1974, and their first win in Provo since 2014.
"It's a really good rivalry for us," Wells said. "It's something that I know our guys are going to be really excited to play in."
×
Related Stories